After originally debuting at the Paris Motor Show in 2014, an updated version of the Toyota C-HR Concept compact crossover was revealed at the Frankfurt Motor Show today. The new concept marks a final step before the production version of the compact crossover arrives at the Geneva Motor Show next spring.
Toyota designers have created this new, five-door study following the warm reception given to the original concept when it was revealed at last year's Paris motor show. The aim is to gauge reactions from target customer groups and obtain feedback that will help the project team in their work to deliver a full production version.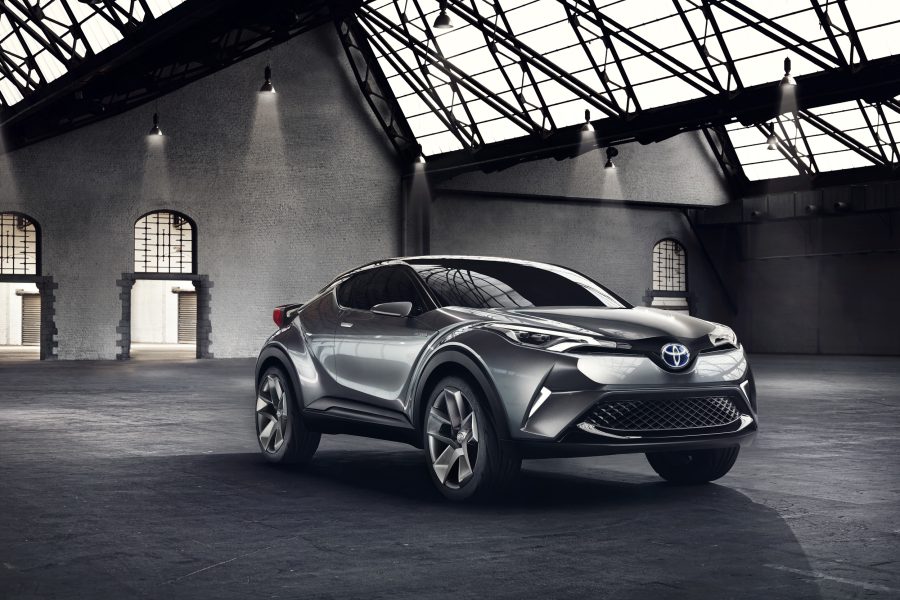 The Toyota C-HR Concept is a design study for a stylish, lightweight and dynamic hybrid crossover that will stand out from the crowd and be faithful to Toyota President Akio Toyoda's promise to build ever-better cars that put the fun back into driving.
Its compact proportions position it between the mini and compact SUV segments and support a highly appealing combination of agility and flexible packaging, qualities that are particularly valued by urban customers.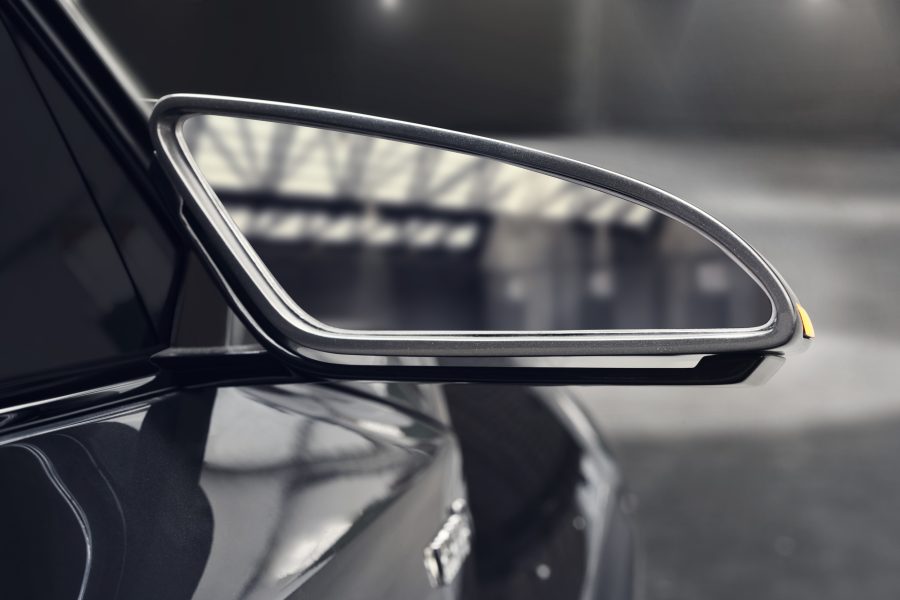 The car has been designed on a Toyota New Global Architecture – TNGA – platform, which is fundamental to achieving high levels of handling and vehicle control. It is combined with a new full hybrid powertrain that will offer both outstanding efficiency and an engaging drive.
Speaking at the show, Karl Schlicht, Executive Vice President of Toyota Motor Europe, said: "It will be based on our TNGA platform, and fits a tradition we started in the early 90s when we revolutionised the 4×4 market with the compact RAV4.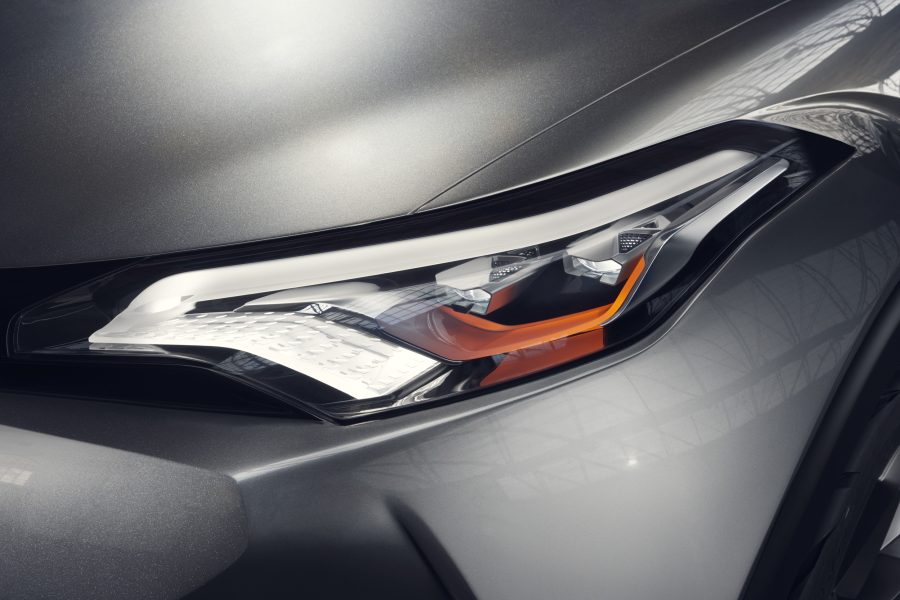 "I can confirm this concept will go into production, In a few months, at the Geneva Motor Show, we will unveil the production model."
Toyota C-HR Concept: Diamond styling theme
The new Toyota C-HR Concept continues Toyota's exploration of a new styling theme based on a diamond-shaped architecture. The distinctive sculpting of the lower bodywork is influenced by the precision-cut faceting techniques used for precious gemstones.
In plan form, the corners of the bodyshell have been cleanly shaved off, reducing its mass in relation to volume and adding emphasis to the powerfully flared wheel arches and the vehicle's broad, planted stance. The result is a car with a confident and sporty visual appeal.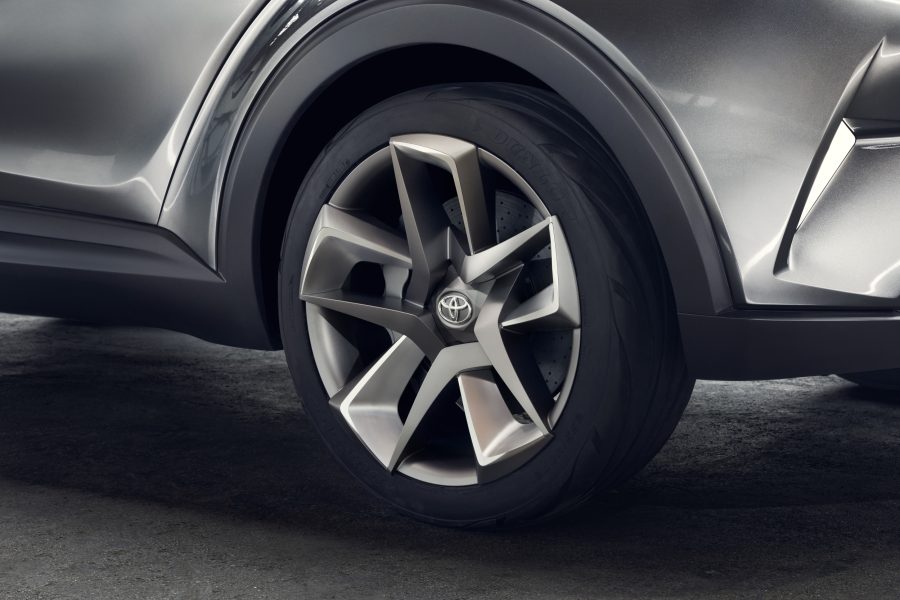 The front end develops Toyota's Keen Look design theme. The slim upper grille, set above a robust central bumper profile, has evolved into a floating 'wing' graphic which flows seamlessly around the vehicle's front corners. Streamlined headlamp units with diamond pattern detailing are positioned at the furthest extremities of the front wings.
More impact is provided by the large lower grille. This carries through the diamond pattern theme and is flanked by strongly sculpted vertical elements, helping emphasise the low centre of gravity achieved by the TNGA platform. The powerful frontal design is underscored by an aero-inspired 'floating' spoiler.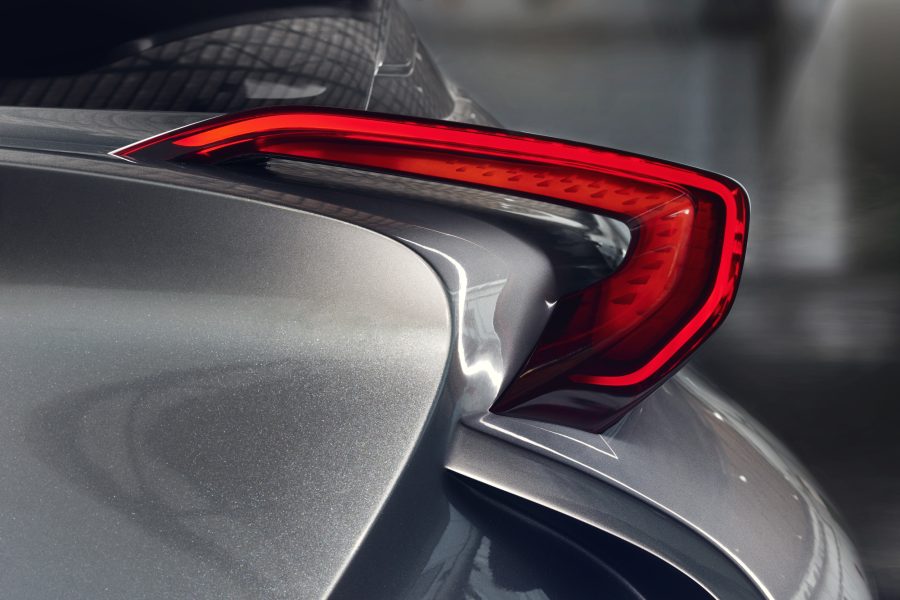 In profile, the faceted lower body, muscular wheel arches and strongly angled rear shoulders stand in contrast with a sleekly profiled cabin. The roof's floating appearance is emphasised by its piano black finish, while a patterned arrangement of openings creates an animated light play inside the cabin.
At the rear, the glasshouse tapers dramatically down, with the further faceted treatment of the lower body. The effect is highlighted by a prominent diffuser, integrated fog lights and aero-inspired light clusters with diamond pattern lens detailing. The spokes of the 21-inch wheels have a dedicated, 'diamond-cut" machined finish.
Toyota C-HR Concept: Toyota's New Global Architecture Platform
The Toyota C-HR Concept gives a striking representation of the benefits of the Toyota New Global Architecture, Toyota's innovative, integrated approach to developing new powertrain components and platforms for new models from this year onwards. Its benefits are evidenced in the concept vehicle in increased body rigidity, better collision performance, improvements to the underbody and suspension and a lower centre of gravity.
The greater rigidity and lower centre of gravity combine to reduce body movement and roll when cornering. This means suspension stiffness can be reduced, improving ride comfort without diminishing dynamic performance. The result is responsive handling, agility and straight-line stability that bear comparison with the best compact hatchbacks.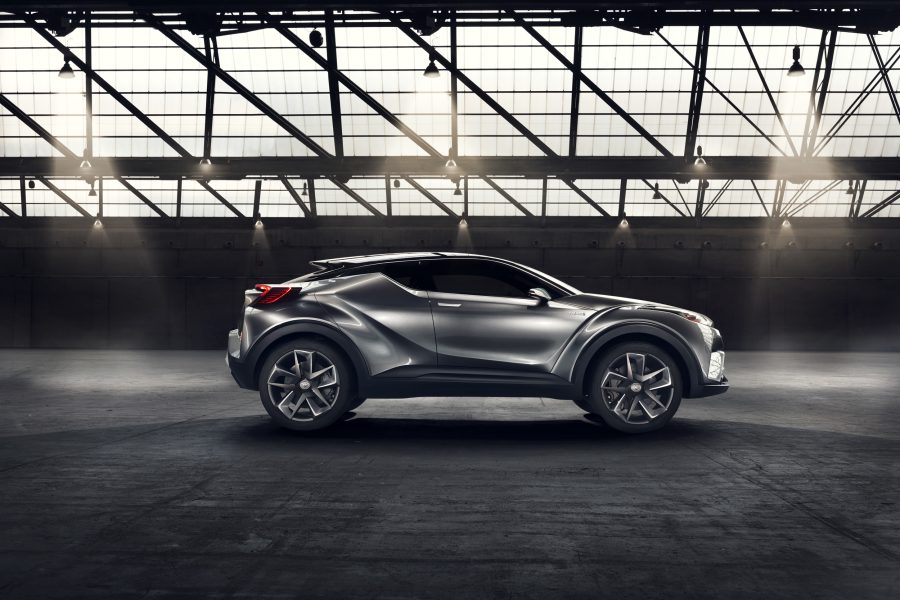 TNGA groups vehicle development to promote strategic sharing of parts and powertrain components across different models, supported by a set of new production techniques and technologies that make it easier to bring vehicle design ideas into production reality. Toyota considers TNGA can reduce the resources needed for vehicle development by 20 per cent, freeing up investment to deliver stronger products and advanced technologies for sustainable business growth.
A new, more efficient hybrid system
A striking design is not the Toyota C-HR Concept's only stand-out feature; it also marks the introduction of hybrid power to its market segment. It uses a new, more compact full hybrid powertrain that benefits from lighter components and significant advances in battery, electric motor and petrol engine technologies that provide further reductions in fuel consumption and CO2 emissions.
The petrol engine boasts a world-leading thermal efficiency of more than 40 per cent. It is matched to a highly compact electric motor and a hybrid battery with increased power density.
The new powertrain, developed under the TNGA programme, is not only smaller and lighter than Toyota's current hybrid systems, but it is also more refined in its operation and easier and more intuitive to drive, with a natural, smooth and immediate response to driver inputs.
A global project based in Europe
The new Toyota C-HR Concept is another tangible example of Toyota's new Global Vision, set out by Akio Toyoda in 2011.
Toyota recognises that Europe is the most demanding world market for small and mid-size vehicles and so uses the region to create the benchmarks for its future small and compact (A, B and C) segment models. At the same time, Toyota Motor Europe has become its skill centre for perceived quality and vehicle dynamics.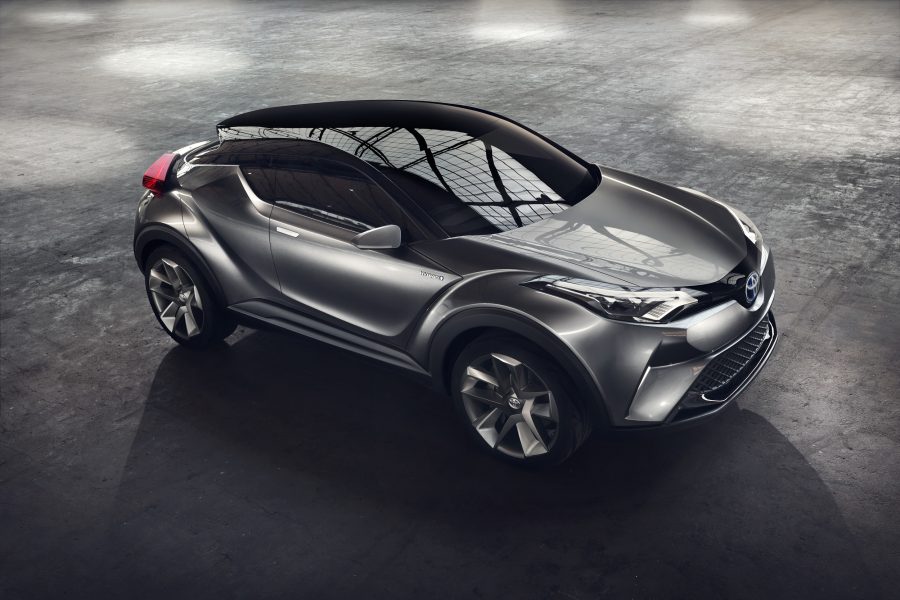 The Toyota C-HR Concept project has involved close cooperation between Toyota's vehicle planning centres in Japan and Europe, in order to achieve a good understanding of the latest European customer demands and vehicle trends.
The styling has been developed through cooperation between Toyota's European design centre, ED2, and other international design facilities. Following the overwhelming reaction to the first Toyota C-HR Concept presented at the Paris motor show in 2014, Toyota Motor Europe will continue to work hand-in-hand with Toyota Motor Corporation to bring the model into the compact crossover segment.
All information is correct at the time of publishing