It's a small car, but it's just as important to service your Toyota Aygo as it would be any other Toyota. Regular scheduled maintenance keeps your car in the best of health, and your local Toyota Service Centre is here to help you do that. Here we explain what happens, and why you should get your Aygo serviced with us.
The Aygo is a great-value city car, but you shouldn't really skimp when it comes to servicing and maintenance. With many Aygos being driven by newly qualified drivers, it makes sense to ensure that everything is well maintained from the start of their life behind the wheel. So while it might cost more to get a Toyota Aygo service at a Toyota dealer, it will give you peace of mind that your car is well looked after by the experts that built it in the first place.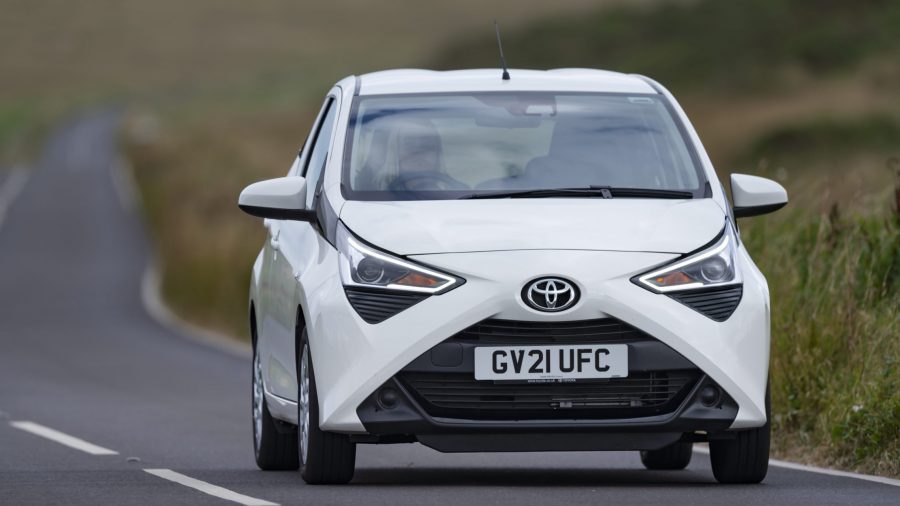 How often do I need to service my Toyota Aygo?
The Toyota Aygo has service intervals of 12 months or every 10,000 miles, whichever comes first. It's worth putting a reminder in your calendar so you don't miss the anniversary, or if you cover a lot of miles, then just make a note of the car's mileage the first time it's serviced, and book it again when you cover another 10,000 miles.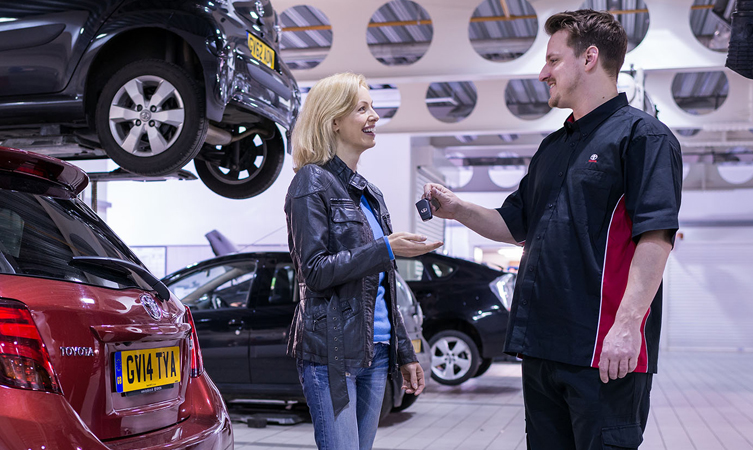 Why Toyota for my Aygo service?
At Toyota, we don't call them mechanics, instead, our service centres are staffed by Toyota Technicians. This means that they're fully qualified to work on and maintain every Toyota in the range, including the Aygo. They will know their way around the car's engine, gearbox, and electrical and mechanical running gear, and know what to look for when carrying out scheduled maintenance.
As well as servicing, Toyota Technicians can carry out a 37-point Vehicle Health Check to ensure everything is working properly on your car. If your car is more than three years old, then it will also need to undergo an MoT test to ensure that it's roadworthy. Our technicians can help here, too, whether you book an MoT as part of your Aygo's service, or arrange it separately.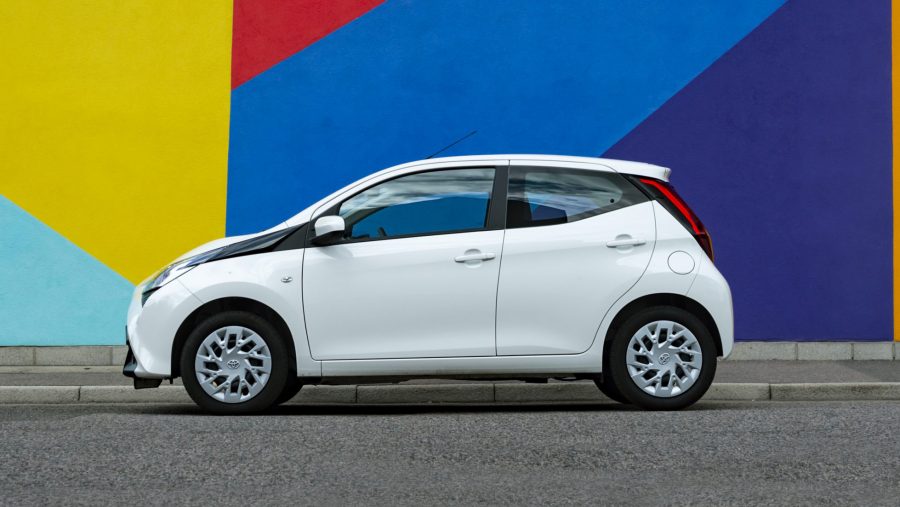 What happens in a Toyota Aygo service?
When you book a Toyota Aygo for a service, our staff will take the keys and give your car the best attention possible. You can either wait in a furnished waiting area with tea and coffee provided, leave your car with us for the day or even take away a courtesy car while yours is in for work (where available).
While your car is at the service centre, our Technicians will undertake the following (where needed):
Replace the engine oil & oil filter
Windscreen washer fluid change
Air filter replacement
Brake fluid replacement
Pollen filter replacement
Replace the battery of the remote-control keyfob
Checks of all fluid levels (and topped up as required)
Inspection of the brake pipes and hoses
Inspection of the exhaust
Check for wheel rim damage and wheel nut tightness
Check the handbrake operation and brake pedal travel
Make sure all the lights and the horn work properly
Check that the wipers & washers clean the glass correctly
Check for dashboard warning lights and chase up any issues they might be highlighting
Check the seat belts for damage & that they operate properly
Ensure the security features are working correctly
Inspect the 12-volt battery and its connections
Look over the cooling system and radiator, engine coolant and fuel system
Check the automatic transmission fluid (where one is fitted)
The steering wheel, gearbox and linkages, driveshafts, ball joints, wheel alignment and bearings were all checked
Check the suspension and tyres
Finally, your Aygo will be washed & vacuumed (if possible), while a visual safety report will be made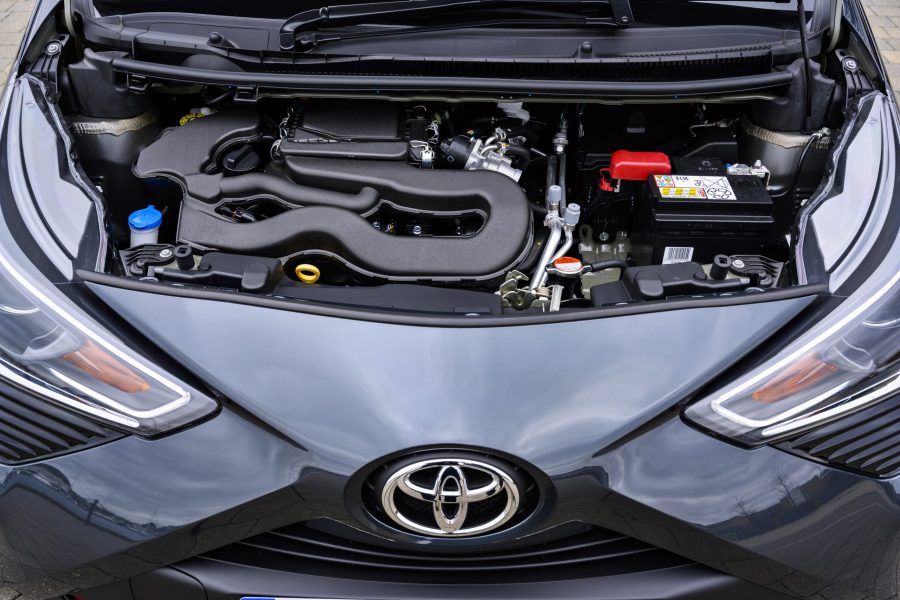 How much does a Toyota Aygo service cost?
Toyota charges a flat rate for servicing at all of its dealerships, so you won't pay any more at one dealership than you would at another. You can either pay for a service outright, or Toyota offers service plans that allow you to pay for it via a monthly repayment. These often cover two services, but Toyota's online service plan portal is able to calculate a plan that's perfect for you.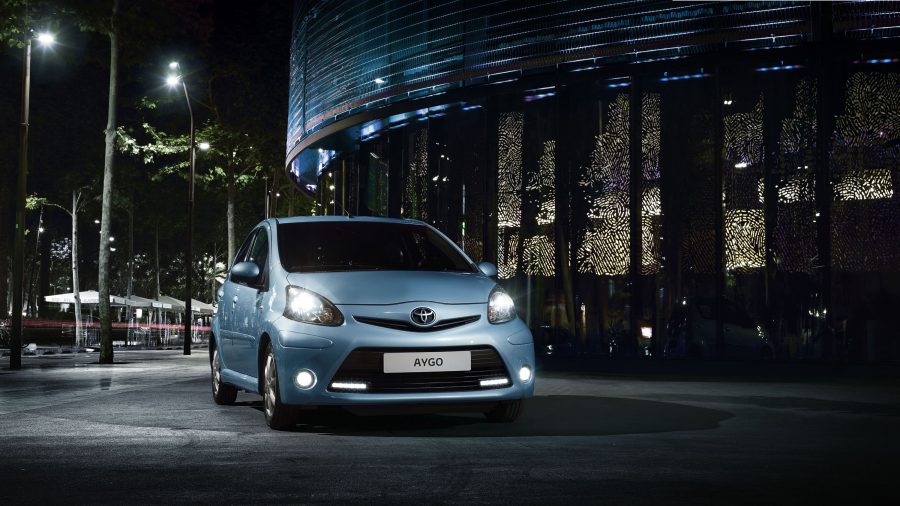 Toyota Warranty
Every new Aygo is eligible to be covered by up to a 10-year/100,000 miles (whichever comes first) Toyota warranty. This is provided through an initial three-year manufacturer warranty, and up to an additional seven-year service-activated Toyota Warranty. Under Toyota Warranty, a 12-month/10,000-mile warranty is included with every Toyota service, giving you a chance to relax in the knowledge that you and your vehicle are in safe hands. Terms and conditions apply.
Aygo repairs
Accidents happen, and as well as offering to service, Toyota dealers can also help with repairs. Book your car in to fix broken items, and our Technicians will try and get your car back up and running within a day, and they will use official Toyota parts for the repair. These parts come with 12 months of warranty cover once they're fitted, too.