With the new Auris Hybrid on sale now, you might be wondering how much it costs to own and how well it compares to its rivals. Although it's the only full-hybrid in its class, we think it's a direct competitor to the diesel hatchbacks on the market. It's time to look at the facts and figures…
The big one: what does it cost?
The Auris Hybrid T4 costs from just £18,950 on the road. That's less than the equivalent diesel models from Volkswagen, Ford and Vauxhall – see the table below for a full comparison. What's more, Auris Hybrid, like all new Toyota cars, is covered by a five-year/100,000-mile manufacturer warranty.
Low running costs
All Auris Hybrids emit less than 100g/km CO2, so there is no road tax (VED) to pay. And with fuel consumption of just 74.3mpg (combined cycle with 15-inch wheels), Auris Hybrid drivers will also be spending a lot less time and money at the pumps, too. To find out how much cheaper and 'greener' your journey would be in an Auris Hybrid compared to other cars on the market, click here to try Toyota's 'My Journey' tool.
On top of these savings, Auris Hybrid's group 13E insurance rating is lower than competitor models, which should mean a smaller bill come renewal time.
In good company
Company car drivers have even more to celebrate, as Auris Hybrid has a car tax benefit-in-kind rating of just 10 per cent and qualifies for a 100 per cent Corporation Tax write-down in the first year.
Plus, if you happen to drive into London for business or pleasure, you'll also be pleased to know that the Auris Hybrid is exempt from the Congestion Charge, subject to Transport for London's (TfL) standard registration fee. To find out more about the Congestion Charge, visit www.cclondon.com.
Minimal servicing
With 10,000-mile service intervals, Auris Hybrid is designed to be low maintenance and highly durable. Servicing costs are kept low because the Auris Hybrid has no need for a conventional starter motor, alternator or drive belts. If you're unsure about hybrid technology, you can put your mind at ease, as the hybrid battery is covered by an 8-year warranty.
Savings don't just come from under the bonnet, however. The front and rear brake pads are designed to last for around 40,000 and 70,000 miles respectively. Even the tyres are expected to cover more than 30,000 miles, and the LED headlamp bulbs have a lifespan of 20 years!
Rival comparison
If you're in the market for a compact hatchback that offers great performance with low running costs, why not take a test drive in the new Auris Hybrid and experience the benefits for yourself? If you're considering a diesel hatchback, take a look at the table below – we think Auris Hybrid offers better value for money than the rival diesel automatics from Volkswagen, Ford and Vauxhall.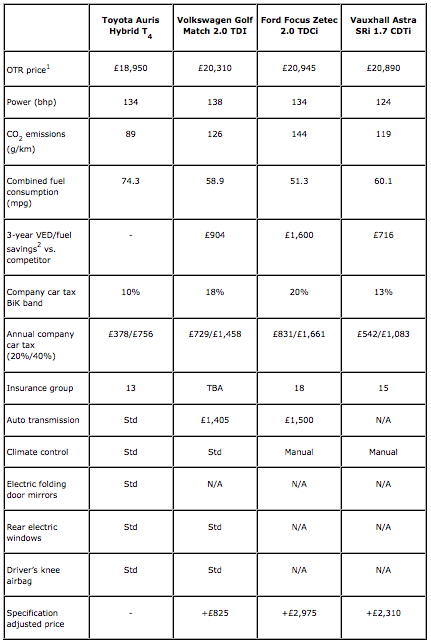 1 Toyota, Volkswagen, Ford and Vauxhall on-the-road (OTR) prices correct at 1 April 2010.
2 Fuel saving calculated at 12,000 miles per year at an average price per litre of £1.21 (petrol) and £1.22 (diesel).
For more details about Auris Hybrid, click here.