With the current Toyota TS050 Hybrid retiring at the end of 2020, a series of illustrations were commissioned to highlight key moments, both good and bad, from Toyota's LMP1 adventure so far. And there was only one man for the job of creating some incredible Toyota art, Mr Jalco.
Spanning three innovative racing machines, Toyota's return to the WEC has seen an impressive haul of trophies, lap-records and achievements (including winning Le Mans three consecutive times), mixed with a sprinkling of heartache and hiccups along the way too. The path to success is never an easy one.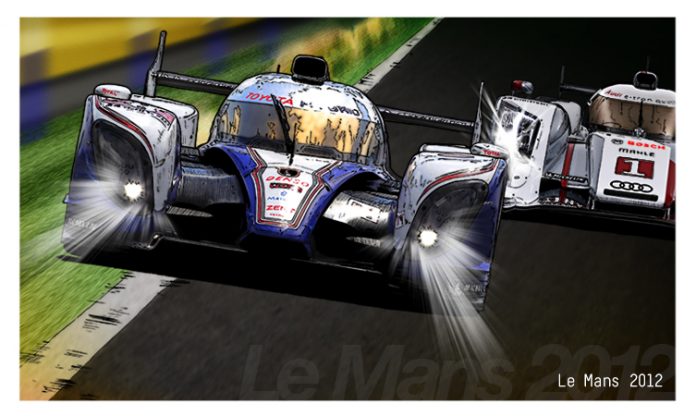 We spoke with Mr Jalco (or James to those in the know) about his own Toyota motorsport memories, his unique illustrative technique and what the challenges involved.
TGB: What are your memories of Toyotas in WEC and Le Mans?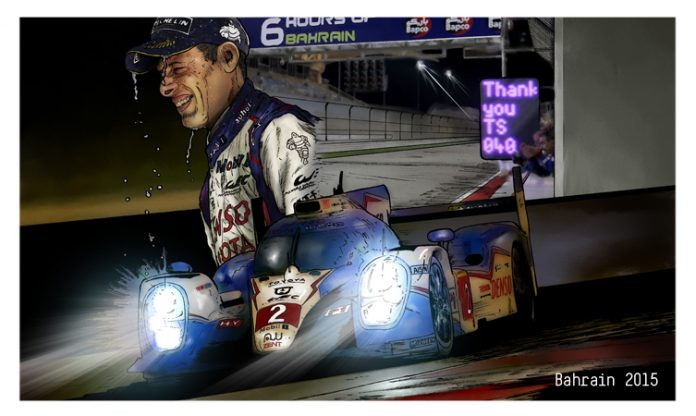 Mr Jalco: "There are two that really stand out for me. First, the 90 C-V, which is a gorgeous car with a fabulous livery. I think it achieved Toyota's best finish at Le Mans up to that point. I just remember it being a stunning machine.
"The other was the TS020 (GT-One) in 1998/99. That was a fabulous looking machine and so quick. I spent many hours behind the wheel of the GT-One in Gran Turismo 2."
Your technique is unique, what made you decide to draw in this fashion?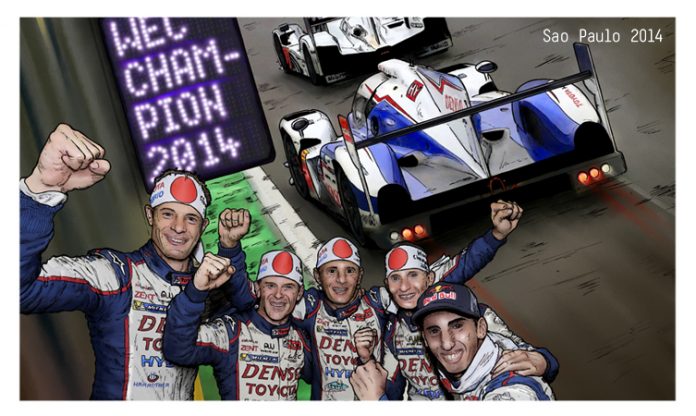 "I enjoy the process of creating pieces that are as "real" as possible but maintain a graphic-novel feel. I love the feel of ink on paper, so while it would be quicker and probably easier to draw everything digitally, the marriage of hand-drawn inks and digital colour just feels right to me. Especially when it comes to motorsport, it allows for really vibrant colour work and lighting effects."
Is it a very time-consuming process, illustrating in this way?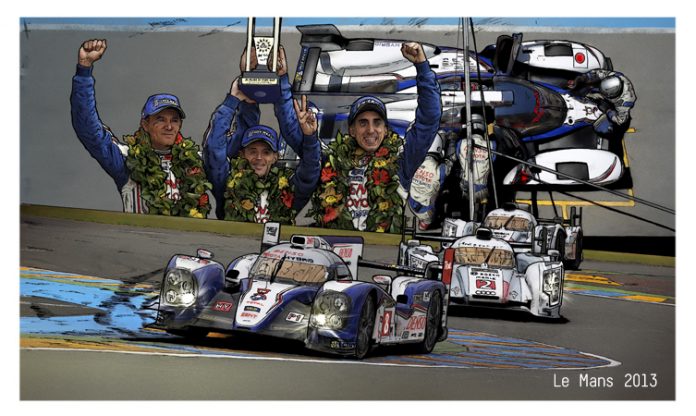 "It can be. Certainly, for the montage images where I have to combine multiple images into a single piece, they require a lot of planning to find the right balance. From initial planning and sketching through inking and digital colour, each piece takes an average of three days."
Where do you draw your inspiration from?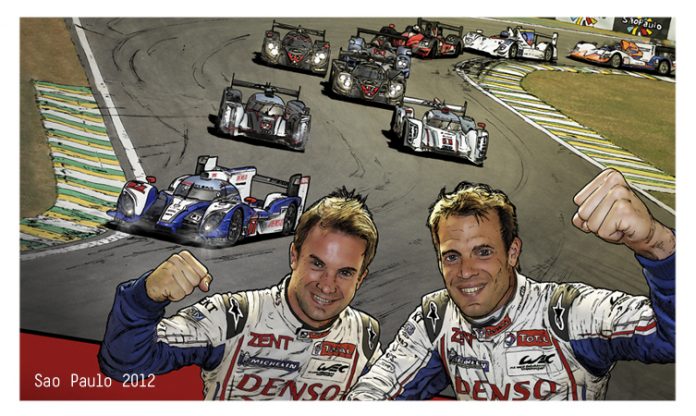 "Oh wow, that's a big question! All over the place, to be honest. Obviously, when it comes to cars and motorsport, I look at a lot of work by car photographers and other illustrators. But I like to draw from as wide a range of influences as possible, whether that's a Rembrandt, a Syd Mead concept art book, wildlife photography or the cartoon work of Bill Watterson."
What are the challenges you face when illustrating your designs?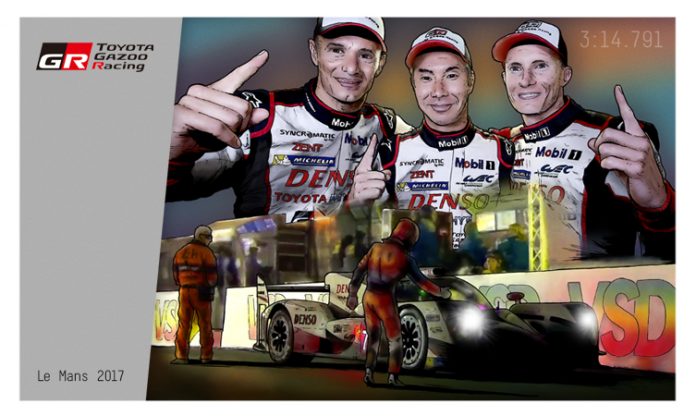 "Time. Time is always the main issue. Deadlines rarely move, and illustration is often something that people don't think of until the last minute, so you're often creating under very tight turnarounds. Other than that, the biggest issue is my own brain – like many artists I struggle with Imposter Syndrome, so it's always difficult to finish a piece as I'm never really happy with anything I create. One of the joys of the creative personality, I guess!"
Was it more challenging drawing the Le Man cars than the BTCC Corolla, which you did previously?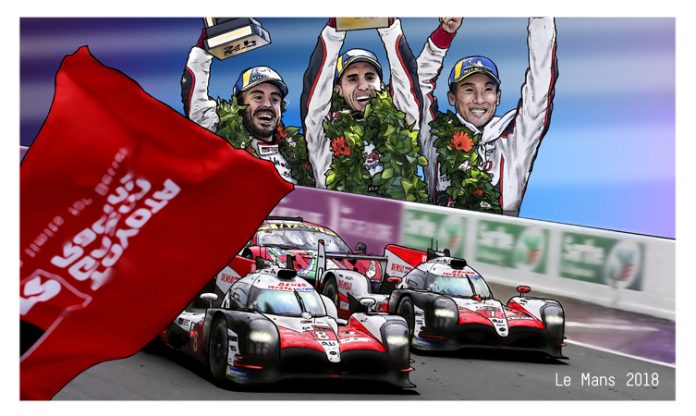 "The WEC/Le Mans cars are very dynamic in shape compared to BTCC cars, in combination with the iconic tracks and opportunity for night-time race artwork, it added a whole new dimension to the artwork that wasn't possible with the BTCC pieces. Also, I'm always looking to improve and try new techniques with every piece, and there were certainly some new techniques I tried with these pieces that I think have come out really well."
Now that you've now created illustrations on BTCC and WEC car, could WRC be next?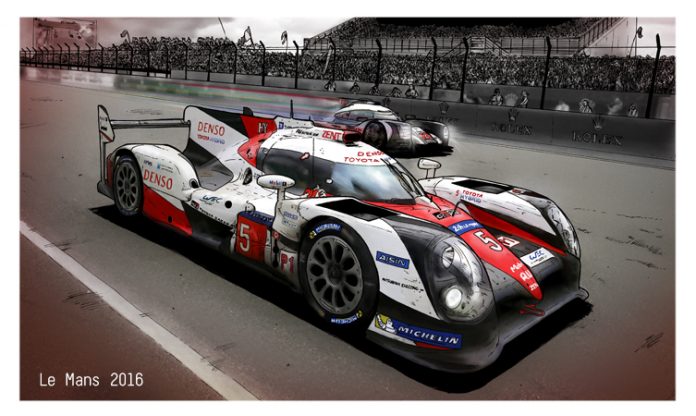 "I would love to. I adore the WRC – and it's an opportunity to create motorsport artwork in a wide range of environments: forests, dusty tracks, snow etc. Hmm. Now you have me thinking…"
Is there any Toyota model, motorsport or otherwise, that you'd love to illustrate?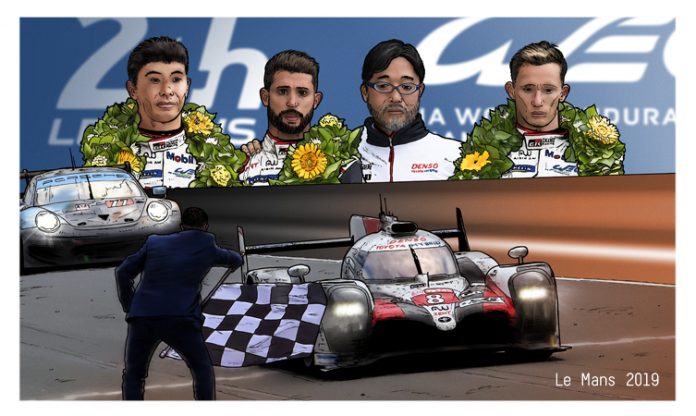 "Obviously, the Celica GT-Four and the 2020 Yaris are stand-outs in the WRC. Then there's the 1994 JTCC Corona, Barry Sheene's Celica Supra from 1985, the Supra GTLM from 1996. so many. Non-motorsport cars would be the 2000GT, which I reckon is one of the best-looking cars ever made and the Celica RA24 which is just a very cool thing. Oh, there's too many to list, to be honest!"
What has the reaction been like to your finished creations?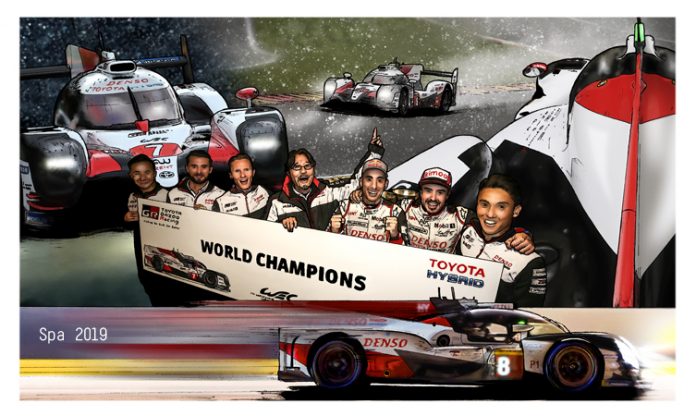 "The reaction to the Corolla BTCC pieces was great – it was lovely to see that people enjoyed them, that's as much as you can ask as an artist. As for these WEC/Le Mans pieces, I hope people will enjoy them just as much!"