WorldSkills UK Live, the nation's largest skills, apprenticeships and careers event, is taking place this week at NEC Birmingham and Toyota has a bigger presence than ever before. Approximately 70,000 young people from all corners of the UK are expected to attend the show, which got underway on Thursday. This year, the collaboration between Toyota GB (TGB) and Toyota Manufacturing UK (TMUK) ensures the display highlights all of the Toyota apprentices opportunities on offer across the brand's UK business activities.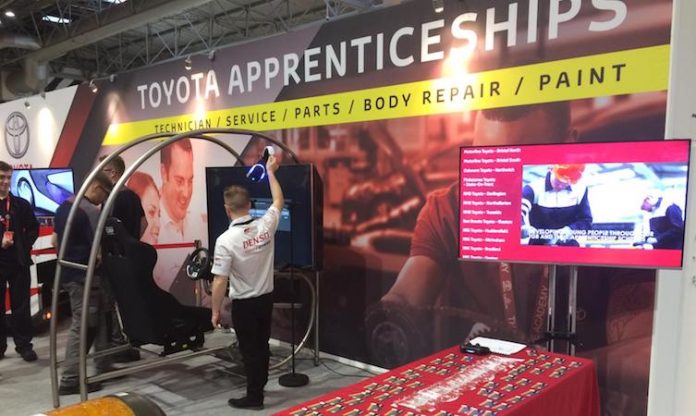 Martin Reid, Manager Apprenticeship Programme, says: "This year Toyota has a greater level of coverage than ever before at the show. Our stand is split, with TMUK on the left, while on the right we have TGB and all of the apprenticeships that we offer through the Toyota Apprenticeship Programme, which is run in conjunction with [training provider] ProVQ."
Martin explains that the event puts Toyota in front of a wide range of young people, from secondary school ages of 11 to 16. After two days aimed primarily at schools, the event is then free for the general public to access on Saturday.
"The whole idea of WorldSkills UK Live is twofold. Firstly, the show gets our brand, our image and our technology in the mindset of the work force of tomorrow," he explains.
"Another of the reasons is recruitment. We want to put our apprentice programme above all others and get the best apprentice candidates from all around the country. The show is highlighting all our current programme vacancies.
"Any show attendees interested in signing up for further information can do so via iPads that link through to our GDPR-compliant apprenticeship portals for Toyota and mag.lexus.co.uk."
Toyota's display at WorldSkills UK Live showcases a broad range of the company's activities, and includes a head-turning centrepiece.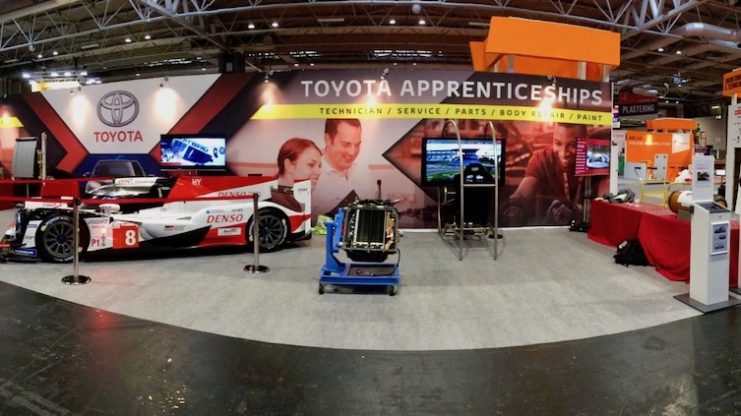 "We highlight our technology, efficiency and zero-emissions," says Martin. "This year we have the fuel cell and fuel tank from the Toyota Mirai and media content to show E.Palette mobility solutions, but we've also brought the replica of the Le Mans 24 Hours car as well. This car showcases advanced body structure technology and hybrid technology, so it is a perfect fit for our stand.
"The show will be very busy," he adds. "Toyota is a brand name that everybody gravitates to. You get to meet some amazing people. I remember last year speaking to a show visitor who came on to the stand who must have been about 14 years old. We were having a discussion about how the Mirai's fuel cell system works and he knew the basics already.
"He said he wanted to work with Toyota in the future. That is the kind of knowledge base and attitude that Toyota would love to have on its apprentice scheme in years to come."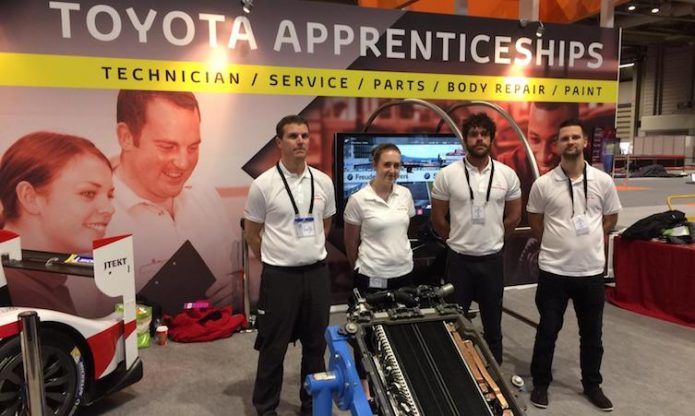 As well as ambitious youngsters, the stand will also be visited by those who are at the point of making important career decisions, with Toyota's experts on hand to offer advice about apprenticeships and further education opportunities. "We have a solution for most people who will be walking on to our stand at WorldSkills UK Live," says Martin.
Can't make it to WorldSkills UK Live? Learn about the exciting opportunities across all Toyota and Lexus apprentice aftersales specialisms via the links below:
http://apprenticeshipfinder.co.uk/toyota/