Toyota has announced that it has developed a new continuously variable transmission (CVT), six-speed manual transmission, 2.0-litre engine, 2.0-litre hybrid electric system and all-wheel drive systems based on the Toyota New Global Architecture (TNGA), its framework for making ever-better cars. The new technologies it is deploying offer both improved driving and environmental performance.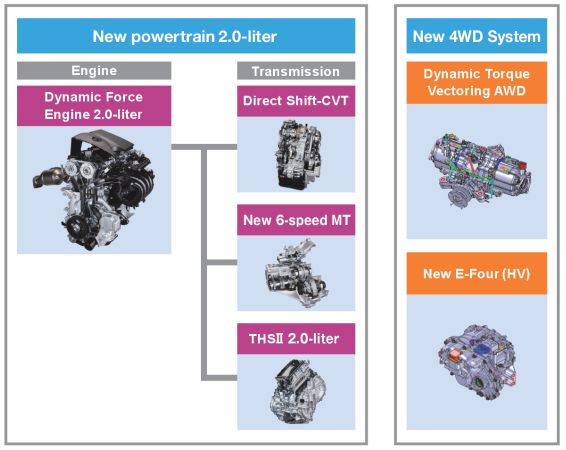 The new CVT is the world's first to feature a launch gear, which significantly improves transmission efficiency at low speeds. It delivers direct and smooth response to the driver's use of the accelerator pedal, and superior fuel efficiency.
Click here for more information on the development of the new powertrains
Direct Shift-CVT: a new type of continuously variable transmission
The basic functions of any transmission are to achieve efficient operation, maintain the engine within its most efficient speed ranges and effect highly responsive gear changes. To improve these functions, Toyota has worked to reduce mechanical losses, adopt a wider gear range and improve shift tracking. This results in a direct, smooth driving experience with superior fuel efficiency – improved by six percent compared to the current Toyota CVT.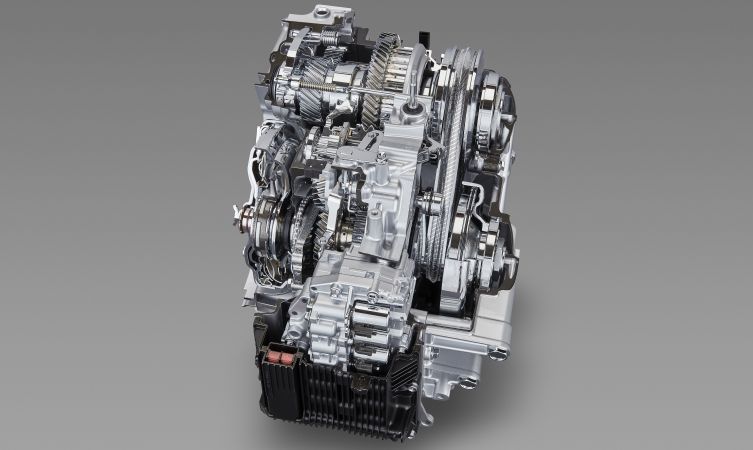 Reduced mechanical losses
The new unit marks a world-first for a CVT in a passenger vehicle by using a launch gear. This secures more efficient operation in lower gear ratios where belt efficiency is typically poor. The system uses gear drive when starting from stationary, giving powerful acceleration and resolving the momentary sluggish feeling that can occur under acceleration. Launch performance is thus made smooth and comfortable. When switching from gear drive to belt drive, the transmission uses highly responsive gear change control technologies, developed from those used in automatic transmissions.
Conversion to wider gear ranges
In line with the use of a launch gear, belt drive is specified for higher gear ratios. This new set-up not only improves the efficiency of belt use, but also allows wider gear ranges to be adopted. This delivers a class-leading1 gear ratio range for 2.0-litre powertrains of 7.5.
Improved shift tracking
The use of launch gears reduces input load, which in turn means that the size of the belt and the pulley components can be reduced. The belt angle has been made narrower and pulley diameters have been made smaller, resulting in shift speeds that are 20 per cent faster. This helps secure powerful, rhythmic acceleration
Click here for more information on the Direct Shift-CVT
Six-speed manual transmission
Toyota has also developed a new manual transmission, responding to global needs, particularly in Europe. Compared to the existing unit, the new system is 7kg lighter and is shorter by 24mm, making it one of the world's smallest transmissions and contributing to improved fuel efficiency. It achieves world-leading transmission efficiency, while the use of iMT (intelligent manual transmission) automatically adjusts engine revs when changing gear to ensure smooth shifts, free from uncomfortable recoil.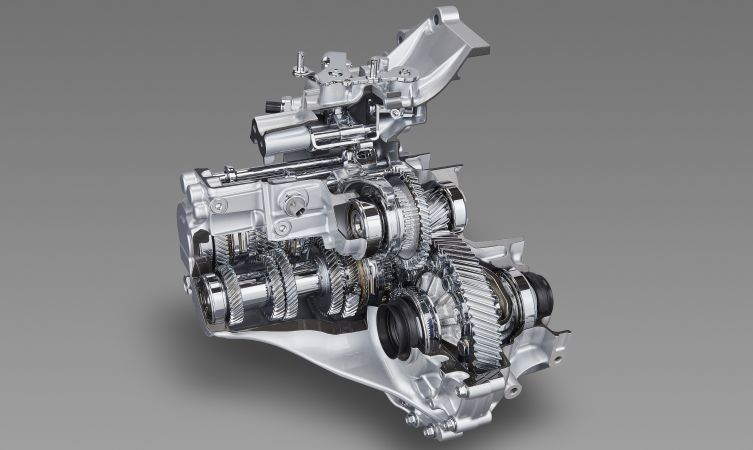 Click here for more information on the new six-speed manual transmission
2.0-litre Dynamic Force engine: a new in-line four-cylinder direct injection petrol engine
Toyota's new Dynamic Force engine uses high-speed combustion technologies and a variable control system. It has been engineered to achieve higher thermal efficiency, with a reduction in the losses associated with exhaust and cooling systems, the friction between moving parts and other operating aspects.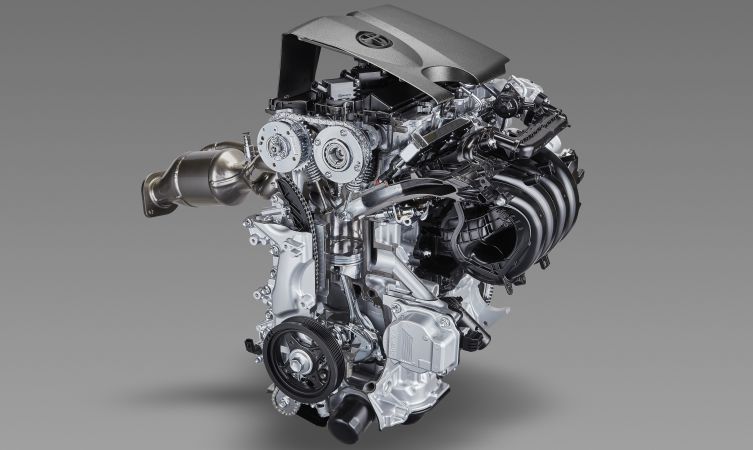 As a result, the new 2.0-litre engine achieves world-leading thermal efficiency of 40% in a petrol vehicle and 41% in a hybrid electric vehicle. In addition, compared to existing engines, the new units deliver higher torque at all engine speeds and will comply ahead of time with expected future exhaust regulations in all countries where they will be sold.
Click here for more information on the Dynamic Force engine
2.0-litre Toyota Hybrid System (THS II)
Toyota has developed a new hybrid petrol-electric system for 2.0-litre engines, using the same size, weight and loss-reducing technologies applied in the current, fourth-generation Prius. The new system gives improved driving performance while maintaining superior fuel efficiency. Under acceleration, the hybrid system reduces engine revs while drawing increased electric power from the battery.
Click here for more information on the 2.0-litre Toyota Hybrid System
Dynamic Torque Vectoring AWD and E-Four AWD systems
Toyota has developed two new all-wheel drive systems with the aim of improving fuel efficiency and achieving high levels of AWD handling, stability and off-road performance.
The new Dynamic Torque Vectoring AWD system is designed for use in petrol-powered vehicles. It uses a torque vectoring mechanism that independently distributes torque to the left and right wheels according to prevailing conditions, allowing the driver to steer the vehicle exactly as intended. It also achieves high off-road performance, even in the toughest conditions.
The system incorporates a disconnect system, which features the world's first ratchet-type dog clutch for both the front and rear wheel shafts. These clutches stop rotation of the drive system, which transmits driving force to the rear wheels when in two-wheel drive mode. This significantly reduces energy losses and improves fuel efficiency.
The new E-Four system will be used in hybrid electric vehicles. It delivers 30% more total torque to the electrically driven rear wheels than the current version. By using a new control system that optimally distributes torque to the rear wheels, it delivers a high level of off-road performance, handling and stability.
Furthermore, both the Dynamic Torque Vectoring AWD and E-Four systems benefit from AWD Integrated Management (AIM), which harmonises engine, transmission, braking and AWD systems to gain excellent handling and stability, regardless of road surface conditions.
Click here for more information on these chassis systems
Market introduction and anticipated environmental benefit
Toyota intends to expand the number of models equipped with the new powertrain units from spring 2018 onwards.
These powertrains will not only contribute to improved environmental and driving performance in conventional petrol engine vehicles but their core technologies will also support improved performance in electrified vehicles. In this way, these technologies have a role to play in Toyota's efforts to popularise electrified vehicles.
Where TNGA-based powertrains are concerned, Toyota has already announced plans to introduce 17 versions of nine engines, ten versions of four transmissions and ten versions of six hybrid systems by the end of 2021. The new CVT, six-speed manual transmission, 2.0-litre petrol engine and 2.0-litre hybrid petrol-electric system are four of the planned components.
Within the next five years, Toyota aims to have TNGA powertrain units installed in approximately 80% of all Toyota and Lexus vehicles sold each year in Europe, Japan, the USA and China. It forecasts that these units alone will improve fuel efficiency sufficiently to reduce the CO2 emissions from Toyota vehicles by more than 18%.