At Toyota we have long sought to address the environmental challenges of our time: climate change, air quality and energy diversity.
For more than 20 years we've been at the forefront of alternative fuel and powertrain technologies. However, the bigger picture tells a more ambitious story and the company's long-term vision of a greener future explains how we'll meet the targets we've set ourselves.
Here in the UK today, Toyota and Lexus alone represent 49% of the entire Alternative Fuel Vehicles (or AFV) market. That means that almost one in every two cars sold which use electrified powertrains are sold by us.
By 2030, Toyota aims to achieve sales of more than 5.5 million electrified vehicles, including more than 1 million zero-emission vehicles (Battery Electric Vehicles or BEVs, and Fuel Cell Electric Vehicles or FCEVs).
Additionally, by around 2025, every model in the Toyota and Lexus line-up around the world will be available either as a dedicated electrified model or have an electrified option. This is less of a journey for us than most car companies. In the UK last year six out of ten Toyotas sold were already hybrid, and more than nine out of ten Lexus cars.
As a result, no future models will be developed without an electrified version.
In classic Toyota style, though, we are motivated not by individual vehicles we make, or will make, but by what they achieve for people. The company believes in mobility for all, and in providing solutions that work for our customers.
Since 1997, when we launched the first electrified vehicle for mass market customers – the MkI Prius – we've been helping to demystify EVs, and make them mainstream. But our vision for the future is far more ambitious.
So let's lift the lid a little on that.
Our future is defined by what we call the Toyota Environmental Challenge 2050. We think it's the most ambitious and exciting vision of any car company.
The six challenges Toyota has set itself are:
It's big stuff, and it affects every part of our company and the way we work. It provides us with a road map for the future, so it's at the heart of everything we do.
To go forward, though, you need to understand where you started from. For Toyota it was a vision to make alternatively powered cars acceptable and normal for people, helping to cut CO2 emissions, improve the environment and save the customer money on fuel.
When the Prius was launched in 1997 that idea seemed like science fiction. Two decades on and more than four million Prius have been sold; in fact we've made more than 12 million Toyota and Lexus petrol-electric hybrids (HEVs) and these days lots of other manufacturers have followed suit with their own hybrid-style cars. Pleasingly, Toyota is number one for hybrid sales in every country in Europe and is now into its fourth generation of hybrid technology.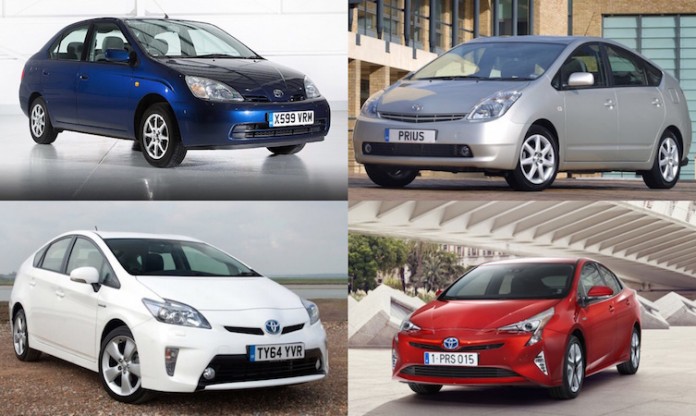 To put that in perspective, since the launch of Prius Toyota has saved approximately 29 billion litres of petrol from being consumed, and approximately 77 million fewer tonnes of CO2 have been emitted worldwide.
In the UK, Toyota hybrid sales continue to soar, and today green electric technology is no longer a mystery to customers.
Crucially, hybrid is an affordable, mass-market green technology that most customers can access today, whether they want a small city car or a luxurious super-saloon. Because of this, hybrid is helping to improve our environment today, every day.
So hybrid technologies remain a core part of our vision for the future, but it is a future that we think will see a multitude of powertrain options to suit different customer demands and needs.
With this in mind, Toyota has been working on the right plug-in hybrid (PHEV) and battery electric vehicles (BEV) for the future, not just focusing on what we could produce today alongside our existing hybrids and PHEVs, such as the Prius Plug-in (sales of which are more than 80,000 to date).
Electric vehicle development
Did you know that the Toyota hybrid systems are modular? This means that compared with most car makers it's easier for us to make a standard hybrid, a plug-in, or a BEV, or even a fuel cell vehicle (more of which we'll come to in a moment) on a much larger scale.
Toyota has been inventing, developing and finessing new technologies for years, however it believes that unless a solution is a mass-market one, it doesn't necessarily solve the issue for the customer. The car market, and the wider national infrastructure to support alternative fuel vehicles, is still developing.
The key thing for us is to give customers vehicles that work for them today, without them having to make radical alterations to their lifestyles just to get about. It's true that BEVs can be exactly that, but for now that's only true for a very small number of people.
As charging infrastructure and battery technology (and by the way, Toyota has more than 200 engineers working on nothing but battery technology) improves, that will change, and when the time is right for our customers we'll offer them BEV solutions which work for them.
With that in mind, Toyota has been working with governments around the world, including in the UK, and joining forces with other forward-thinking technology partners. The aim is to develop next-generation alternative fuel vehicles with shared architecture that are a real option for the majority of buyers.
We rarely talk about this work – we're not really a company that shouts about things – but we have forged a game-changing partnership with Panasonic to develop next generation batteries. This is just one of hundreds of projects around battery development Toyota is undertaking.
We're working on the development of a huge variety of batteries for the future, for environments all over the world; for example: all-solid, metal-air, sodium ion, and magnesium (multi-charged ion).
The components these batteries power is being considered, too. For example, Toyota has developed the world's first neodymium-reduced electric motor magnets that use significantly less rare-earth materials than traditional magnets.
As new generations of Toyota hybrids, plug-ins and BEVs come to market in the coming years we want to offer the very best vehicles possible, of the right type, at the right time, to meet the needs of everyone.
Much of this work is wrapped up in our Electric Vehicles Business Planning Department headed by the very top executive in the entire Toyota corporation.
More than just electric vehicles
However, our 2050 Challenge is bigger than just EVs. To work, it will need to embrace many powertrain technologies and formats.
If we are to achieve mobility for all we need to recognise that people's needs are different depending on their circumstances, what they use a vehicle for, and where they live. We see a future with a holistic range of vehicle types: HEVs, PHEVs, BEVs and something else… the ultimate eco cars, hydrogen fuel cell vehicles (FCEVs).
With the hydrogen-powered Toyota Mirai, we launched another element of that 2050 Challenge. Mirai is a car which runs on hydrogen filled up from a fuel station pump just like a traditional car, which doesn't need charging and produces only pure water from its exhaust.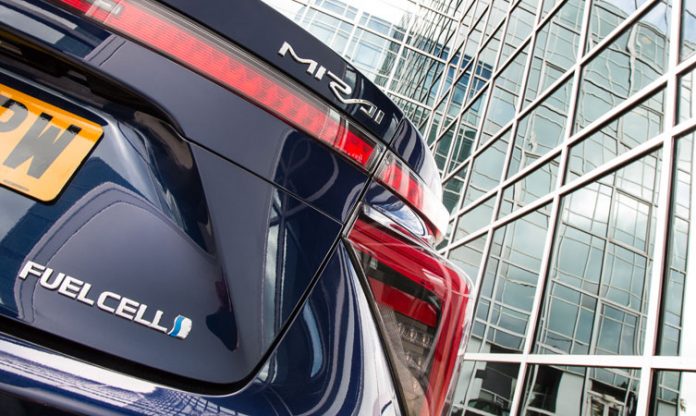 Mirai is packed with a multitude of unique technologies which have combined to create a step-change in FCEV usability. Thanks to that work you can now take a Mirai taxi in London and the only thing you'll notice is how nice a car Mirai is to ride in.
Here's an example: Toyota engineers invented a revolutionary tank system for storing hydrogen in cars. Toyota then made 290 patents covering the hydrogen tanks royalty free in order to help others in their FCEV development.
In fact, Toyota made a total of 5,860 patents concerning FCEVs royalty-free, in order to accelerate the uptake of hydrogen fuel cell vehicles.
Here in the UK (as well as globally) we're working with government and other partners to facilitate the growth of hydrogen infrastructure towards the day when FCEVs can become a real everyday option, not just for private cars but also commercial vehicles. It will take time but, as hybrid showed, Toyota is a company that plans for the future.
This is just a taste of what Toyota is developing and working on and we hope it gives you a glimpse of what Toyota is planning for the alternative fuel future.
We don't do much shouting, but we do a lot of thinking, creating, inventing, developing and planning. We think that's the way to build ever-better cars.