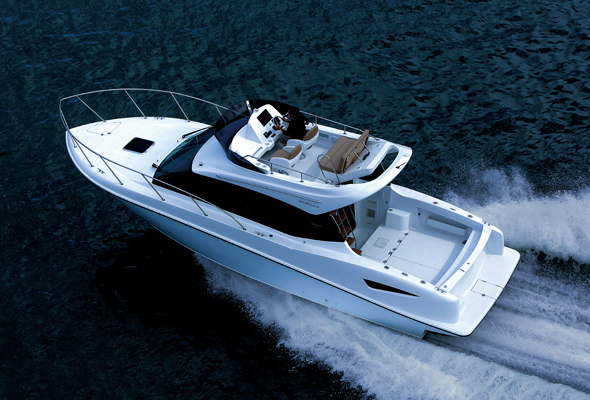 Toyota has just launched a new boat. Yes, that's right. Alongside the millions of cars it makes, the company also makes a range of products from robots to sewing machines and has expanded into industries as diverse as prefabricated housing to telecommunications to forestry. Now, it has launched the latest model to its Ponam boat range, the Ponam-31.
Just as the Toyota RAV4 launched a new class of car called the SUV (sports utility vehicle), the Toyota Ponam-31 belongs to a new class of boat – the sports utility cruiser. This means it's a high-performance boat with comfortable accommodation for up to 12 people, that's suitable for fishing expeditions and cruising alike.
It is made from a 31-foot high-strength aluminium hull and is powered by two, 3.0-litre direct-injection diesel engines derived from the Land Cruiser Prado. The engines feature optimised turbochargers, intercoolers and fuel injectors which help ensure that emissions, noise and vibrations are minimised in the Ponam-31.
The Ponam-31 reflects Toyota's years of experience of incorporating complex curved surfaces into vehicle design and presents a solid and elegant form – even the rear deck rail evokes the look of a car spoiler.
The open-plan flybridge above the cabin offers excellent visibility. The cabin creates a relaxing and expansive interior space, while fittings such as a sofa and counter can be laid out in various arrangements to enhance both comfort and convenience.
Optional extras include systems adapted from Toyota's automotive technologies, such as Toyota Drive Assist (a pilot support system) and Toyota Virtual Anchor System, which is an automatic piloting control system that holds the boat in position or maintains the heading of the bow.
The Toyota Ponam-31 is on sale in Japan for 29,700,000 yen (around £170,000).
Toyota entered the marine business in 1997 with the Ponam-28 and all of its boats feature automotive engines that have been specifically tuned for marine applications. The name Ponam is derived from the Maori name for New Zealand's South Island – Te Waipounamu.