On 2 January a total of 491 competitors will blast off on the 2017 Dakar Rally – the challenge of a lifetime that is widely regarded as the world's toughest race.
Spread across a range of categories that includes trucks, cars, quads, bikes and UTVs (a new standalone category for lightweight 4WD vehicles), entrants will experience everything from freezing, high-altitude mountain ranges to scorching, dusty plains. Endurance and navigation skills will be essential in the successful completion of all 12 race stages.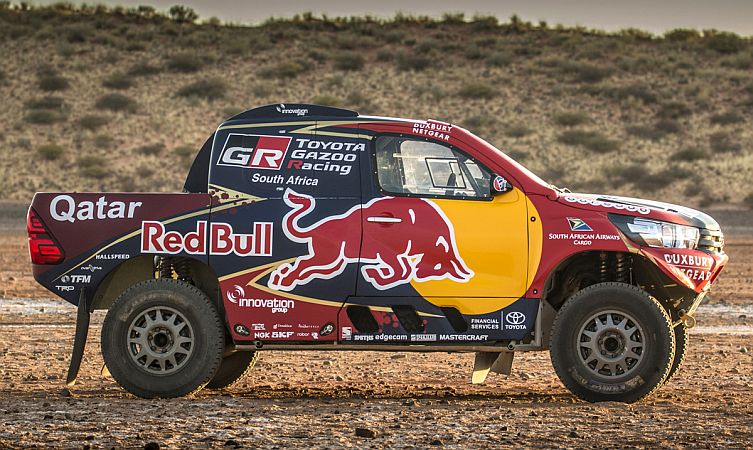 2017 Dakar Rally: route review
Beginning on 2 January in Asunción and finishing on 14 January in Buenos Aires the rally takes place across three countries: Paraguay, Argentina and Bolivia.
The 2017 Dakar Rally promises to be physically challenging with six days in a row being spent at least 3,000m above sea level. The level of difficulty increases until the rest day and then ramps up once again afterward. The toughest of these is stage nine (11 January) – a gruelling 600-mile route of which 98 per cent is off-road.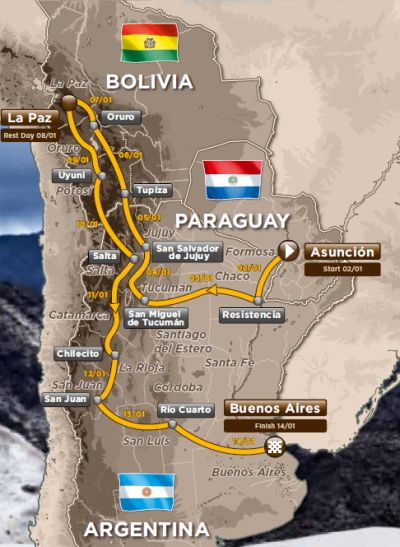 The stage schedule is as follows:
2 January – Asunción (Paraguay) to Resistencia (Argentina)
3 January – Resistencia to San Miguel de Tucumán
4 January – San Miguel de Tucumán to San Salvador de Jujuy
5 January – San Salvador de Jujuy to Tupiza (Bolivia)
6 January – Tupiza to Oruro
7 January – Oruro to La Paz
8 January – Rest day in La Paz
9 January – La Paz to Uyuni
10 January – Uyuni to Salta (Argentina)
11 January – Salta to Chilecito
12 January – Chilecito to San Juan
13 January – San Juan to Río Cuarto
14 January – Río Cuarto to Buenos Aires
2017 Dakar Rally: meet the Toyota teams
Toyota is one the most established names in the Dakar Rally, and this year the line-up of Toyota models will consist of the latest Hilux pick-up in the Super Production class and the 200-series Land Cruiser in the Production class
Toyota Gazoo Racing South Africa
Toyota Gazoo Racing South Africa (TGRSA) will be entering two teams, both of which will compete in an upgraded version of the four-wheel drive Hilux. This prototype vehicle has already proven its worth by winning six races in this year's FIA Cross-Country Rally World Cup and successfully securing the championship title.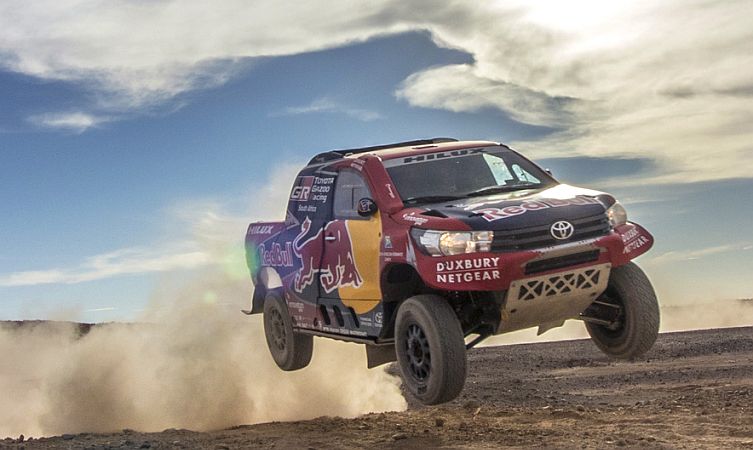 Car #301 will be piloted by Qatari driver Nasser Al-Attiyah (below right) and French navigator Matthieu Baumel (below left). This will be Al-Attiyah's first year with Toyota; however he has enjoyed great success in the Dakar Rally, earning first place in both 2011 and 2015.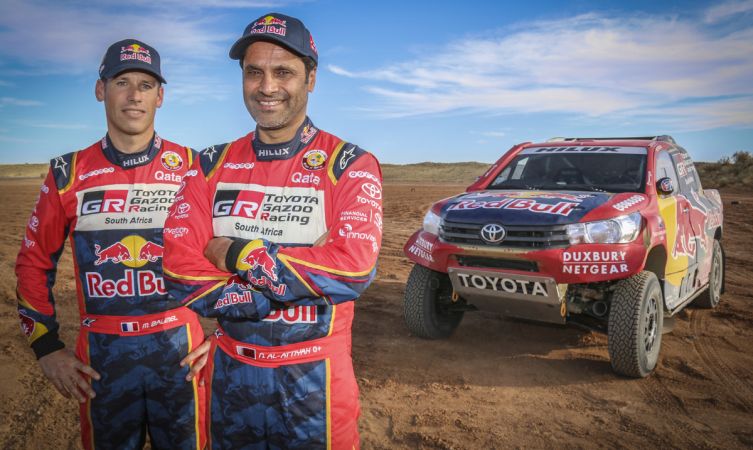 Car #302 will be piloted by South African driver Giniel de Villiers (below right) and German navigator Dirk von Zitzewitz (below left). The pair won the event in 2009 and have raced together for Toyota since 2012, finishing on the podium in all but one of their attempts.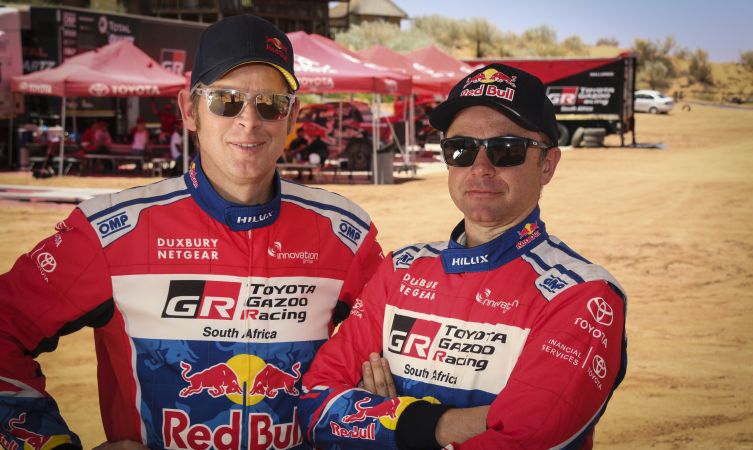 Team Land Cruiser Toyota Auto Body
The entry of two Land Cruisers in the production class is part of Toyota's effort to create ever-better cars. This year's 200-series model features remodelled front and rear suspension and a V8 engine (1VD-FTV) running on biodiesel. The vehicle has already been successfully tested on the Morocco Desert Challenge rally and in the Silk Way Rally – a total of almost 10,000 race miles.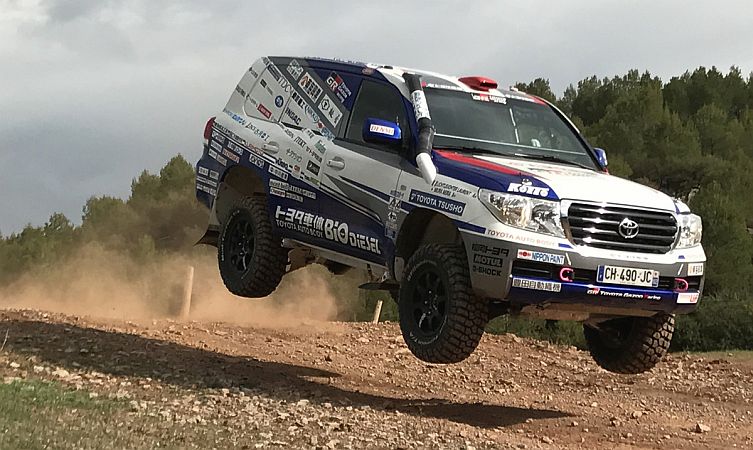 Car #327 will be piloted by French driver Christian Lavieille (below left) and navigator Jean-Pierre Garcin (below right). While it is Christian's first year with Team Land Cruiser, he first competed in the 2006 Dakar and has been a consistent top 20 driver since. Jean-Pierre, meanwhile, has raced with Toyota since 2000 and has achieved six category victories.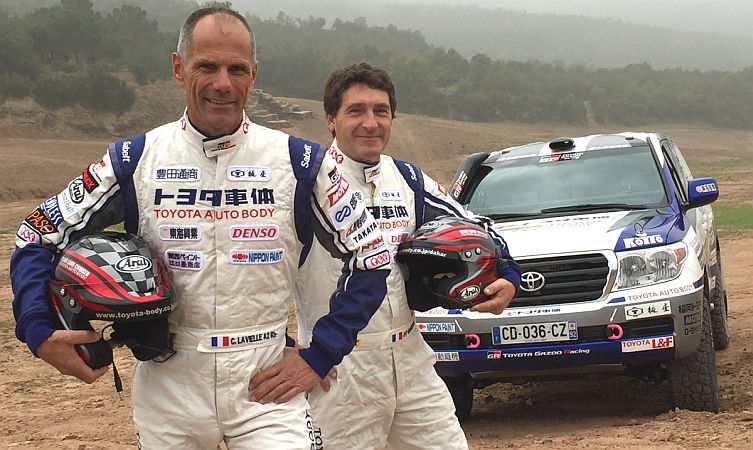 Car #332 will be piloted by Japanese Toyota Auto Body employee Akira Miura (below right) and French navigator Laurent Lichtleuchter (below left). Akira first participated in the rally as a navigator in 2007 but drove for the first time in 2016 with Laurent by his side. He has earned two class victories in this time, all the while continuing his regular job at Toyota Auto Body in Japan.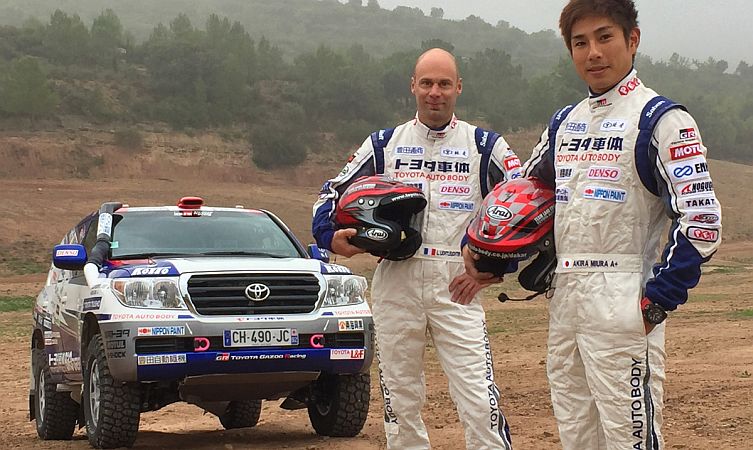 A brief history of Toyota in the Dakar Rally
Toyota has participated in the Dakar Rally since the beginning in 1979. Toyota Auto Body/Team Araco has entered the race with Land Cruiser models every year since 1995 and enjoyed incredible success, winning 15 times out of 21 attempts.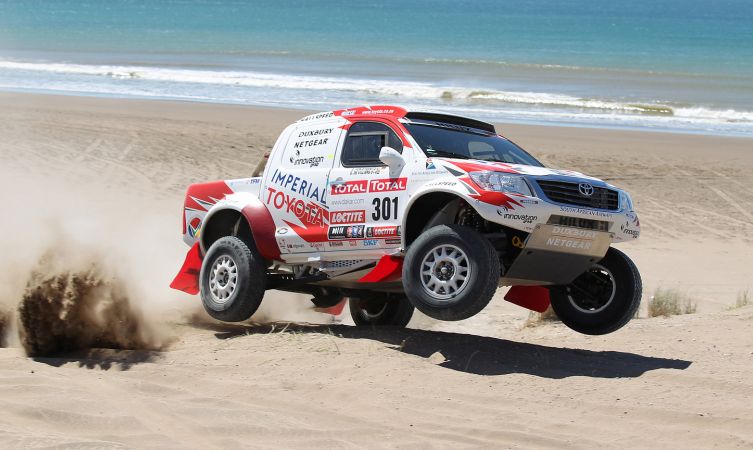 Toyota Gazoo Racing South Africa first entered the Toyota Hilux in 2012 (above) under the Imperial Toyota name, where it came third and tenth. This was followed by second place in 2013, fourth in 2014 and second in 2015. Last year the team competed under the TGRSA name for the first time and finished in third, fifth and eleventh positions.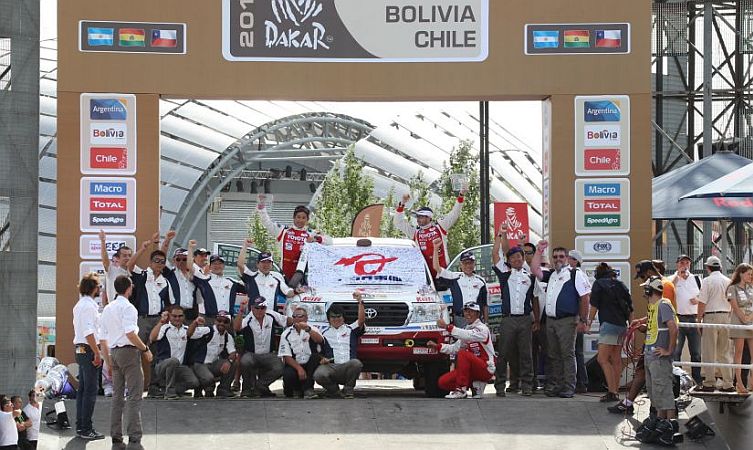 Toyota's enviable reputation for sturdy reliability makes its vehicles particularly popular among privateers competing in the production category. The severe modification restrictions in this category are designed to highlight the fundamental strengths of each vehicle.
With that in mind, it is interesting to note that a significant 42.4 per cent of the vehicles that finished last year's Dakar Rally were Toyotas.
Can I keep up-to-date with the 2017 Dakar Rally?
Absolutely. And you can do that right here on the official Toyota UK blog. We are in contact with the teams and will be running regular reports throughout the course of the race.