Sim racing in the likes of Gran Turismo gives everyone the chance to live their dreams as a racing driver. But when we invited British Touring Car Championship race-winner Tom Ingram to Toyota Motorsport in Cologne, we promised him the most accurate driving sim experience he'd ever experienced.
On race circuits the length and breadth of the UK, Ingram is renowned for his no-fear attitude behind the wheel of the Team Toyota GB with Ginsters Corolla BTCC. But how would he cope when strapped into Toyota Gazoo Racing's powerful race simulator, which is used by World Endurance Championship drivers to practice their craft ahead of some of the most prestigious endurance races on the calendar?
As Tom says in our film: "There are loads of things that make it totally different from anything I've driven before. It's massively different from my Corolla BTCC car – it's lower, faster, quicker, and the downforce and the aerodynamic grip that it generates is insane."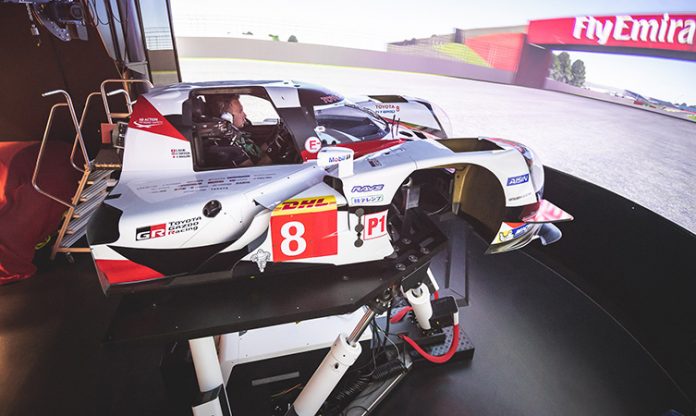 It might be a simulator yet it Tom left impressed: "I've not driven the TS050 Hybrid race car in real life but the feeling you get through the wheel, through the pedals and what you can see is amazing. You feel as though you're part of it and it feels that you're sitting in the car for real."
Tom was treated to a one-on-one coaching session with Mike Conway, the man flying the flag for Britain in the Toyota Gazoo Racing World Endurance Championship team and no stranger to pushing the TS050 Hybrid race car to its limits.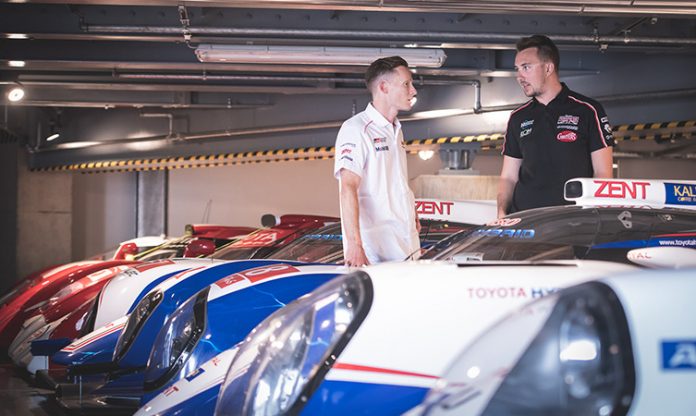 "Driving the simulator really brings to life all the things that we experience in the real car," Mike says in our film. "It's bringing it to you in a room back there: all the speed, the tension, even between the engineers [and] drivers. All the things that happen in a race situation… we're delivering it all in one space at any time that we need to."
| | | |
| --- | --- | --- |
| | Toyota TS050 Hybrid | Toyota Corolla BTCC |
| Powertrain | Toyota Hybrid System-Racing | TOCA regulation |
| Engine | 2.4-litre 24v V6 twin-turbo | 2.0-litre 16v four-cylinder turbo |
| Gearbox | Six-speed sequential | Six-speed sequential |
| Hybrid power | 500PS | N/A |
| Overall max power | 1,000PS | circa 375PS |
| Wheels | 13×18" magnesium alloy | 10×18" aluminium alloy |
| Tyres | 31/71-18 Michelin | 265/660 R18 |
| Fuel capacity | 35.2kg | 60 litre |
| Bodywork | Carbon fibre composite | Steel and fibreglass |
| Windscreen | Polycarbonate | Polycarbonate |
| Length | 4,650mm | 4,360mm |
| Width | 1,900mm | 1,890mm |
| Height | 1,050mm | 1,340mm |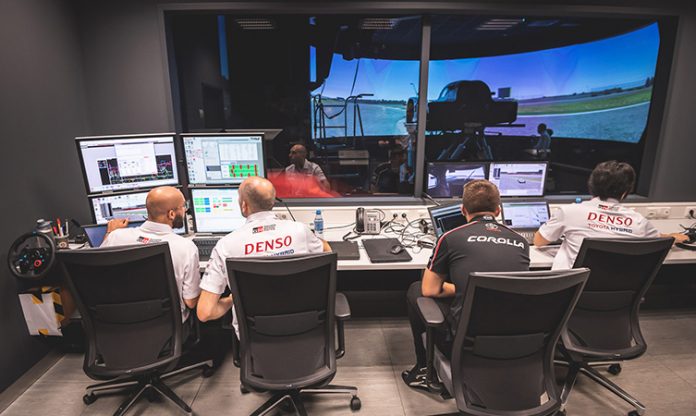 Who keeps the Toyota Gazoo Racing simulator running? This guy.
All of this will hopefully help Tom and the Speedworks Motorsport team as preparations begin for the introduction of hybrid technology into the BTCC from 2022. It'll be an entirely different set-up, but if Tom can prove himself on Toyota's cutting-edge LMP1 sim, we think he'll be rubbing his hands in anticipation for the new regulations.