Finally! The return of Team Toyota GB to UK motorsport is complete. The 2012 Britcar 24 Hours race at Silverstone Circuit provided the backdrop for our GT86 to take to the track as part of our commitment to supporting British motorsport.
The race began at 3.30pm on Saturday, September 22nd – but first, the team driving the GT86 had to determine their starting position in two qualifying sessions.
The first one-hour session began on Friday at 1pm. It was followed by a two-hour stint that takes place from 7pm to 9pm and is aimed at determining the car's readiness to race in the dark.
We covered the whole event, live. And you can catch up with events as they unfolded, below.
In the meantime, you can find out more about Team Toyota GB's journey to Britcar 24 Hours here, and check out our driver profiles to find out more about those who helped keep the GT86 on track for a brilliant finish.
Britcar 24 Hours – Friday, September 21
12:50, Friday
The first qualifying session is about to start, and we've just spoken with Team Toyota GB member Richard Meaden. He said:
"There is plenty of time for each of us to do the three laps needed to qualify, so we're sending Stefan out first and hopefully he'll be able to set us a quick time early on.
"The warm up sessions yesterday went really well. Chris and Stefan helped me and Neil out with what we need to do to cut our lap times, and we've all been getting quicker and quicker the more we drive the GT86. It feels really well set up, particularly in the corners, and we're looking to shave a little bit off our lap times each time we've gone out. I tried the new tyres earlier and they made a big difference.
"Qualifying will be important and we'll hope to get a good placing on the grid, but over 24 hours it's more about consistency and keeping the car out on track for as long as possible. What we want to do now is get to know the car really well and make sure all of us can put in a consistent stint."
14.10, Friday
Qualifying is over, and our car has headed for scrutineering. Times for the first qualifying session are still coming in. Our driver Richard Meaden tweets: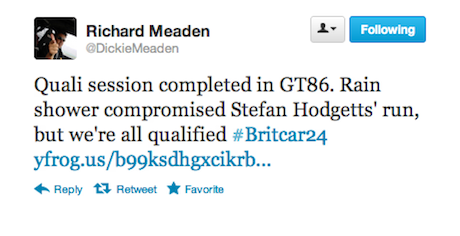 16:40, Friday
Father and son duo Chris and Stefan Hodgetts led the action for Team Toyota GB in today's first qualifying session. Neil Primrose is getting faster with each lap too, so things are looking good ahead of this evening's second qualifying period.
The fastest lap around the Northamptonshire circuit so far is 2:32.5, recorded by Chris Hodgetts. – that's good enough to place us on the 13th row of the grid.
20.00, Friday
Night qualifying is underway, and is now live on our TV stream from the car. To be fair, there's not a lot to see around the back of the circuit. Rainy conditions means that it's exceptionally dark. There's just enough time to upload these pictures, taken earlier in the day, of the team practising a pit stop. The Britcar GT86's huge fuel tanks are filled by an expert team from GPRM.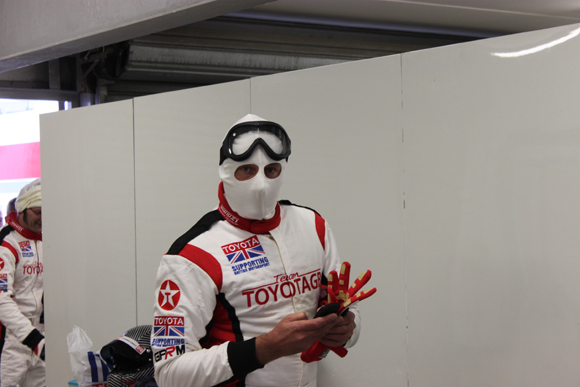 Britcar 24 Hours – Saturday September 22
15.00, Saturday
Just 30 minutes to go before Britcar 24 begins. Stefan Hodgetts will take the wheel first, followed by his dad Chris, then Richard Meaden and finally Neil Primrose. Here's Neil, talking earlier today about qualifying, driving the GT86 at night, and hanging on to rival cars with double the power…
16.30, Saturday
An hour into the race, and Stefan Hodgetts has just posted his fastest lap of the race, completing a tour of the Silverstone circuit in 2minutes 30seconds. The car's currently sitting in 23rd place overall.
17.00, Saturday
First pit stop, cleanly executed. Fresh tyres are fitted, and the car's 120 litre tank is filled. Stefan Hodgetts stays in the car for a second stint. The team changing the tyres included Nigel Charman (below), who works full time at Toyota GB's Epsom HQ in Surrey as a technical adviser. If you've got a problem, he's the man to sort it.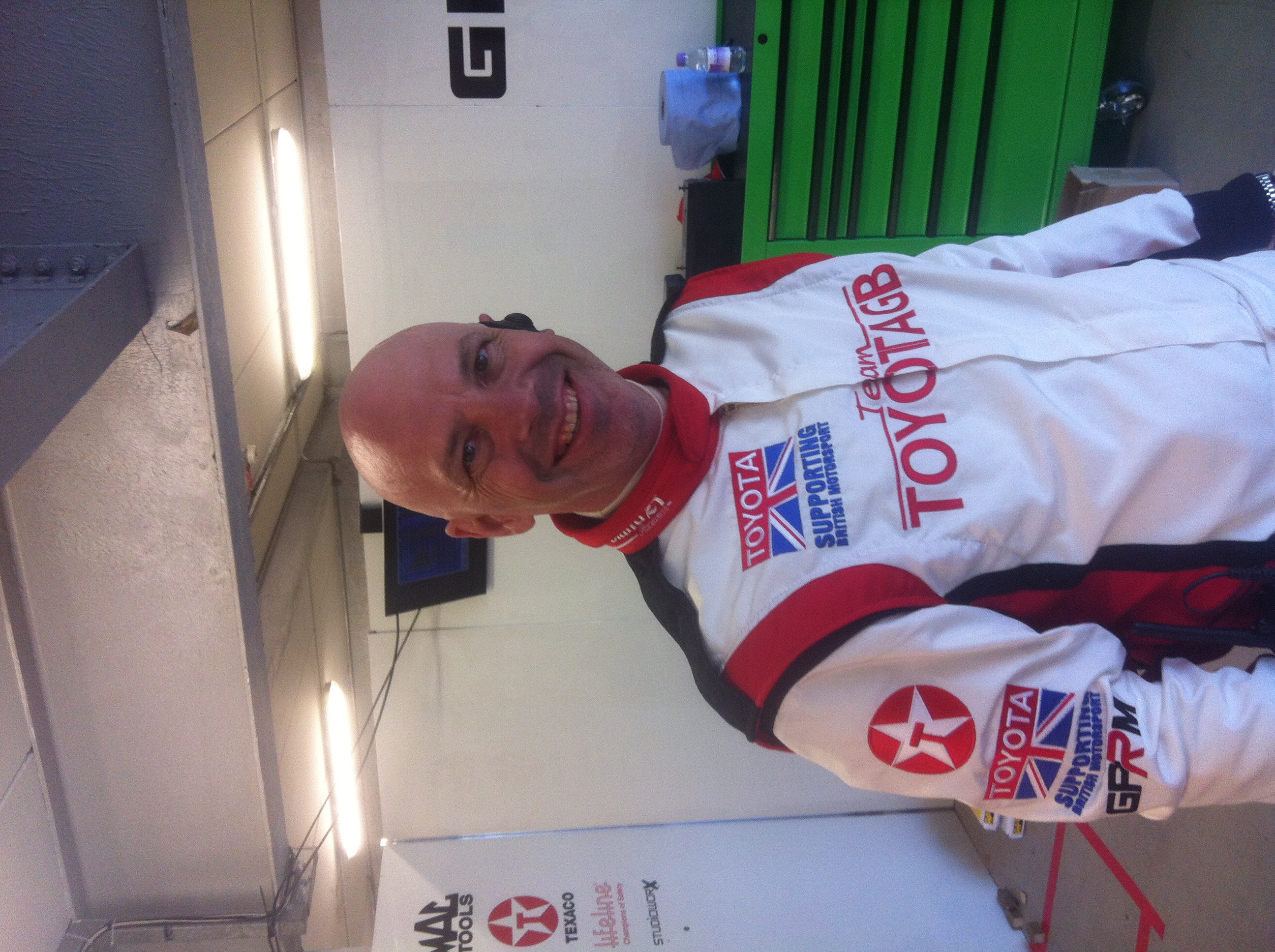 17.30, Saturday
Couple of great overtaking moves from Stefan see us climb slowly up the grid. We now holding 21st place, having passed the Roll Centre Racing GT86 around the outside at Stowe Corner (below), and then the Nissan 370Z. Thanks to Toyota GB's Jason Stanley for the pic!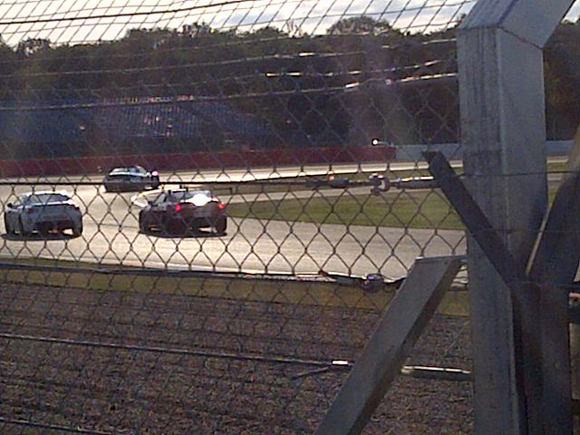 19.00, Saturday
Chris Hodgetts has taken over driving duties from his son, Stefan, who gets out of the car after three hours having pushed the car to the very top of our class. A pitstop drops us a single place, so we are currently sat in second in class, in 16th place overall. Fastest lap time so far is 2.29.844.
19.30, Saturday
We're running in the top 10! Chris Hodgetts is lapping in around 2 minutes 35 seconds at present. And as those of you watching the live feed might have noticed, it's just got dark, and we have turned on the lights.
20.30, Saturday
Andy Wallace, Toyota TS010 Le Mans driver, has just popped into the pits to say hello to driver Richard Meaden. We are currently running in 14th place, Chris Hodgetts is behind the wheel lapping the track with clockwork regularity at 2 minutes 35seconds. So far, so good! To keep everyone entertained, here's a short video of a pitstop, filmed earlier today.
21.30, Saturday
Richard Meaden takes to the wheel for his late night stint behind the wheel of our GT86. He takes the car over in 13th position.
23.00, Saturday
Richard Meaden makes a routine stop taking on fuel and fresh tyres, before heading back out into 11th position overall.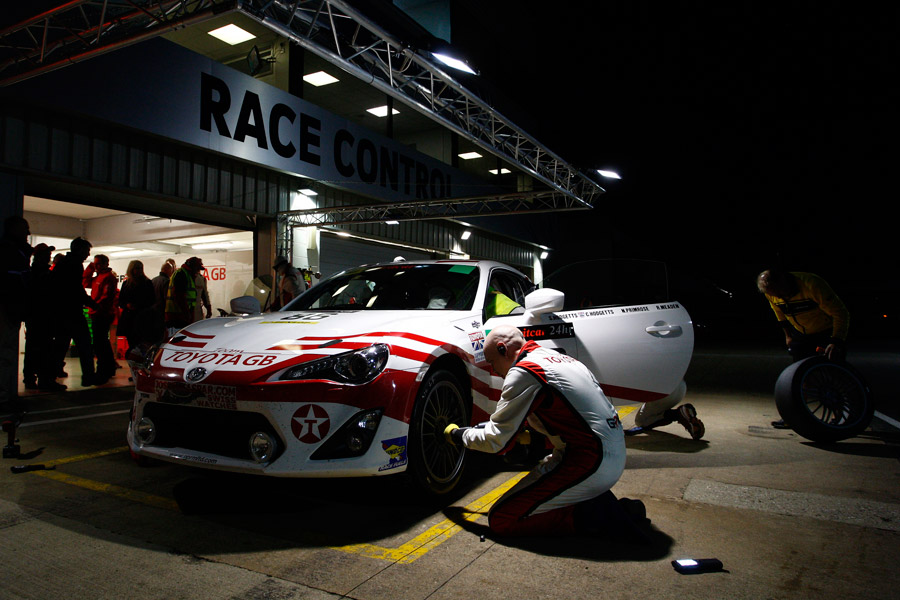 Britcar 24 Hours – Sunday, September 23
00.00, Sunday
It's officially Sunday morning and we're sitting in a very respectable 10th overall and 3rd in class with Richard Meaden still at the wheel. Neil Primrose of Travis fame will be taking to the wheel shortly.

00.30, Sunday
Richard Meaden makes way for Neil Primrose, having fought his way up to a very respectable 9th position.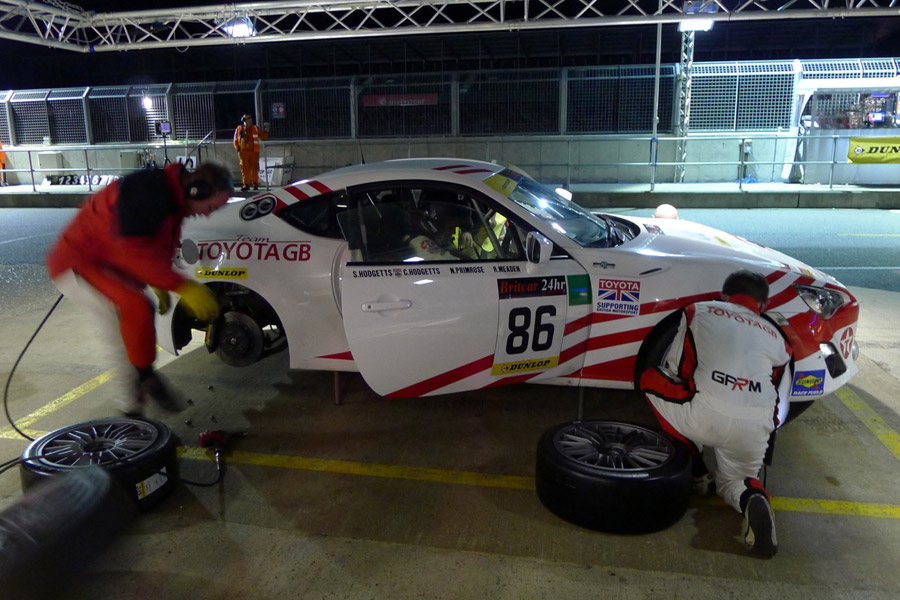 03.30, Sunday
We're now entering the second half of the race and Neil Primrose has just handed driver duties back to Stefan Hodgetts for his second stint in the GT86. Stefan's back up to ninth position after an action-packed thirty minutes that's seen the once race leading Mosler involved in a major incident at Becketts, two yellow flags and a fuel spillage.
04.30, Sunday
Under eleven hours remaining and we're up to 9th overall (3rd in class) with Stefan Hodgetts at the wheel.

06.45, Sunday
Sunrise over Silverstone.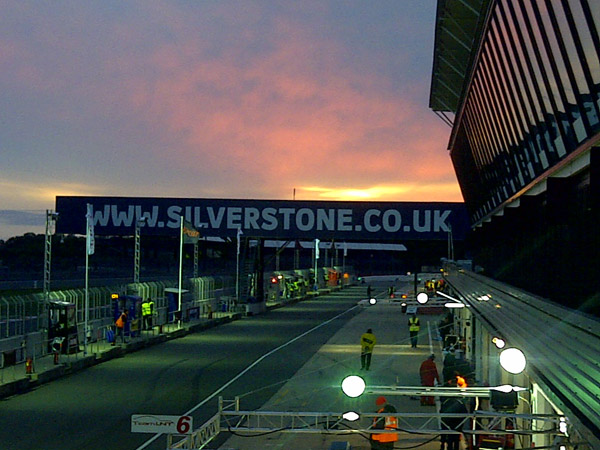 08.00, Sunday
With less than seven and a half hours to go, Chris Hodgetts has taken over driving duties from his son, Stefan, who stepped out of the car after an impressive three hour early morning stint. We are currently 8th overall, having completed 357 laps.
08.50, Sunday
Chris Hodgetts makes way for Richard Meaden and enjoys a post stint cuppa tea!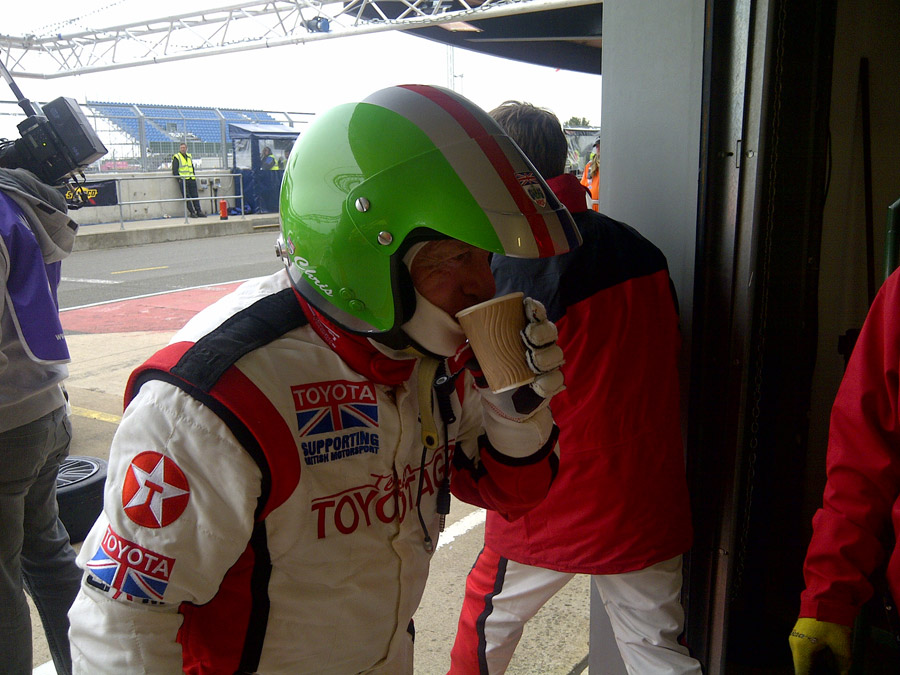 10.00, Sunday
It's ten o'clock and we're running in 9th position overall (3rd in class) chasing down the M3 CSL of MMC Motorsport. Richard Meaden is consistently lapping quickly and we're looking in great shape for the final five and a half hours.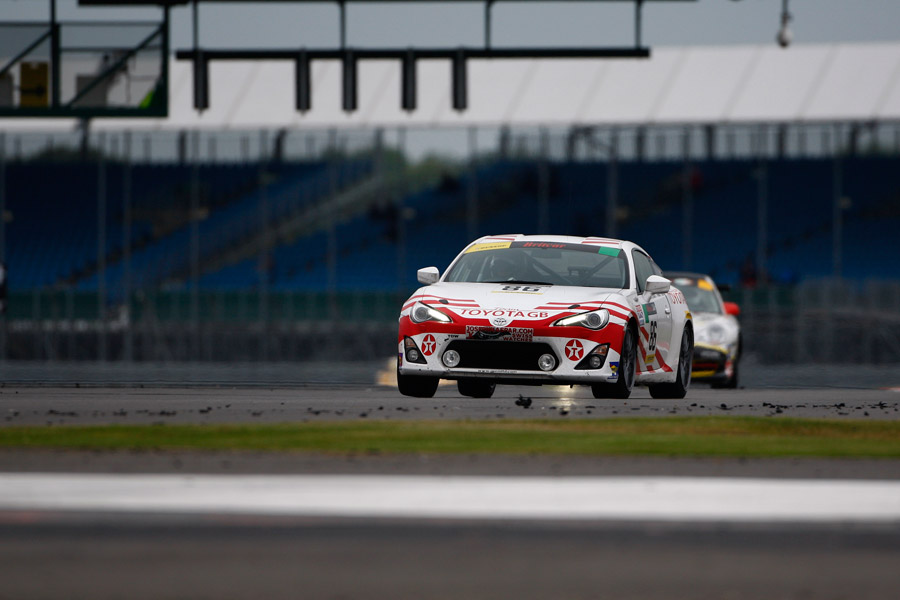 12.30, Sunday
We're still running in 9th position overall and 3rd in class, but the heavens have well and truly opened on the Britcar 24hr. The conditions are very difficult, and lap times are some 25 seconds slower than in the dry but, with Neil Primrose at the wheel, the car is performing well and we have a five lap cushion over 10th position.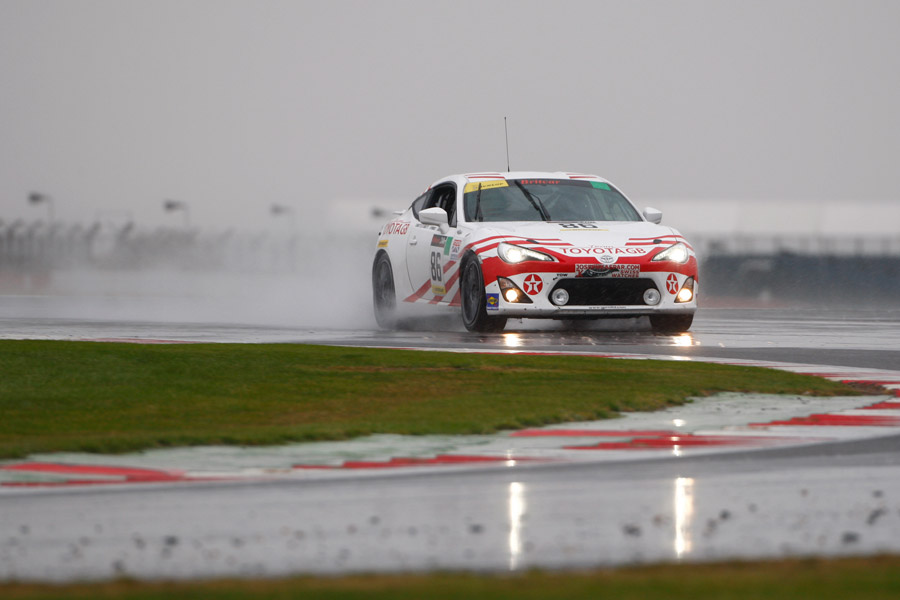 14.00, Sunday
Chris Hodgetts replaces Neil Primrose at the wheel after a very respectable stint in incredibly tough race conditions running 8th overall and 3rd in class.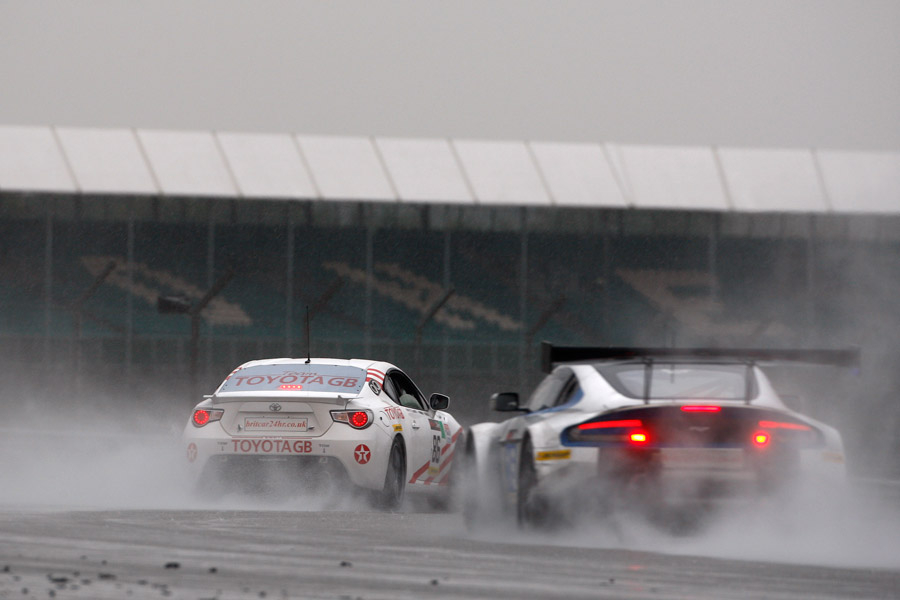 15.30, Finish
Well done to Team Toyota GB and GPRM! First race for the new UK built GT86 racecar and it finishes 8th overall and third in class. The car ran flawlessly – thanks to a great preparation, brilliant drivers and an awesome car, the GT86. To round off our coverage, we've pulled together a few words from some of the people who made it all happen.
Richard Meaden, Driver
"The weekend has been incredibly good fun. When you know you are not an underdog but in a less powerful car in comparison, you have to approach the race in a different way. We honestly drove the wheels off this car throughout the whole race and the GT86 felt absolutely bullet proof. Considering e short space of time the team had to do the preparation this result is testimony to them and the performance of the car that it has achieved such a good result. 8th place overall is a fantastic achievement. "
Neil Primrose, Driver
"It was a successful weekend and a herculean effort by the team to get a standard car to perform so well and in such difficult conditions. The GT86 shows such great potential for competing in all kinds of Motorsport. The car drove very well and was very consistent all weekend."
Chris Hodgetts, Driver
"It's been a fantastic weekend for me… A little bit busy with commitments up at Rockingham, but great fun nonetheless. What makes it even more special is that this is the 25th anniversary of my original BTCC championship win with the Corolla AE86 and Team Toyota GB."
"That car's DNA is definitely clear to see in the new GT86, and it's been a privilege to get to know it, and after 25 years, get reacquainted with Team Toyota GB. What made it all the more special for me was the opportunity to race alongside my son Stefan for the first time. Overall, it's been a great weekend."
Roger King, GPRM
"The one thing that surprised me above all else was just how sturdy the GT86 proved to be. The drivers loved it, it's clearly been great fun to drive. Working alongside Toyota GB's staff, who joined the team for the weekend, was a great experience, and I think the GT86 has a great future ahead of it, both as a trackday car, and as a cost effective sportscar."