Toyota Facebook fans and members of Toyota owners' and drivers' clubs descended onto Bruntingthorpe Proving Ground in Leicestershire last weekend to take part in our first ever Toyota Sports Day.
Set in the centre of the airfield, our sports day consisted of a series of challenges in Toyota cars that harked back to school sports days. It was our way of bringing to life the Japanese phrase waku-doki, which roughly translates as the feeling of anticipation and adrenaline rush you get just before you do something exciting.
See also:
Presenting the Toyota Sports Day 2015
Round-up of Toyota School Sports Day 2015
The Japanese theme continued as we split our guests into four teams – with each team taking its name from a process in the Toyota Production System. We had Team Andon, Team Genchi Genbutsu, Team Kaizen and Team Poka-Yoke.
The weather was typical of your average school sports day but the persistent showers didn't dampen the spirits of our guests once the activities got underway.
The events were:
Egg and Spoon
It's an old favourite but we updated it by using a giant spoon mounted to the front of a Toyota Auris Hybrid. A giant spoon needs a giant egg, so we got some of those too.
The aim was to drive the Auris Hybrid around a track without dropping the 'egg' from the spoon. If the egg did fall, passengers had to get out, replace it and get back in the car as quickly as possible.
GT86 Autotest
Our competitors were strapped into a Toyota GT86 for some fast-paced action as they picked their way through our version of a barrel sprint course as fast as they could. [slider_pro id="409″]
Penalty Shoot-out
One Toyota Aygo, one six-foot-high inflatable football and an open goal – competitors had to try and knock the ball into the goal as many times as they could in two-and-a-half minutes.
But it wasn't quite as simple as it seemed.
Balance the 'Basket' Ball
Our guests had to jump into a Hilux and navigate around a slippery, technical course with a giant basketball suspended on a net in the truck's loadbay.
Once everyone had completed each event, the scores were totted up and there was a clear winner – Team Poka-Yoke!
But the competition wasn't over. We then went back to the GT86 for a head-to-head, where everyone competed as individuals to find the fastest driver of the day. After a series of shoot-outs it was MR2 owner Paula Jacques who emerged victorious.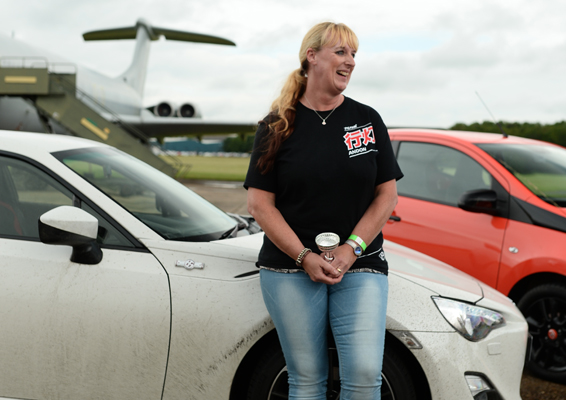 Thank you to everyone who took part in our first ever Toyota Sports Day. We'll be adding more pictures and video to this post over the coming days. It would be great if you could add your own pictures of the day using the #ToyotaSportsDay hashtag on Twitter and Instagram.
We're already looking forward to our next Toyota Sports Day! If you have any ideas on what sports we could recreate in the next one, leave your suggestions in the comments section below.