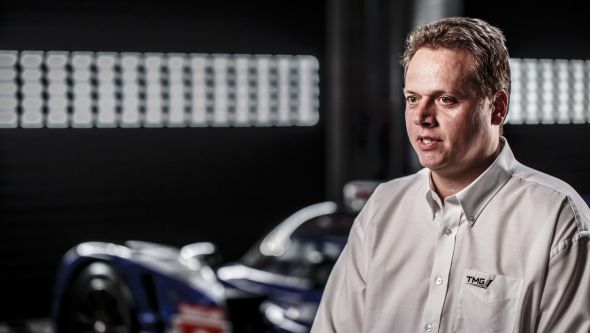 After graduating with a degree in Automotive Engineering, Dutchman John Litjens started his career with Toyota in 1997 as an Integration and Race Engineer for Toyota Team Europe's Le Mans project. He stayed with the Cologne-based department during its changeover to become Toyota Motorsport GmbH (TMG) in 1999 and immediately started working on Toyota's high-profile Formula 1 project, progressing from the role of Senior Engineer to the responsible position of Chief Project Leader from 2008 to 2010. Since the demise of the Formula 1 project, John has become Chief Project Leader for all TMG race cars, which encompasses the role of Project Leader for the new Le Mans campaign.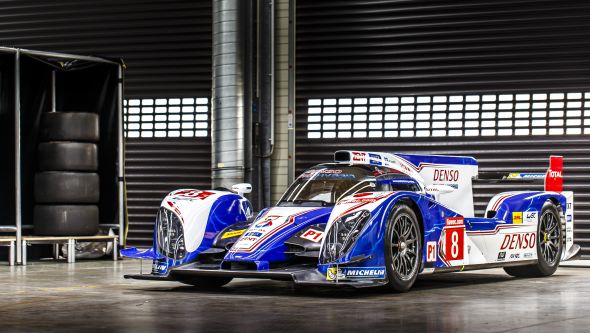 Blog: Thank you very much for taking the time to speak with us, Mr Litjens. You started with Toyota at the same time as TTE [now TMG] took over the manufacturer's Le Mans project. How much involvement was there from Japan?
Litjens: The build of the TS020 was a big challenge for us, because at that time it was very rare to get such a big project outside of Japan. Their [Toyota Motor Corporation's] involvement was actually very limited — engine development was done here in Cologne and was a joint effort, but chassis development was done completely here in Cologne. At that time I was a young chassis engineer and only involved in part of the development but it was a really nice project. We knew it would be hard because we had a quite small team to be able to compete for two years for Le Mans. It was an interesting time.
Blog: In terms of building a race car, what is required of a chassis engineer?
Litjens: Well, you really need a wide area of expertise. You need good knowledge of the materials you're going to use but also how to integrate an engine into the car and layout things like the fuel and cooling systems.
Blog: What about the car's handling?
Litjens: That too. The handling of the car is naturally very important and we were well supported by the R&D group, which worked on the vehicle dynamics and defined the most important parameters. We then tried to integrate these into the design of the car.
Blog: So how did the team as a whole approach the build of the TS020?
Litjens: Although we designed a lot of it in CAD, we still made a so-called 'old-fashioned' mock-up model in plywood. CAD was only really used for sections such as the monocoque, and the actual shape of the bodywork — basically, the big surfaces — whereas the small details were often done at the mock-up stage. In relation to the TS030, it's like two different worlds. Because with the TS030 everything is made in CAD, even the single-piece piping lines and their fittings.
Blog: Did the fact that the TS020 was also going to be homologated for road use cause any extra issues?
Litjens: For sure that was an extra difficulty to cope with. But on the other hand, as the road car didn't exist beforehand we developed it together with the government body that checks the regulations. These regulations contained grey areas which served as opportunities to make a race car that still qualified as a road car.
Blog: One of these 'grey areas' being the famous example of the dual-use luggage compartment, we presume?
Litjens: For sure. We had to respect the road car and race car regulations, which stated that both versions had to have the same amount of luggage space. So for the road car we developed a special fuel tank that, when also fitted to the race car, could double as a luggage compartment. It was designed so that the fuel volume carried within could be expanded or shrunk within the overall area of the tank, leaving some free space, or even no space at all, for luggage. This is just one example of the things we developed together with the government body.
Blog: Now that you are leading Toyota's Le Mans project, can you see many similarities in technology between the TS020 of the late Nineties and today's TS030 Hybrid?
Litjens: Hmm… I would say that the aerodynamics for both cars are still really important. Due to the regulations certain areas have changed — for instance, things that you could do on the TS020 you're not allowed to do now. But in terms of driveline technology, I would say there are now huge differences rather than similarities. From a being a 'normal' petrol car to a hybrid car is a big change.
Blog: Would you say that the TS030 is unique?
Litjens: For its hybrid drivetrain, definitely. Fitting all those components inside the car has been a real challenge. We had some packaging experience from our days in Formula 1 but if you consider the technology versus the space available I think it's even more of a challenge on this kind of car than on a Formula 1 car. I also think the TS030 is unique for its reliability, which is important for 24-hour racing but it's also a strong point of Toyota road cars. Finally, I think the TS030 is more special than other cars on the track due to the final shape and the final details that we have given it. Although these cars might look similar due to the regulations, each manufacturer does find its own details which make it specific.
Blog: Talking of details, why was it decided to deploy the hybrid boost on the rear wheels of the TS030 instead of the front?
Litjens: We conducted a study to see which would offer us the most advantage. For sure, if you applied the boost to the front wheels there would be some four-wheel drive advantage in the wet. But saying that, the regulations only allow the front wheels to be driven above 120km/h, so we couldn't make use of this advantage at low speed or from take-off. Our competitors at Audi use four-wheel drive but their diesel engine has a different torque curve that is much stronger at lower revs, where normally a petrol engine suffers. So we thought that being able to use hybrid boost from low revs and low speeds on the rear wheels would nicely fill this deficiency. All in all, studies showed us that being entirely rear-wheel drive would be the best for our car within the regulations.
Blog: What kind of race driver does the TS030 Hybrid best suit?
Litjens: An endurance racer like this has to be shared with three drivers, so you cannot have a perfect setup for one driver alone. You have to find a good compromise. I think the TS030 is quite a forgiving car, and once you have finalised a setup, different drivers are still able to get the same result out of it. We have seen this during testing, where each driver went out and found some differences in their speed, but after analysing their data and seeing where they could make improvements they all ended up with the same lap time. It was really nice for the team to see this happening.
Blog: How has the specification of the TS030 changed between the 2012 and 2013 models?
Litjens: There are some updates but from outside maybe they're not that visible. The front splitter has changed from last year but the biggest difference is in the area underneath the car and around the front side of the monocoque, where in the old version we made space to fit motors for front wheel drive — we did the testing for that layout too. Now that we have made the call to use only rear-wheel drive we had some space to reshape the chassis and give more freedom for aerodynamics, as well as increase service access to the suspension in case of an accident.
Blog: Are there any other areas you're currently trying to improve?
Litjens: We want to keep increasing its speed. We know our competitors are also not sleeping, so we're wondering what we can do now — within the regulations — to make the car quicker. Other than that, we need to make sure it stays reliable, because it is very easy to start reliability issues when you introduce changes.
Blog: Is there any relevance between the TS030 Hybrid and the production Toyota road cars we all drive?
Litjens: Absolutely. When we started the project we used regular hybrid components, such as those used in the Prius, but when racing you find that the demands and stress on them are much greater. So further development is used to improve them and, for sure, the outcome of this is fed back into the production cars at a later stage.
Blog: What does winning mean to you?
Litjens: Winning is really important, it's like a reward for all the effort you put in. Our first win in Brazil was great, but my favourite moment came in Fuji last year, where we had a Japanese driver and Japanese team post the quickest lap time overall. This was the best thing that could have happened, and I think that for the whole team, having worked so hard to get the cars there, it was a good motivation for the future.
Blog: Thank you very much for your time, Mr Litjens.
Click this link for a video documentary detailing some of the history and details of the Toyota TS010, TS020 and TS030