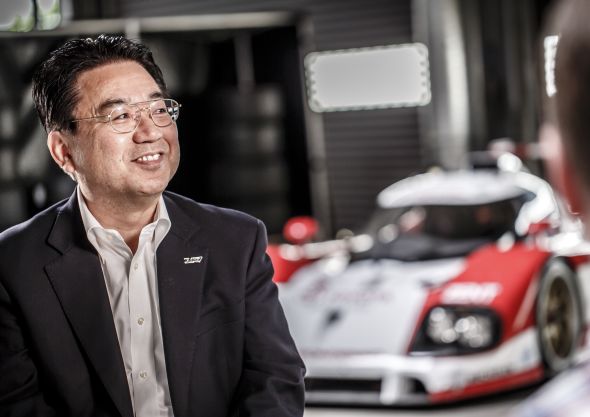 Yoshiaki Kinoshita started his career with Toyota Motor Corporation (TMC) in 1978 as an Engine Research and Development Engineer, during which time he helped develop the 3.5-litre V10 engine in the Toyota TS010. In 1989 Kinoshita-san progressed to oversee Toyota's World Rally Championship and Le Mans programmes, before moving across to Toyota Racing Development in 1996 to take the position of Vice President in charge of the Champ Car campaign. From 2004 to the present day Kinoshita-san is General Manager of TMC's Motor Sports Division, which from 2010 onwards has also meant being President of Toyota Motorsport GmbH (TMG) in Cologne, Germany.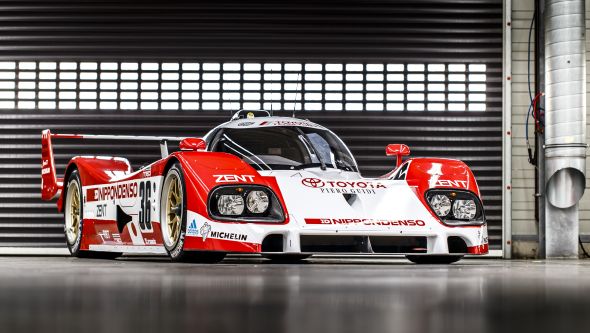 Blog: Thank you very much for taking the time to speak with us, Mr Kinoshita. During the early part of your career you were instrumental in developing the engine in the Toyota TS010. Why did you settle on a V10 layout for this car?
Kinoshita: The regulations were very straightforward, stating that all engines had to be 3.5-litres in displacement. There were no other restrictions. We could have used any layout from six to twelve cylinders but we chose to make a V10 because the engine block would be shorter.
Blog: Were there any other aims for the engine?
Kinoshita: Of course — it had to make lots of power, so our aim was to pass a huge amount of air through the engine and for it to rev as high as possible. To do this we chose to use five valves per cylinder for maximum horsepower — three valves for the intake and two for the exhaust — and set a rev target of 13,000rpm. At that time, any engine that could rev to over 10,000rpm was very special, and one that could achieve 13,000rpm for a 24-hour race was considered super-high. Because of the high revolutions, lubrication was also very difficult, especially around the crankshaft area. So it took a lot of development and tests to solve this issue.
Blog: What power figures did you eventually achieve?
Kinoshita: In Le Mans spec we achieved 600bhp, and in sprint spec up to 700bhp. I still believe that at the time, our horsepower was at the top level.
Blog: Are there any other areas where you feel the TS010 was particularly outstanding?
Kinoshita: Yes. This is the first high-downforce car Toyota ever made. Because there were almost no regulations in the area of aerodynamics we were able to fit a very large diffuser at the end of the car. It was so effective that the drivers couldn't feel the limits of the car. Sports cars like these may look similar but in terms of aerodynamics they are very different. Alterations of just one millimetre in the body shape make a big change.
Blog: Now that you have returned to working on GT cars, how has Toyota's approach changed?
Kinoshita: Toyota is an engineering company and we are very serious about that fact. We think that our efforts in racing are a showcase of our engineering. Six or seven years before we launched the TS030 we realised that our development of race engines had to help our road-going cars, otherwise our effort would mean nothing; or at least have less meaning. We therefore decided to bring our green technology, our hybrid system, into the racing field. Development in this area would then help to make our road-going cars more efficient.
Blog: So is there a relationship between Toyota's racing efforts and its road cars?
Kinoshita: Yes. Compared to the KERS system in Formula 1, this kind of racer is much more closely related to road-going cars. Half of the technology comes from the hybrid production department in Japan; it develops the racing systems and brings the know-how and technologies back into the road cars.
Blog: Can you be more specific about the differences or similarities?
Kinoshita: One difference between the racing hybrid and production hybrid is in its range. Production hybrid systems are mainly focused on low fuel consumption during city runs, but with race cars there are no city runs, only high speed. So this racing hybrid system is aimed to recover all its energy during decceleration, like in the three seconds it takes to go from 300km/h to a complete stop. This very large braking energy must be recovered just as quickly.
Blog: A complete recharge in just three seconds?
Kinoshita: Our racing hybrid system has sixty times more energy recovery capacity than the road-going hybrid unit. This means that you need an energy storage facility that allows for a very fast charging and release performance — three seconds to charge and just two-and-a-half seconds to release everything. Current hybrid road cars have lithium ion batteries that cannot cope with this kind of high energy flow. Only a super-capacitor has this performance capability, so our production division is now thinking that super-capacitors could be used in road-going cars for improved energy recovery.
Blog: We can't wait to see what Toyota comes up with in that respect. But what does Le Mans mean for you personally?
Kinoshita: Le Mans is a legendary race, and every person in the racing world wants to win at Le Mans. Toyota has challenged Le Mans for almost 40 years and we've come second three times, so this time [2013] I really want to get first place. For racing people, second place means nothing — the first loser. We don't go to the race without first dreaming about winning, so every morning I'm dreaming about winning.
Blog: Before you go, are there any particular memories from your time with the TS010 that you can share with us?
Kinoshita: Yes, of course. When the car was brand new and untested we didn't realise that the floor the heavy battery was mounted on was not strong enough. So during one race in 1993 the battery was bouncing up and down so hard that the floor was grinding against the track surface. Every two hours it wore through the floor and the bottom of the battery, which then shorted and exploded. We must have changed the battery six or seven times during that race but still came home in fourth place. That was an amazing experience.
Then there were issues with the gearbox. The TS010 did not have a sequential transmission, only an ordinary H-pattern gearbox, so it was very easy for the drivers to make gearchanging mistakes, especially on downshifts. Though the engine was designed to rev very high, a mistake such as changing down into second instead of fourth gear would instantly break the engine. Each driver had to really concentrate on their downshifts, and I know that one of them was so worried about ruining the race that he received an injury to his palm because he was gripping the lever so tightly.
Blog: Thank you very much for your time, Mr Kinoshita.
Click this link for a video documentary detailing some of the history and details of the Toyota TS010, TS020 and TS030.