Last year, award-winning naturalist Steve Backshall introduced us to his Toyota RAV4 Hybrid, a vehicle which he felt was the most practical and ecologically conscious choice for homeland adventures with his family. Steve's pioneering spirit continues to lead him into uncharted territory. From a topographical perspective, this summer's Expedition with Steve Backshall TV series was his most ambitious and spectacular yet, while on a personal and family level he remains as relatable as ever with delightful news of another baby on the way.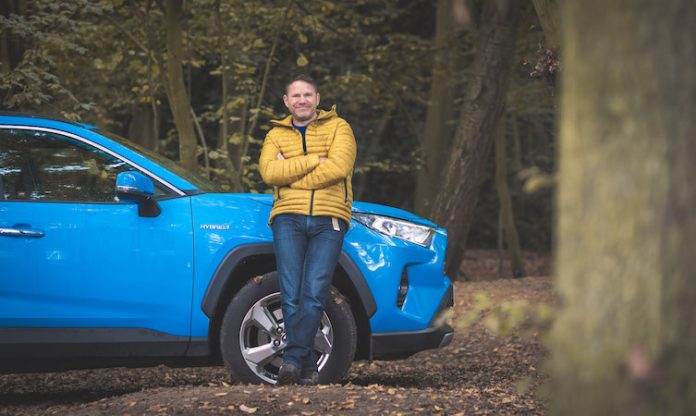 However, it was a different kind of new delivery that brought us together for our latest catch-up. A recent addition to the Backshall household is Steve's new, fifth-generation Toyota RAV4 Hybrid, which he says remains the perfect choice for his active, on-the-go lifestyle. But in the car's role as a facilitator of adventures, we were intrigued to find out exactly how much outdoor equipment and family gubbins you can fit into its class-leading load space.
So we asked Steve to show us what he packs into the car for a typical week away and for his advice on how to stay active during autumn and winter.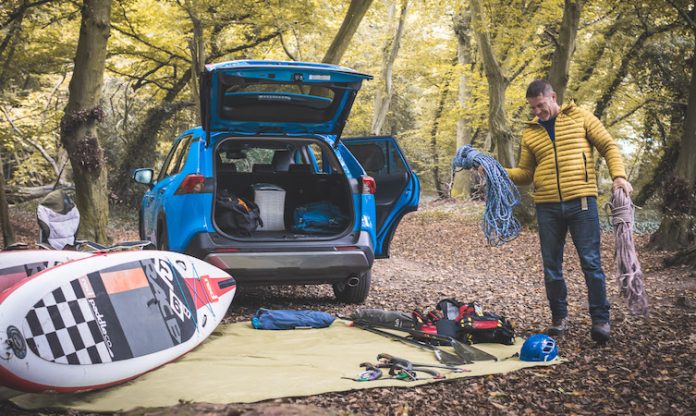 TGB Blog: Is it true that these paddleboards actually go inside the car?
Steve Backshall: Of course! They're inflatable, which means they go up in about eight minutes yet pack down to a really compact size – about that of a reasonable ruck sack for each one. This is a major development in being able to go on an adventure holiday from the back of your car. I can get these two in the boot of the RAV4 without needing a roof rack.
TGB Blog: What other items do you pack for a Steve Backshall expedition?
Steve: The rest is mainly for multi-pitch adventure rock climbing. I've brought along my cams or 'friends' – the things you place into the rock face as you climb – and ice axes for winter mountaineering or ice climbing in North Wales and Scotland. There are also a couple of helmets, ropes, walking poles and crampons; my tent, sleep mat and a nice big sleeping bag. My camp cooker over there is good enough to handle almost anything shy of a roast dinner; and finally, I've got some kayaking kit, including a couple of personal flotation devices.
TGB Blog: You don't appear to have forgotten anything…
Steve: True, but we are missing all our baby gear. Helen [Steve's wife] and I bring our son Logan with us on adventures, so we also need to pack the car seat and various other things to keep him comfortable. Thankfully, he's an adventurer of a baby and loves everything we do together outdoors.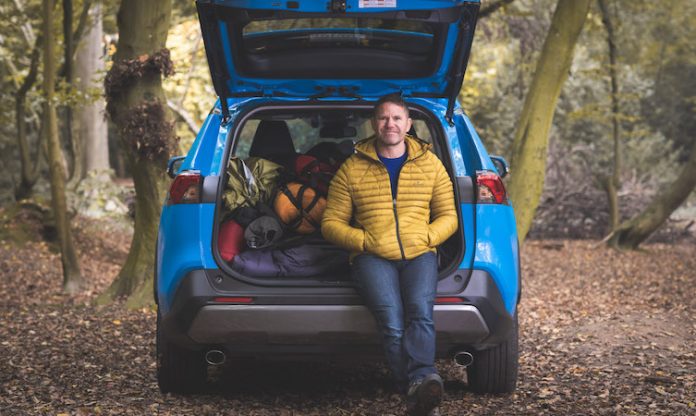 All that you see here, as well as the baby gear, fits relatively comfortably into the RAV4. For example, we recently went on a ten-day sea kayaking trip to Cornwall and there was room to carry all three of us with enough additional space for all our food and camping gear. The RAV4's got that Tardis thing about it – you can fit far more in than you would imagine!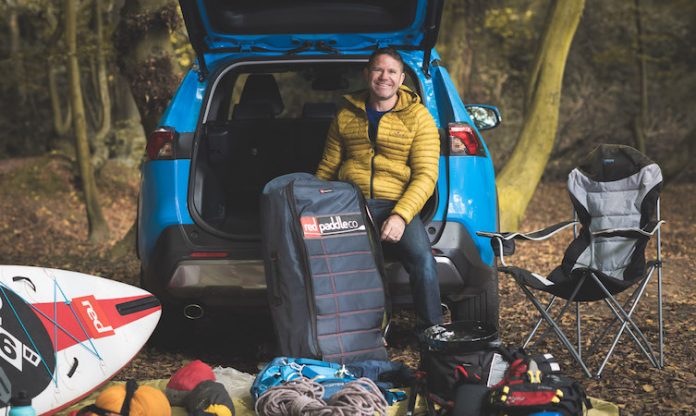 TGB Blog: Is that what continues to make the RAV4 Hybrid the ideal choice for a Steve Backshall expedition?
Steve: Partly. We're doing all of our holidaying in the UK now, for lots of reasons. I'm trying to cut down on flying as much as possible, plus with having Logan and another little one on the way, it's much easier than travelling in other ways.
As somebody who works in conservation, it is essential for me to have a vehicle that ticks all the green boxes. At the moment, fully electric is just a little bit beyond what I can work with. We live in the middle of the countryside and there aren't many charging points around; and if we were to head up to Scotland or down to Cornwall – journeys we do quite frequently – it becomes quite difficult to accomplish. So for me, hybrid is the absolute best way to go.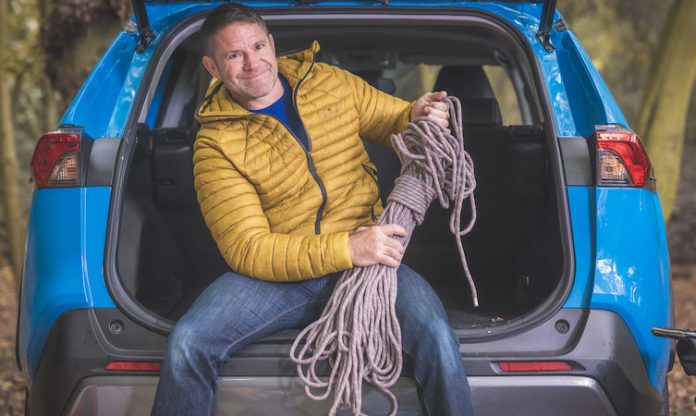 TGB Blog: What advice would you give to people who would like to stay active during autumn and winter?
Steve: The number one way of staying active is to enter an event. You could say to yourself: 'Okay, I know I can jog three kilometres. So I'm going to enter a 5k race at the end of February and I'm going to do it for something that's important to me – a charity, for example.' Now you have the motivation needed to give you a push, to force you outside when you may not normally want to.
You actually get more from exercising in the autumn and winter. It's more invigorating; it gives you more of a kick.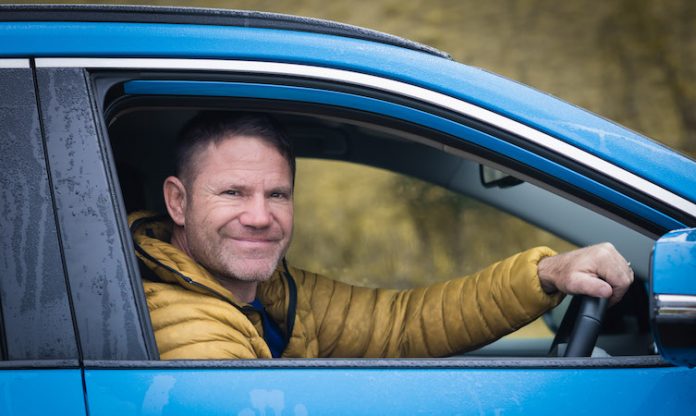 TGB Blog: Is there a key to enjoying a Steve Backshall style expedition in the UK?
Steve: I think the key thing is to plan for rain. If it doesn't then it's a nice surprise. But if it does rain when you're not prepared for it, your activity can quickly turn into a nightmare.
With regard to places to recommend, I'd have to say Cornwall. Partly because my wife and all her family are Cornish, but the county also has the most staggering coastline – pretty much of anywhere in the world, I'd say – and fabulous wildlife. We love it there.
TGB Blog: Thanks for the advice, Steve. Now would you like a hand packing up again?
How practical is the new Toyota RAV4's boot?
The new Toyota RAV4 Hybrid offers a best-in-class luggage capacity of 580 litres behind the rear seats – 79 litres, or the equivalent of two aeroplane cabin bags, more than in the previous generation. There are practical storage nets on each side of the boot and the height-adjustable, reversible deck board has a wipe-clean surface on the underside so you can carry dirty items without worrying about ruining the carpet.
The rear seats have a 60:40 split-folding function, and when both are stowed flat it is possible to carry a 29-inch mountain bike without removing any of its wheels. Additional features include a power-operated tailgate on Design grade and above, and a hand grip that is designed to double as a clothes hanger. Practicality can be further increased by specifying an optional dog guard, divider, cargo net or boot liner from the broad Toyota accessories catalogue.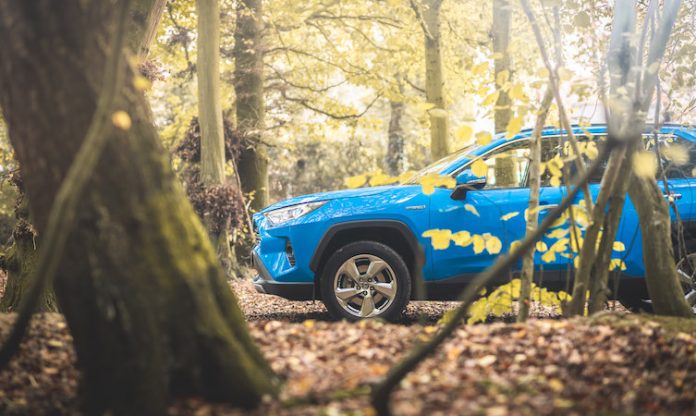 What does the UK motoring press think about the Toyota RAV4?
Find out by clicking here.