What's your dream Christmas gift? Perhaps you've got the perfect holiday planned, or are just looking forward to spending time with the family… Tell us and you could end up star of Toyota's very first Christmas musical.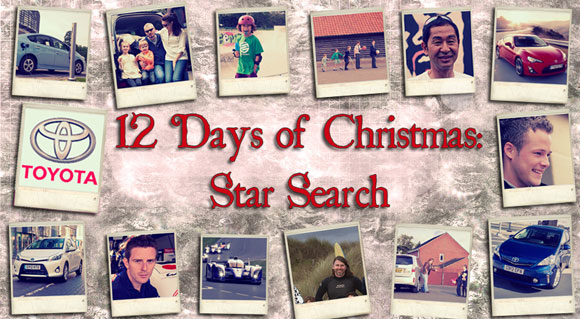 We want you to help us produce a Christmas single by filming yourself, a friend, your children or family singing a  spoof version of the traditional carol "12 days of Christmas."
If your video is judged to deliver a star performance, we will bring you down to a film studio in London, where a professional crew will film you singing your heart out. It's a chance to show off your singing skills, and tell thousands of people exactly what you want to find under the tree on December 25th.
The all-expenses paid trip will take place on Monday November 26th and will include free time. You'll find full terms and conditions on our blog site.
The challenge is simple…
To take part in this year's spectacular, we want you to film the most talented person you know singing "their" version of "12 Days of Christmas", only this time, we want you to substitute the gifts described as being received over the 12 days of Christmas with your own choices.
What would you REALLY LIKE for Christmas?  You could film yourself, or your Mum, Dad, Granny, Grandpa, pet hamster!  Go on, BE CREATIVE and have some fun!
And don't forget, you don't have to complete the whole song. We'll just be using your videos to build a fantastic mash-up! So please give us as much or as little as you like. If it's a shiny new set of golf clubs you want, a space rocket or a pair of stripy socks, just find a way of weaving them into the song.
All you need to do is upload your video to YouTube, using the title "12 days of Christmas – Toyota", and share the link with us for the judges to see toyota.contact@tgb.toyota.co.uk
If you upload your video now, you could also win a set of Cinema tickets we are giving away on a first come, first served basis. The tickets, which are valid at selected Odeon Cinemas only, are set to be delivered in family packs of four – 2x adults and 2x children up to the age of 12. Tickets are valid for 9 months (See more details about the cinema tickets). We have 170 sets to give away.
The finished video will be professionally edited, then shared across our social spaces for you to enjoy. So what are you waiting for? If you are dreaming of fame and fortune in 2013, get filming and share your video with us now!