Toyota Motorsport GmbH (TMG) is no stranger to on-track records, and now it's turning its attention from asphalt to snow by helping an effort to smash the world speed record for a gravity powered sledge.
TMG welcomed the Snowspeed team to its wind tunnel for aerodynamic tests of the vehicle which the Norwegian-based group hopes will break the record, which currently stands at 134.36kph (83.4mph), set in 2014 by Isle of Man TT racer Guy Martin.
Snowspeed has lofty ambitions of reaching 250kph (155mph) to shatter that record, thanks to high-performance engineering.
"Speed skiers already exceed 250kph and the current speed skiing record is held by Simone Origone, who reached 252.45kph in 2014. Our sledge will be heavier and more aerodynamic than a skier, so we believe we can go even faster," said Snowspeed team member Jorn Madslien.
TMG is no novice when it comes to achievements on snow, having designed and built a carbon fibre sled for Paralympic Winter Games skier Andrea Eskau, who used it to win biathlon gold in Sochi 2014. This time, TMG provided the facilities, whilst the Snowspeed team brought along their creation. Designer Nima Shahinian and his team brought a 50 per cent scale model of the sledge to one of the two wind tunnels in Cologne, to test its aerodynamic properties in the same place TMG develops the TS050 Hybrid race car which will lead its charge in the World Endurance Championship.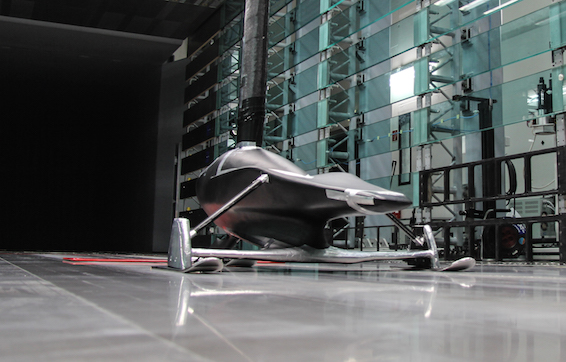 Looking like a Formula 1 car without wheels or wings, the model made a big impression on experienced wind tunnel technicians who are well used to seeing extreme aerodynamic concepts passing through their wind tunnel.
"We are more used to testing Le Mans or Formula 1 racing cars, so this was a new, exciting challenge for us," said Antonio Pavesi, manager of TMG's wind tunnel facility. "This is the first time we have had a model of a sledge here; the requirements are quite different, but we used the same equipment."
Mounted to an overhead strut and with a continuous rolling road under the skis, the wind was turned on and gradually increased to test how the Snowspeed sledge behaves at speed. The wind speed reached 40m/s and stabilised, with TMG's advanced wind tunnel systems record downforce, drag, roll, pitch and yaw through sensors in the strut.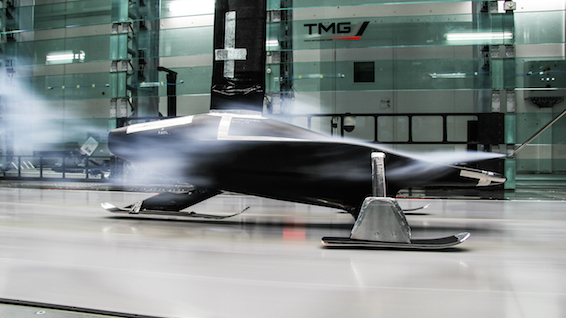 As a relatively simple model compared to those used by TMG and its Formula 1 customers, which feature hundreds of pressure sensors as well as actuators to move a model during a run, testing on the sledge was completed quickly and yielded important results.
Based on the data generated by the test, Nima and his team will revise the design of the sledge with a focus on improving rear stability. "We will improve the design further over the next few weeks and aim to complete the final sledge in the next few months, ready for an attempt at the world speed record in 2017," added Nima.
Snowspeed has come a long way since the idea was first born, and this was another important step on the long road to becoming record breakers. The next steps for the team are to build the final vehicle and select a driver, with some famous names already under consideration. We'll keep you updated as the project progresses.
Find out more about Snowspeed at www.snowspeed.tv.