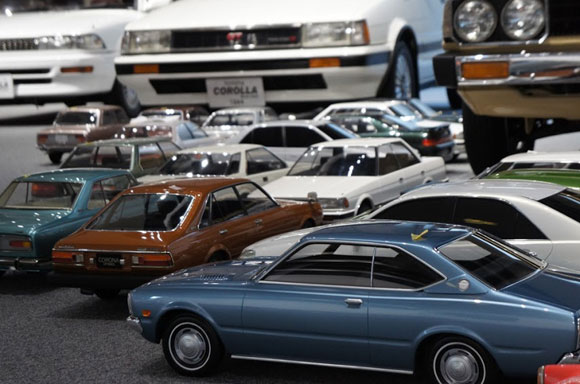 The Toyota Automobile Museum in Nagakute city, Aichi prefecture, is reckoned to house one of the finest collections of cars in Japan.
As part of the celebrations for Toyota's 75th anniversary, the museum has put on a special exhibition that displays an army of 50 one-fifth scale historical models together with an equal number of full-size cars cherry-picked from the manufacturer's immense back catalogue.
These incredible scale creations were built by expert in-house modelers at the Toyota Design Center and borrowed specifically (being carried with great care, as you can see below) for the occasion.
As they are usually kept in a secure, highly confidential area, chances to see these scale models in public are extremely rare, even for Toyota employees.
The exhibition is also joined by 'systematic diagrams' of around 700 Toyota models publicly shown as related material for the first time.
The Toyota 75 exhibition in the main building of the Toyota Automobile Museum is an unmissable opportunity to experience an overview of the company's manufacturing over the past 75 years and learn about the application of advancing technology.
And that's not the only reason to visit. Behind the museum's glass doors, you'll find 120 pioneering vehicles – from those created during the late 19th Century to those built in the present day.
Opened in 1989, all of the cars on display have been painstakingly restored to as-new condition, which in many cases presented an immense challenge considering that spare parts had been long since discontinued.
For example, prime position within the museum is given to the very first Toyota, the Toyota AA.
The car on display is actually a replica hand-built from a set of original plans, as no surviving examples of the production car could be found. The vehicle was produced in 1987 in celebration of Toyota's 50th anniversary.
Now open to the public, the exhibition will conclude 6 May.