Thanks to Toyota's focus on the philosophy of kaizen, the cars it builds are being continually evaluated and improved. The Toyota Yaris, modified by this writer, is an example of how owners can take the process even further.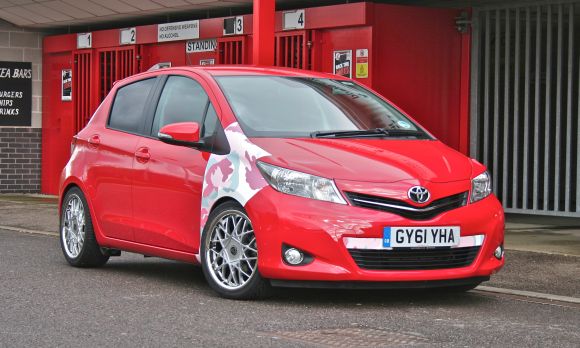 But while there's no doubt that this helps meet the needs of drivers throughout the world, there are times when it doesn't quite capture the entire marketplace.
For some people, that's where aftermarket tuners and specialists come in, producing parts that allow people to personalise their cars.
As someone who has been immersed in the aftermarket scene, I completely understand why. Having edited a specialist Japanese car tuning magazine since 1999, I have built and modified many vehicles, including the AE86 Corolla GT Coupe that is now part of Toyota GB's heritage fleet.
This Yaris SR is my latest project. Admittedly, it is not a radical departure from standard, so none of the standard car's impressive flexibility has been ruined. But I think the results are still attention-grabbing, which is really the whole point of the exercise and why many people like to modify their vehicles.
Though the Yaris SR benefits from a sportier suspension setup that rides 10mm lower than other models, work began by changing this to fully adjustable coilover-type struts.
These race-derived units allowed me to fine-tune the ride height, lowering the chassis by approximately 45mm to equalise the arch gap around the wheels and give the car a more ground-hugging stance.
Within the modified scene, chassis lowering is often accompanied by a change in rolling stock. Once again, the Yaris SR is already well endowed with 16in sports alloy wheels, but I wanted a new wheel with a larger diameter and more imposing width.
The wheels I chose have carefully considered measurements that are larger in both respects, but by specifying a precise width and profile for the new tyres the overall rolling circumference is identical. This means that the speedometer reading remains accurate. Once the new wheels were bolted on, a full geometry session on a high-tech laser alignment machine restored the angle of the wheels to within manufacturer tolerances.
As a relatively high-mileage driver, I didn't want to modify the SR's 1.33-litre petrol engine and compromise its economy. Therefore the only aftermarket part fitted is a new air filter, which is not only free-flowing but also ecologically sound in that it can be regularly washed and reused.
Externally, the standard Yaris SR is distinguished by darkened headlights, smoked chrome trim and a roof spoiler that subtly enhance Toyota's current design language. This 'keen look' is further emphasised with the addition of a pair of colour-coded eyebrows from the official Modellista accessory range found in the Japanese domestic market. Along with a set of colour-coded Modellista trim pieces for the interior, I personally imported these attractive items from Japan using a part sourcing service run by a third party.
Most people would be happy with the looks of their car at this point. However, I felt that something was missing; it needed some form of visual device to make people really sit up and take notice. My solution is admittedly quirky but also visually arresting — a vinyl wrap printed with pink urban camouflage. The wrap is applied to just one panel or element on each of the four sides, which gives the car an asymmetric appearance.
So, Toyota Yaris modified then – this is my personal expression of a kaizen philosophy. The car is now a better expression of my personality and its adjustable suspension can be easily tuned to suit my preferred handling characteristics. The modifications may not be to everybody's taste but I think they achieve the desired effect of making people look.
What do you think of my efforts? I would love to hear your thoughts on the subject.
NB: Toyota neither endorses nor condones modifying a car from standard specification using unofficial, non-standard parts. Doing so may invalidate the vehicle warranty and compromise its performance. Your insurance company must be informed of all modifications.