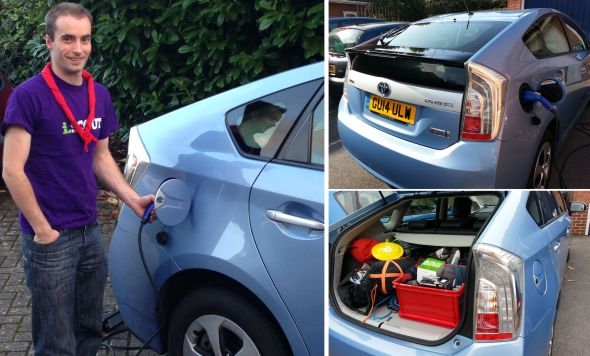 In addition to its support of the Surrey Scouts and their preparations for the World Jamboree in Japan next year, Toyota GB's close association with the government's Go Ultra Low campaign recently gave Simon Corrigan, media manager for the Kent Scouts, the chance to test a Prius Plug-in during his day-to-day scouting activities.
As former manager of the group's eco-friendly activity centre, Simon is personally interested in renewable energy and has adopted methods such as rainwater harvesting and solar energy in his own home. But frequent long journeys across the country as part of his volunteer role offset much of the good he was trying to accomplish elsewhere. Simon had looked into the possibility of buying an electric car for his 200-mile commute but the distance made this impossible.
The Toyota Prius Plug-in, however, was a perfect match for his needs thanks to the way it is engineered to deliver ultra-low emissions while removing all trace of range anxiety. On shorter journeys the high-capacity battery pack can be charged to power the car for more than 14 miles, while on longer journeys the car automatically reverts to being a highly-efficient hybrid with a range of over 500 miles between fill-ups.
How did Simon get on with the Prius Plug-in? You can read his account by following this link to the Kent Scouts website but here are a few pull-quotes: "the first thing you notice is that it's silent," "ultimately, it is like a normal car but with built-in efficiency," and "the novelty of stopping the car at the end of a short journey and seeing the summary of 999mpg still hasn't worn off."
At the end of his time with the Toyota Prius Plug-in, Simon found that he had halved his fuel bill. His understanding of ultra-low emission cars had dramatically increased and this extended test-drive helped him realise that it was indeed possible to be environmentally-friendly while out and about.
Learn more about ultra-low emission vehicles (ULEV) by following this link to the government's official website.
Learn more: How well do Toyota Prius Plug-in models hold on to their value?