One woman's dogged determination to own a Land Cruiser has seen her invest her life savings into buying the ultimate four-wheel-drive which she firmly believes will be the best vehicle for transporting her dogs across the UK to work in some of the most remote locations as part of her work at Paws for Conservation.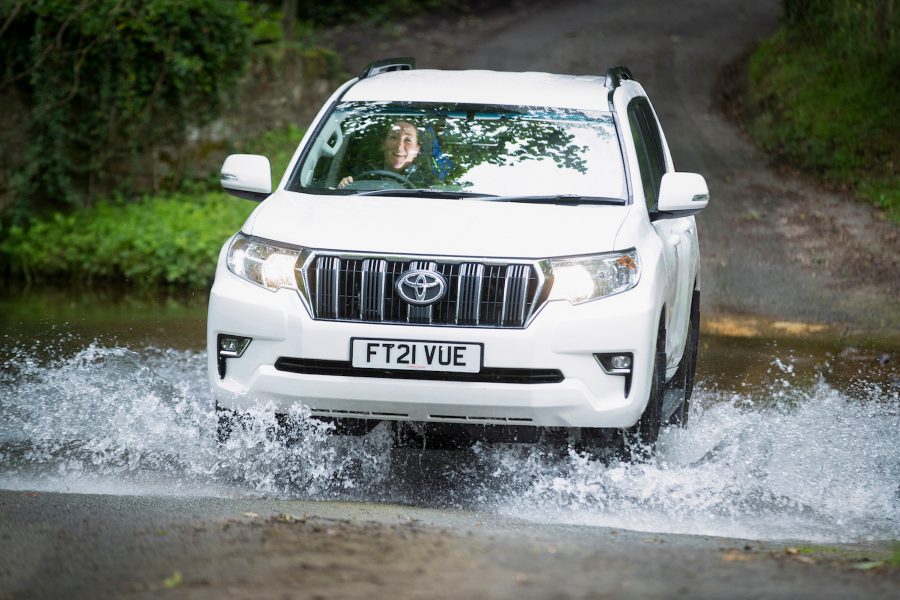 "I've always liked them. I needed the most reliable, spacious and comfortable four-wheel-drive vehicle.
"I can be working with my dogs in Wales one day and then on a Scottish wind farm the next" explained Rachael Flavell.
Keen to sniff out a bargain, Rachael searched long and hard before buying her LWB Land Cruiser Commercial from Listers in Boston, Lincolnshire.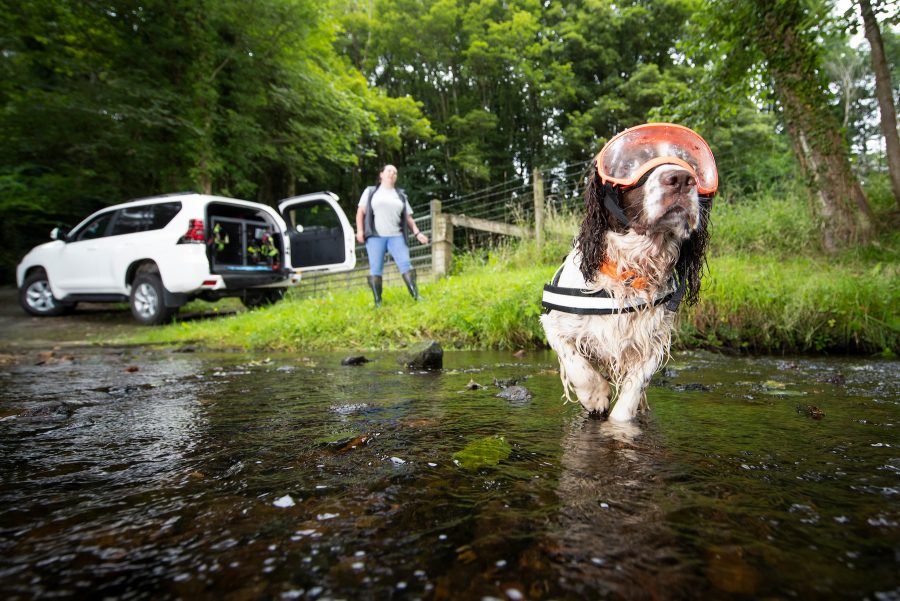 "The dealer was able to use an NFU discount which I didn't know about which saved me a good deal of money. It's the top of the range 150 Active model. I'm a bit girly so it had to be an Automatic too. I love it. It's beautiful. Everything I need.
"I spent my life savings on it and plan on keeping it forever. I'll probably go green laning in it when it's a bit older – eventually, in about five year's time – it's far too nice to do that to it at the moment.
"I bought it three weeks ago and it's already done 2400 miles. Sadly it lost its new car smell very quickly – the inside already smells of wet dog and damp towels.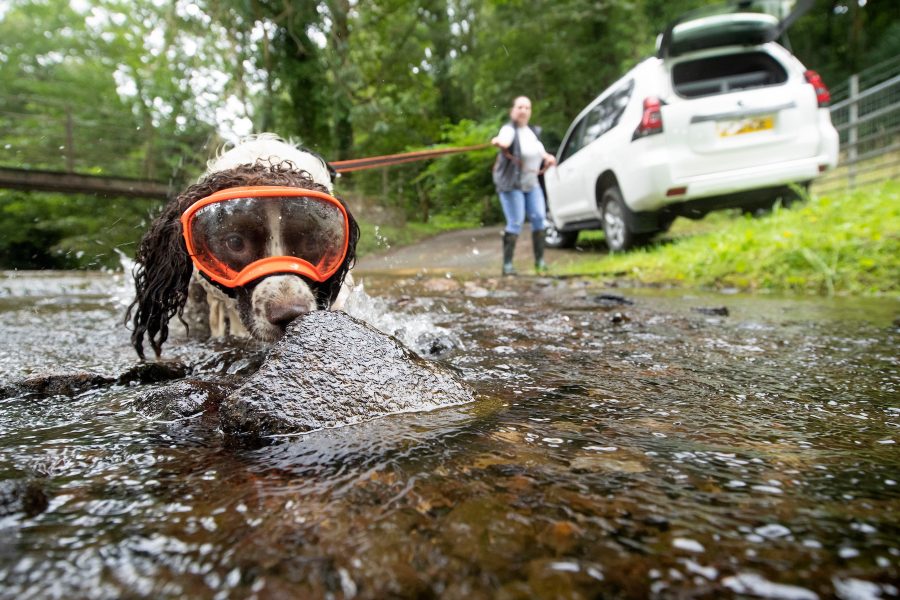 "I had it fitted with two large dog crates – enough room for four dogs," said Rachael.
Inside one of the cages is a dog who looks like he's about to go scuba diving, Max is one of a small handful of dogs being trained to protect endangered wildlife – with their noses.
The eight-year-old English springer spaniel is one of four dogs being trained and deployed by Paws for Conservation to locate animals across the UK.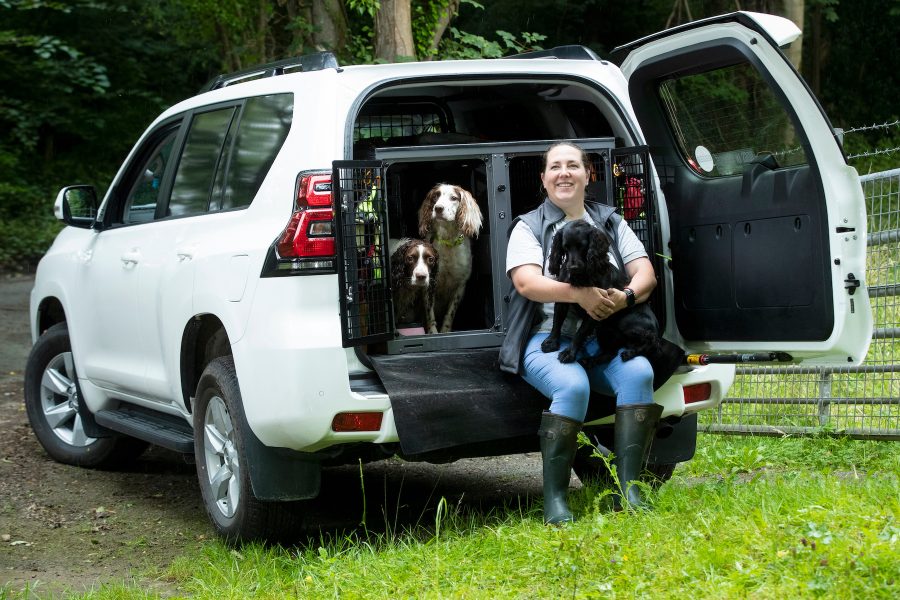 Today he was joined in a Welsh river by two other dogs as the team honed their skills for locating species – even in and around water.
Already a slightly over-enthusiastic agility competitor, Max began his conservation work last year. He started off on birds and bats and is now learning to find great crested newts (GCN) and water voles.
"He's very prone to injury and was forever getting things in his eyes. He also suffers from hay fever which is why he wears the goggles.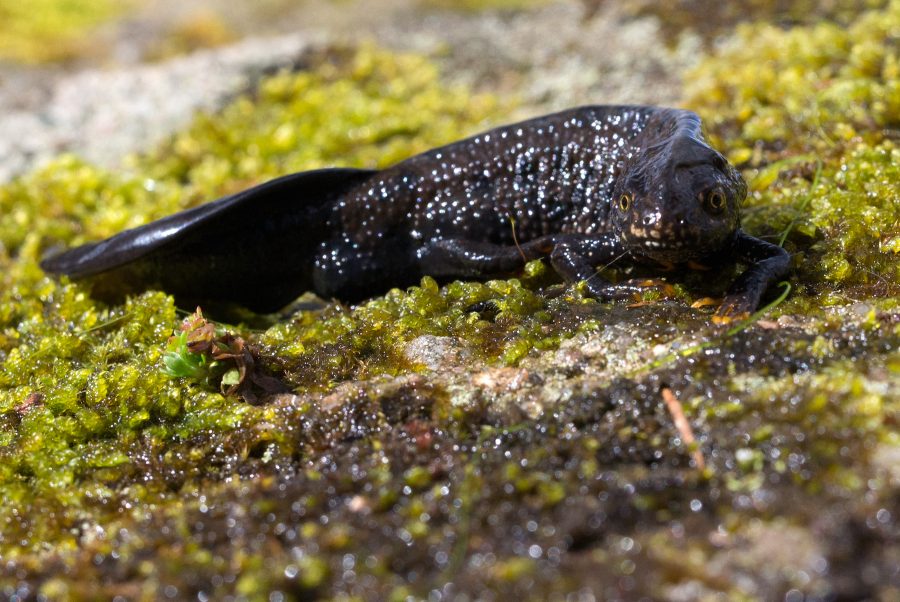 "They can mist-up a bit when he's working in the water. But, they work really well and don't bother him at all – it's as if he's not wearing them" said Rachael Flavell, 33, owner of Paws for Conservation.
"Today is a training and familiarisation exercise for neutral scent searching in water.
"Before planning permission can be given for building work or for wind farms, presence and absence surveys need to be carried out to check for endangered species," she explained.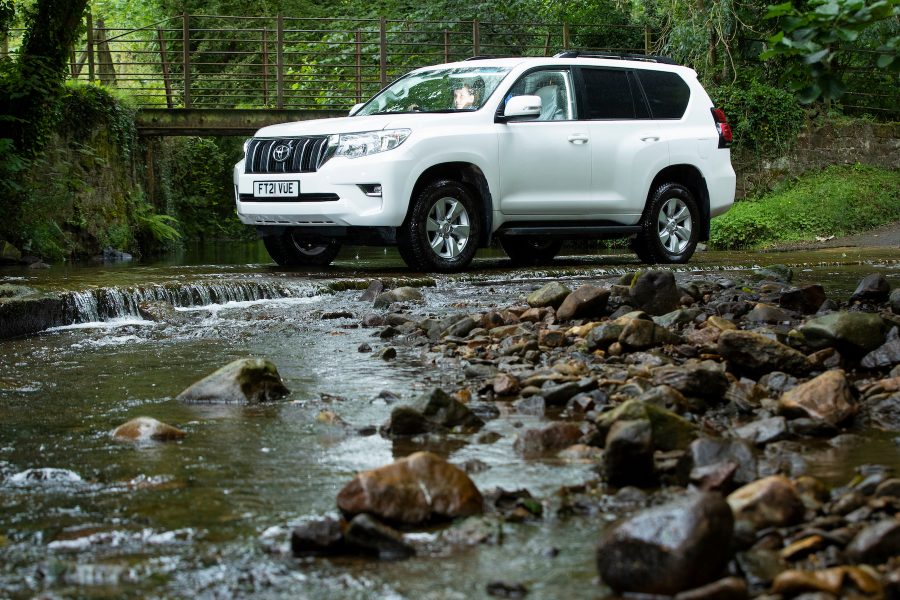 Based near Wrexham, Wales, and operating at sites across Britain, Rachael has worked for a number of ecologists and environmental consultants such as Natural Power, Atkins, BSG Ecology and Atmos consulting.
Rachael added: "It's usually ecologists who determine the presence of endangered species such as GCN. This can often be very time-consuming. But using our dogs in combination with our Level 1 class licence from Natural England we can now quickly establish whether or not this protected species of newt is there or not.
"If GCNs are found, they need to be relocated before building work can start. Our dogs help to speed up this process, ultimately saving construction companies time and money.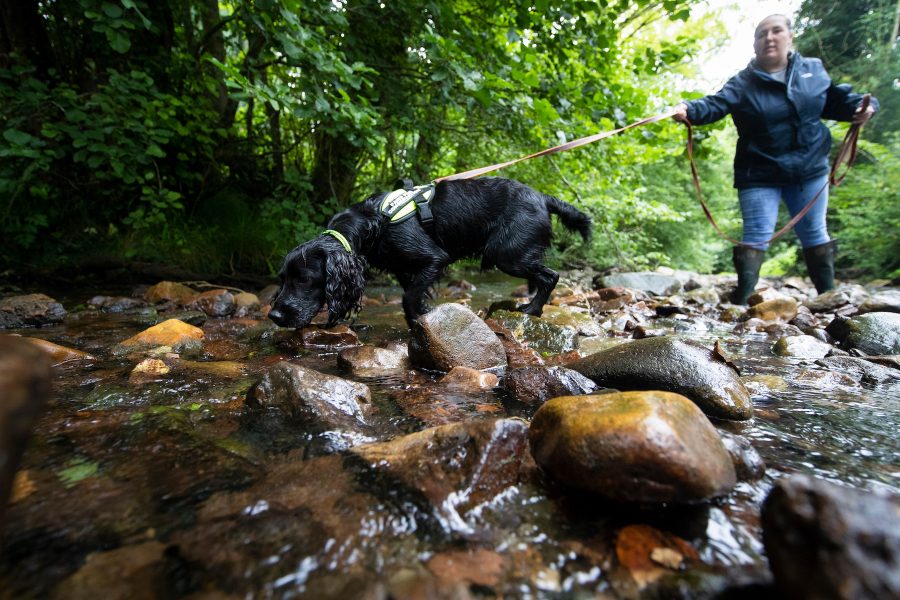 "Similarly our dogs assess the impact wind farms have on wildlife. They help to identify and find bat and rare bird populations after installation. Our findings can influence the turbines being switched off overnight or at certain times of year to protect bats. Dogs have proven to be efficient tools in helping to conserve British wildlife.
"We've just started training for water voles and are getting ready to start working with another new, secret and exciting species.
"It's unbelievable how busy we are. I might have to buy Max a snorkel to go with his mask if we get swamped with much more work"
Words By Rod Kirkpatrick