The inaugural Parallel London took place at the Queen Elizabeth Olympic Park last weekend, where Toyota was one of the main sponsors. We caught up with a couple of the participants, father and son David and Ben Motton, to see how they got on…
There are all sorts of events in which able-bodied people raise money for disabled friends and family. What appealed to me about Parallel London was that my son, Ben, who has quadriplegic cerebral palsy, would be able to participate rather than watching from the sidelines.
The organisers of Parallel London, which took place on Sunday September 4th, say the event is unique – I certainly don't know of anything else like it. They describe it as the world's first disability-led mass-participation run.
We had a choice of four different distances from 100 metres to 10km. There were no cut off times for any of the races, which really encouraged us to enter. Ben cannot walk or sit unaided, so even the shortest distance was a big challenge.
Ben's mum and sister came along to support him, and we enjoyed watching the other races and visiting the family festival while we waited for Ben's start time. Event sponsors such as Toyota had arranged active lifestyle demonstrations including wheelchair rugby, seated volleyball and wheelchair dancing. Some exhibitors showcased inclusive technologies, others ran cultural workshops with theatre and music.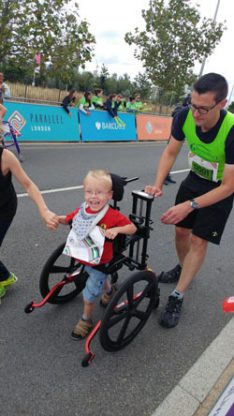 Ben's race was what the day was all about for us, though. He was raising money for the Dame Vera Lynn Children's Charity, which helps children under five with cerebral palsy and their families. They have done so much for us, so the whole family wanted to repay them for all the kindness they have shown us and the help Ben has enjoyed.
I'd entered the race as Ben's helper, but his big sister, Leah, wouldn't let go of his hand so three of us lined up at the start, Ben standing proud in his KidWalk walking frame. He was so excited and couldn't wait to get started. It took him five minutes to walk the 100 metres. I think he might have been a bit quicker if he hadn't spent so much time smiling and cheering back at the spectators.
Completing the race gave Ben a huge sense of achievement, and has so far raised more than £2400 for other children like him with cerebral palsy. I'm sure that's far a far higher total than if I had entered a conventional run without him.
I'm already wondering if Ben will be strong enough to try the 1km race at Parallel London next year. We'll certainly be back.
Find out more at David's Just Giving Page