This morning we picked up the car we'll be using in our hypermiling attempt – a pearl white iQ² with a manual gearbox. We drove the car hard for a few minutes to get a feel for it – and because it turned out to be good fun.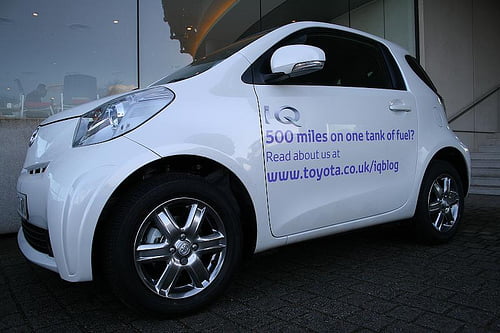 But then it was down to the business of seeing how many miles we could eke out of each gallon of fuel, in a quick bit of practise. It's surprisingly easy to keep iQ's real-time consumption gauge above 60mpg, but not quite so easy when you're climbing up hills on the A23, even if you have got a Royal Mail van to follow.
Having never attempted an economy run before, we're not expecting to set any records and we aren't sure how far we'll get on our attempt. But we are interested to find out how far iQ can go on a tank: we're aiming to average more than the car's official 65.7mpg, giving us a range of more than 460 miles.
We'll be setting out tomorrow on our attempt proper, and from now on you'll see regular updates on this blog, and on our Twitter, Flickr and YouTube streams – we'd love it if you follow our progress.