At the top of a perilously steep and rocky cliff-top track, a rusty old four-cylinder car engine coughs and stutters. It's perched on an equally corroded metal frame and is attached to some winding gear. The whole apparatus would have looked just right sitting above the shaft of one of the nearby, long-since-closed, Cornish tin mines.
A taut metal cable stretches from the Heath-Robinson contraption to a car stranded on the hill some 40 yards below. It's being winched slowly up through a lingering haze of its own clutch and tyre smoke, which it just spewed as it desperately tried, but failed, to make it up the ascent.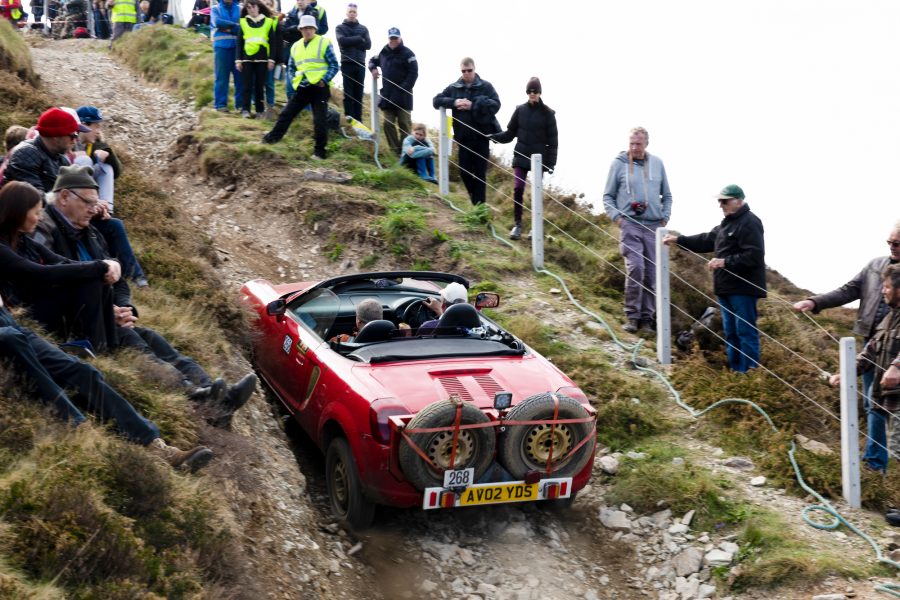 There's another car waiting at the bottom. Its driver revs the engine and waits his turn. He wipes dust from the windscreen as the low afternoon sun shines directly into his tired eyes. He's more than 20-hours into a gruelling 338-mile trail which, after only a few more hills, will soon finish near Land's End. But this is the big one. This is Blue Hills near St Agnes, where hundreds of people are lining the route to cheer each car on – or perhaps delight in watching them fail.
The stranded vehicle is now clear. A marshal stands at the top of the hill and raises a green flag. The driver selects the first gear and starts his attempt on the hill. The rear wheels spin, sending stones flying, before eventually finding grip in a physics-defying fashion. The front wheels bounce skyward a couple of times and the underside of the car crashes down loudly. The crowd applauds and gasps as the resilient car clings on, clearing the steepest part before rounding a corner and slowing for a stop-start test. This time it's a waved yellow flag before the driver once again balances raspy engine revs and clutch to successfully clear the section.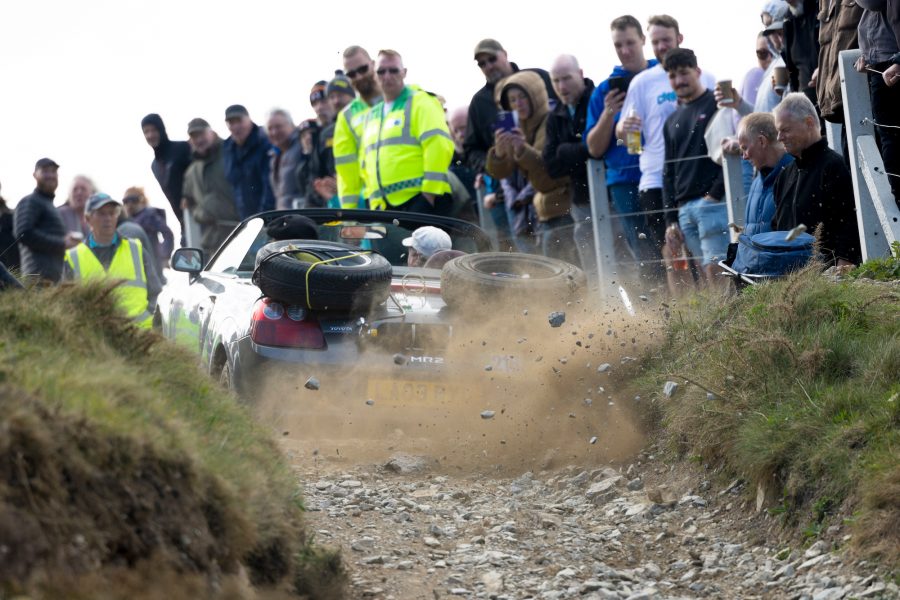 You may be imagining him at the wheel of a chunky four-by-four, or a specialist rally car. But Barrie Parker is driving an open-top two-seater sports car – a third-generation Toyota MR2. And he's not the only one. There are five off-road MR2s competing in today's competition and I manage to catch a few words with three of their owners. Drivers competing in The Land's End Trial, are only allowed to use two-wheel-drive cars.
The 24-hour trial organised by the Motor Cycling Club, Britain's oldest sporting club for motorcycles and cars, is a test of on-road navigation and off-road special sections. It includes speed tests and hill climbs in which competitors have to stop and restart mid-way up. It's open to various classes of vehicles including kit cars, family saloons, vintage classics, motorcycles and mopeds.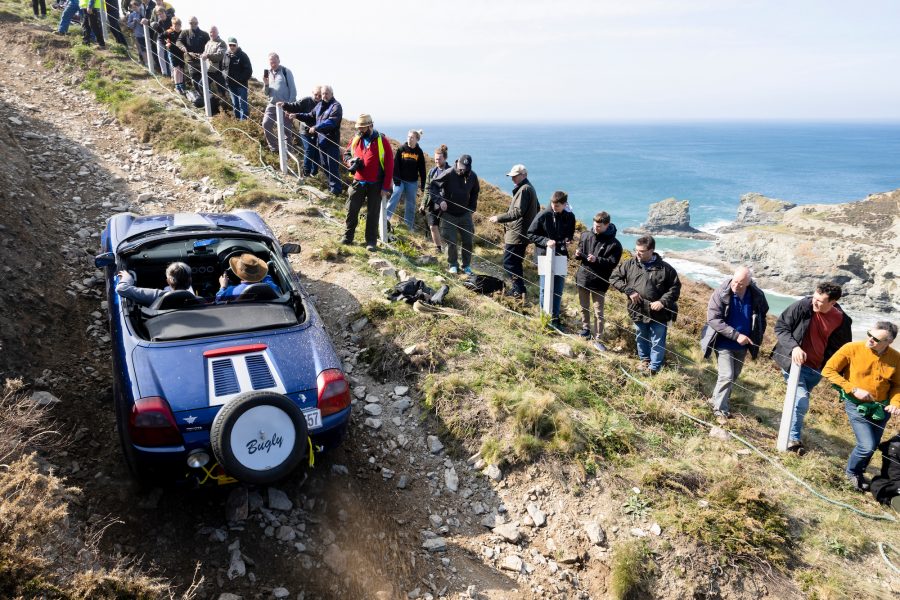 "I've owned my MR2 for seven years in total," explains 73-year-old Barrie. "I sold it to a friend a few years ago and then bought it back from him for £2,500. I wanted to use a convertible sports car – something I could get the roof down on when the sun comes up. Given the nature of long-distance trials and my desire not to modify it much, it had to be strong and reliable.
"It's done 30 trials so far. I've had lots of tyre damage but no mechanical failures whatsoever, except for one differential. All I do is jet-wash it, clean it and check it over. It's a superb car.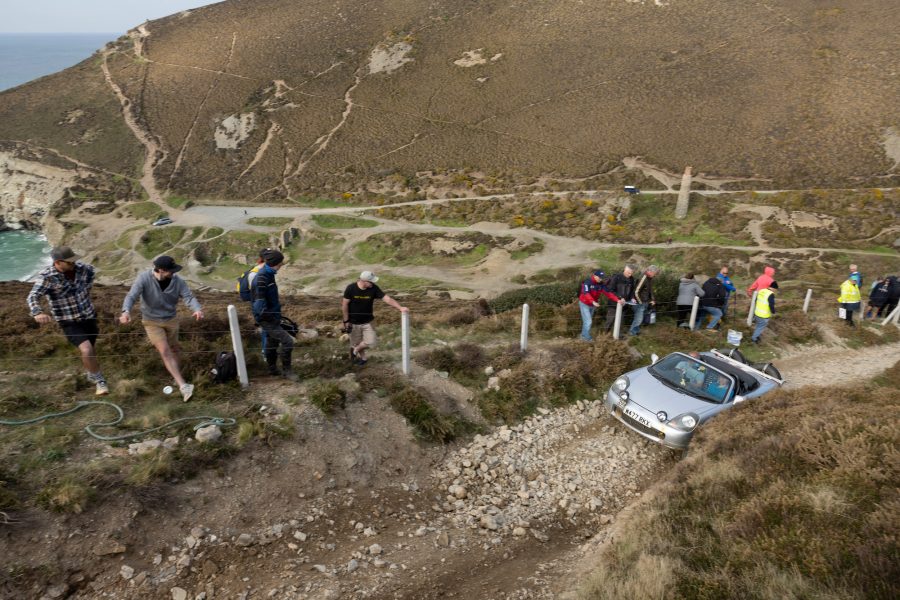 "I've raised the suspension by three or four inches, fitted bigger wheels and tyres and there are two spare wheels on the back with ballast in the boot – this helps to put more weight on the rear wheels for grip. And it's fitted with a map light for night-time navigation."
Barrie, a retired business owner from Cirencester, Gloucestershire, went on to win the top 'gold' prize and came second in class in today's Land's End Trial. "To get gold you have to 'clean' and then restart successfully on every hill. I won gold on the last two trials so that means I'll now get the 'triple' award," he said proudly.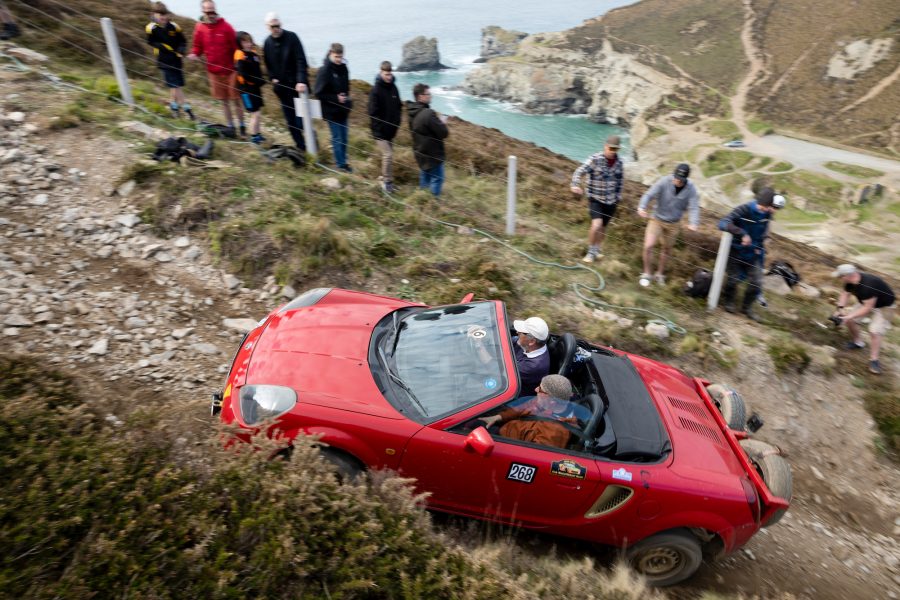 Friends Kevin Sharp and Roger Beaumont are also competing in a pair of MR2 Mk3s. "We used to trial in Suzuki X90s," explained 67-year-old Kevin, a former IT specialist from Stroud, Gloucestershire. "They're very popular but pretty horrid to drive. I already had two MR2s, a daily driver and one I use for competing in autosolos. So I bought this one in 2018 for £800. It was slightly tatty, needed a gearbox and quite a lot of work. I also persuaded Roger to buy one."
Kevin and Roger's cars are pretty similar. To maximise the advantage given by having weight over the rear axle, both have their spare wheels mounted on frames just behind the rear number plate and carry 150kg of lead in their boots. "We've also raised the suspension and fitted smaller wheels – from a Yaris – and high-profile tyres. They're jacked up at the back and we've fitted extra underbody protection. It's so much nicer to drive than my old Suzuki," said Kevin.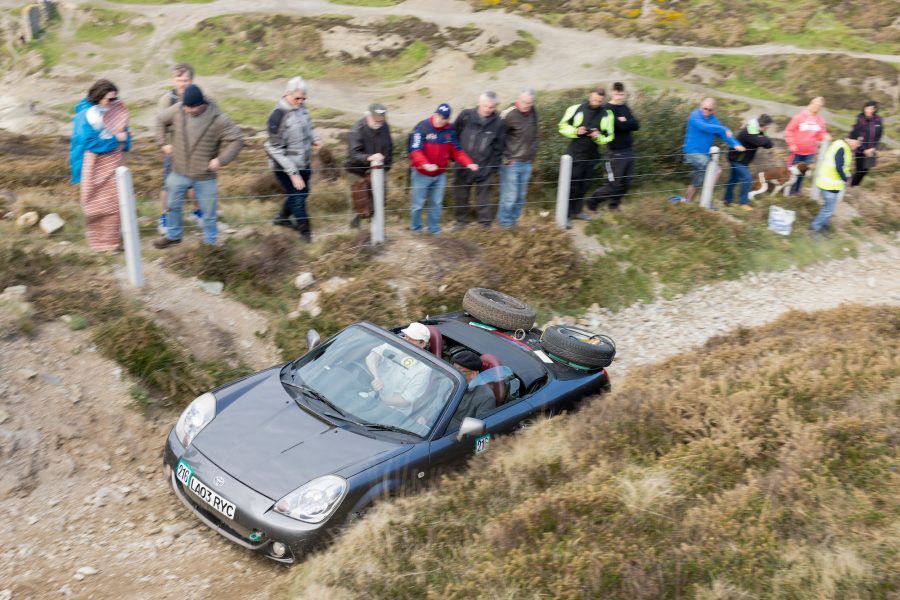 "Today I only managed a bronze. I stopped just before the stop line on one of the climbs and two feet beyond the line on the speed test – but I was the fastest," he laughed.
Explaining more about their cars' preparation, Roger Beaumont said: "They're now fitted with low-ratio gearboxes, stronger drive-shafts and heavy-duty clutches – I annihilated mine the first time out. Today was my worst showing for a while. I failed three sections. All driver errors, rooky errors," said the 66-year-old retired medical laboratory scientist and researcher from nearby Liskeard. "But it was also one of the most enjoyable runs. The weather was fantastic – we ran all night with the roof down. It was a joy."
Shortly after hauling a Citröen Dyane to the top, the winching machine is taken down and loaded into a pickup truck as the sun sets over St Agnes. Barrie, Kevin and Roger will probably be here again next year trying their best to get their Toyotas up the hill without the help of the rusty winch.