Do-it-yourself is enjoying a big revival in American cities, where a new breed of entrepreneur is taking a can-do approach to urban regeneration. Toyota's Calty design studio in California has researched the movement by speaking to people attending the hugely popular Maker Faires across the country and has used their views to help create a new small SUV, the Urban Utility concept car – Toyota U2.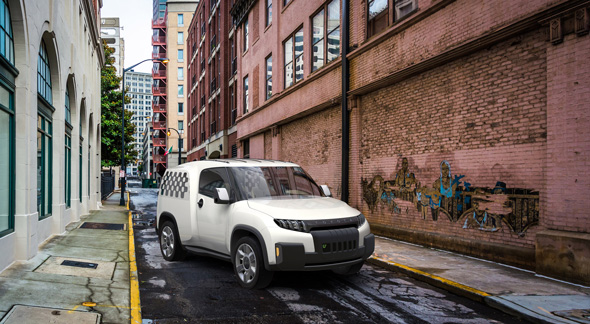 The Toyota U2 concept has an open architecture and is made from robust materials that reflect a no-nonsense urban style. It has practicality built-in, with a roll-back roof and a tailgate that can be folded down to create a ramp. A rail system makes it easy for owners to customise the interior just the way they want it.
See also
Toyota FT-1 Concept marks 40 years of Calty Design Research
Kevin Hunter, Calty President, said: "Toyota saw an opportunity for a new approach to an urban vehicle, based on the increasing re-urbanisation of our cities, and on urban drivers' desire for flexibility, fun and manoeuvrability.
"Calty keeps a number of projects concealed while it explores ideas and projects. Revealing something like the U2 gives people a window onto the constant innovation that is happening inside Toyota and our studios, and a possible future vision for urban mobility."
Inside the customisable Toyota U2
The Calty team conceived U2 as a flexible, functional gadget, drawing their inspiration from modern entrepreneurship and Americans' traditional love of adventure and outdoor pursuits that involve plenty of gear and equipment. It needed to be easily adaptable for individual on-the-go needs, witnessed in details such as a retractable utility bar that can do anything from hold a desk to provide hooks for shopping bags. The side windows flip up, so it's easy to reach in from the roadside.
Other interior highlights include: –
• Folding, removable front passenger seat
• Fold-up rear seats
• New shift design with an intuitive switch for park, drive and reverse
• New colour and trim material choices
Toyota research found the fast-growing market for small SUVs seeks greater usefulness, but a smaller vehicle footprint. U2 is the size of a compact car, but has the functionality of a traditional pick-up and the spaciousness of a cargo van. It also answers other urban driver priorities in delivering good fuel economy and being easy to manoeuvre, load and unload.
Toyota U2's exterior is designed for urban living
City streets call for a vehicle that can deal with bumper-to-traffic, potholes and tight turns. Toyota's U2 concept tackles these demands with a highly durable underbody and bodywork that's tough as a handtool and which comes with customisable side panels. The look is modern and characterful, too, evident in details such as the slightly chunky proportions and circular doorhandles
Other exterior highlights include: –
• Retracting roof panels
• Opening rear glass that slides into the tailgate
• Drop-down tailgate that forms a load ramp
• Replaceable protective ridges on the tailgate
Appropriately the Toyota U2 will make its public debut at the World Maker Faire in New York on 20-21 September 2014.
Details in this article were correct at the time of publication.