There comes a time when new prototype vehicles have to escape the restricted access of a development facility and be tested on public roads. Spy photographers lie in wait for this moment, so prototypes are usually disguised, typically with extra body cladding and an optically confusing camouflage pattern.
Of course, this kind of masking cannot disguise the physical size of a car. But if you squint a little and use your imagination, it is possible to get a rough approximation of the vehicle's shape or even hazard a guess at the manufacturer.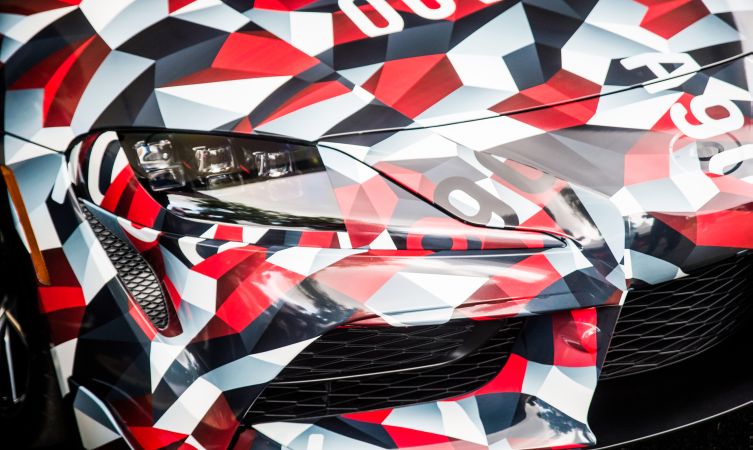 Toyota was aware that it would be impossible to hide the existence of its prototypes in public
Toyota was aware that anticipation was high surrounding the long-awaited arrival of the fifth-generation Supra, and that it would be impossible to hide the existence of its prototypes in public. So the approach for this intriguing development phase was changed from being an attempt to hide final details from prying eyes to a way of ensuring that its audience of fans would notice the car.
Dan Beckett, Head of Art at Toyota Europe's creative agency, commented: "As you get closer to launch you might want to tease the forthcoming model; you might want it to look more distinctive so that when spy shots are published it is memorable.
"So there is an opportunity there to create a camouflage that is a little more distinctive, something that has a memorable design that is not just the standard zig-zag or spiral pattern that many manufacturers use."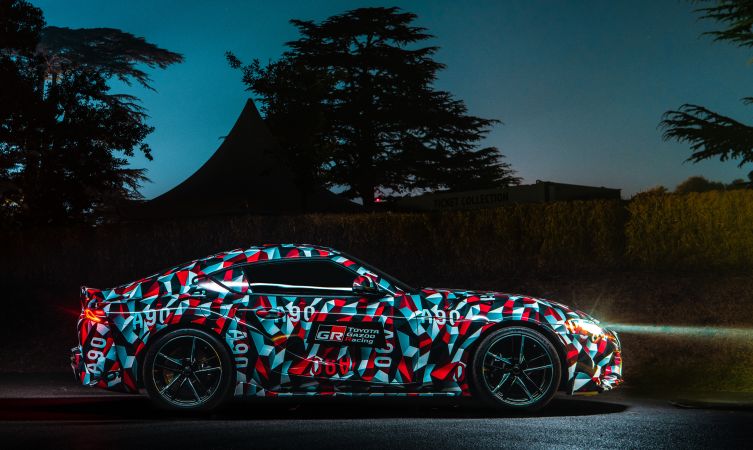 Importantly, the masking still had to function as a way of hiding the finer details of the car's form, but it also couldn't blend into the background like military camouflage. How was this balance achieved in the design?
Dan goes on to explain: "During our research we looked at the dazzle camouflage applied to battle ships in the First World War. The effect of these bold, intersecting geometric patterns was not to hide the boat's existence but disguise its shape and even the direction it was facing. So that was a great place to start…
"But we also drew inspiration from the Toyota Gazoo Racing livery, which uses large black-and-red trapezoidal shapes set on a white background. And the most recognisable visual cue in motorsport – the waving chequered flag. Finally we added the A90 chassis code so that people in-the-know would recognise that the car underneath was the next-generation Supra."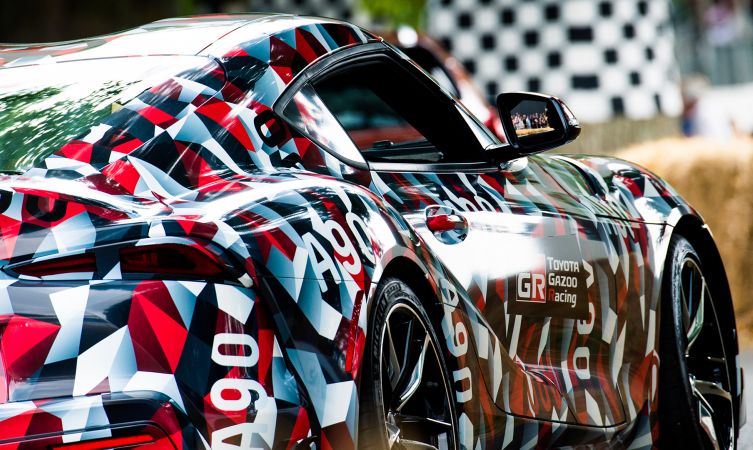 We adopted micro and macro pattern principles to ensure the camouflage would perform well at any distance
A combination of these elements eventually came together into a carefully arranged pattern. But the attention to detail went further than that, as Dan revealed: "As we refined the design we adopted micro and macro pattern principles to ensure the camouflage would perform well at any distance: small individual cells for close viewing and larger element groups to confuse the shapes at a distance. In other words, so that the pattern doesn't become an even tone and the camouflage effect fails."
This functionality was initially examined on a computer-generated model of the FT-1 concept, before being tested in the metal on the similarly proportioned GT86. Vinyl panels with gloss and matt finishes were applied so that photography tests could be performed under different lighting conditions. In these it was discovered that a gloss finish was most effective in natural light. And as this was the environment the vehicle would most often be seen in, that's what was presented for final approval with Toyota Motor Corporation executives in Japan and the new A90 Supra's chief engineer Tetsuya Tada.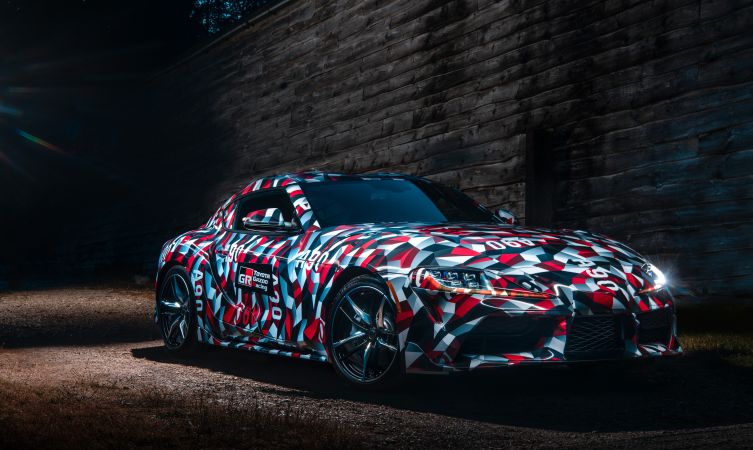 Interestingly, Tada was involved in the design process of this camouflage from the beginning, and it has been so well-received within the company and on social media that many have called for it to be made available as a cost option for future buyers. Only time will tell whether their wish will be granted.
Read more: Five generations of Supra together for the first time