News that Team Toyota GB is returning to the British Touring Car Championship with the new Corolla entered by Speedworks Motorsport has been incredibly well received.
Indeed, our early visuals of the new racing Corolla Hatchback inspired motorsport livery designer Tim Holmes to create a series of historically inspired themes for the new car.
The definitive racing livery for the Team Toyota GB with Speedworks Motorsport Corolla won't be revealed until early 2019, but Tim has imagined the Toyota Corolla BTCC wearing iconic colour schemes from Toyota's motorsport history.
We got in contact with Tim to talk about racing graphics, how he creates new designs, and what inspired him to take up this pastime. This is what he had to say…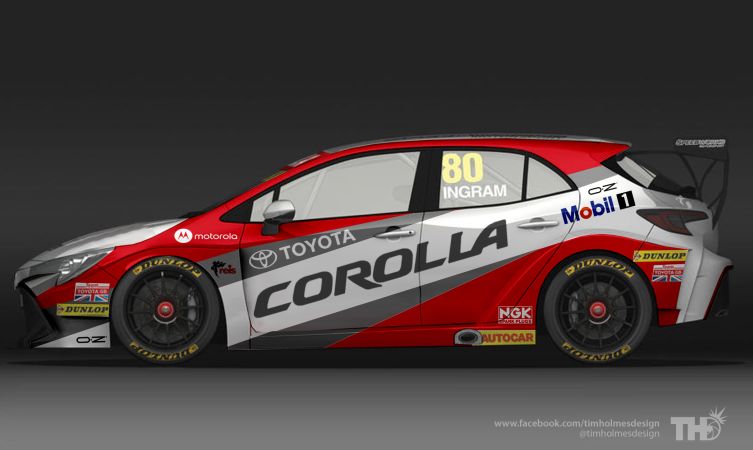 This rendering was inspired by the colours of Toyota's 1995 BTCC Carina
How long have you been creating race liveries for vehicles?
TH: "It's been about four years now. It came about shortly after I started maintaining Team HARD's BTCC website for the owner, Tony Gilham. After that I got hooked and now have numerous clients both in the UK and abroad."
What programme do you use to create your renders?
TH: "Generally, I prefer using either Adobe Photoshop or Illustrator. I'm now being asked more frequently by clients to produce 3D computer renders, so this is a skillset I'm working to accommodate for them. Having a full-time job as well as my motorsport work means it can be difficult to find the time to learn."
Toyota's current WEC and WRC colours look good on the Corolla BTCC
Is a high-res image the best sort of original file to work with?
TH: "It depends on what the client wants, to be honest. For a quick mock-up, a flat image works well and is pretty easy to adapt. But if a client needs to see additional views – such as when planning a full livery wrap – then I find that a wireframe vector works best. This is where quality 3D rendering is the way to go as it allows you to see examine every possible angle."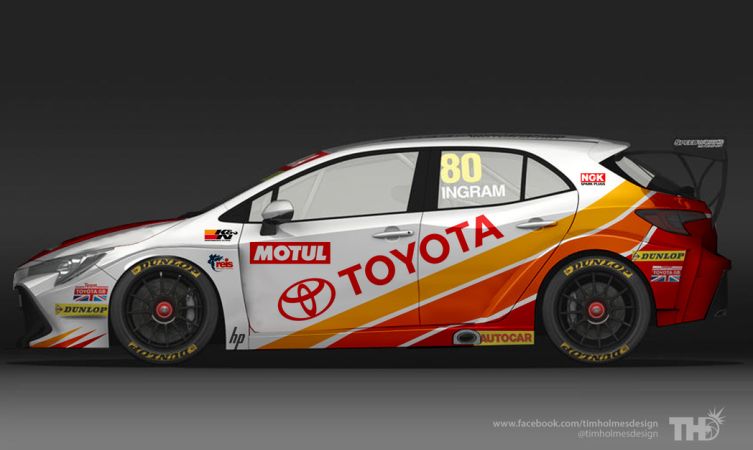 White, yellow and red scheme was used in the IMSA sportscar series
How do you come up with your designs?
TH: "In most scenarios it's a mixed effort. Influence often comes from a client's sponsor list, their preferred colour palette, or just a simple idea. Then I just let my imagination take over while trying to come up with something unique.
"The livery can also be dictated by the series being entered. You might have to be aware of the amount of contact between cars on the track and whether the design can be quickly and easily repaired. For example, BTCC cars can take quite a hammering during a race, especially when compared to open-wheel racing such as F3, so I often try to tone down the graphics around exposed corners and bumpers."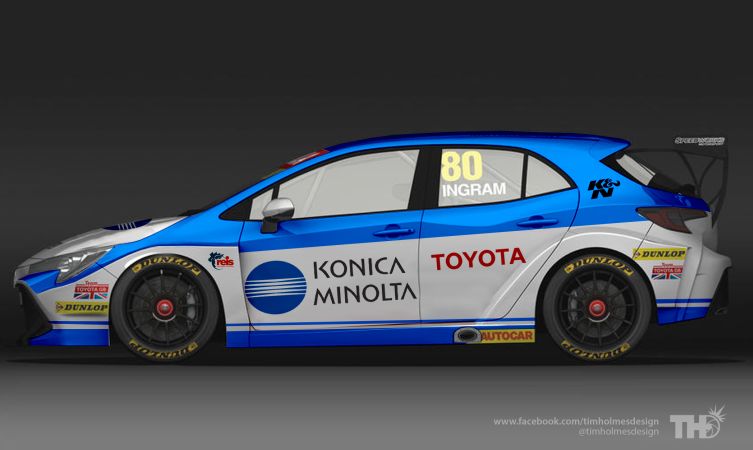 Blue and white made Toyota's late 1980s Le Mans cars stand out
Why are many of your liveries displayed as side profiles?
TH: "My designs tend to be shown side-on as I feel it is one of the nicest angles and displays the majority of the car. That's not to say I don't adopt other angles when the time suits; it simply depends on what looks best, what happens to be requested, or what I want to share on social channels."
Which is your all-time favourite Toyota racing livery?
TH: "Along with many other motorsport fans, I think my favourite is the classic white, red and green Castrol look. The first time I saw this livery was on a Celica GT-Four during the Network Q RAC Rally. I was still a kid and excitedly tugged at my dad's sleeve shouting: 'Whoa, a real race car! Dad, did you see it? Did you see it!?' It was probably the first race car I'd actually seen in real life."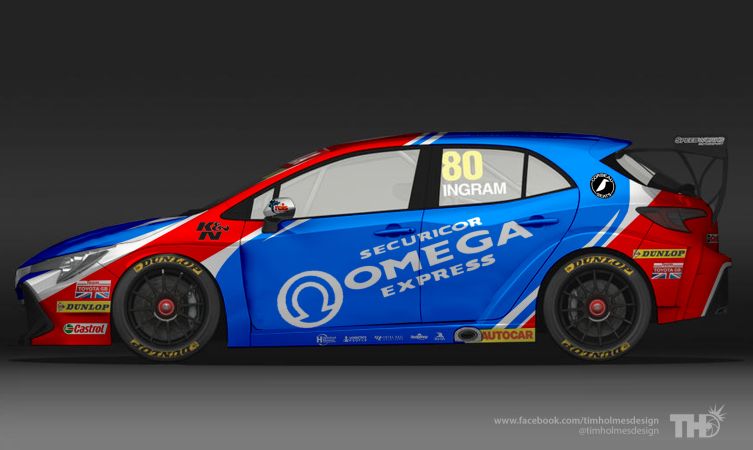 This scheme is based upon the colours of Toyota's 1993 BTCC cars
What is your definition of a great motorsport livery?
TH: "For me, a great livery is a graphic that flows with the shape of the car. I also prefer it to be limited to a few colours and that the design accommodates all the sponsors without looking too crowded. It has to be something that can be frequently revisited and stands the test of time. I think the classic Gulf, Castrol and Martini liveries are standout examples of this concept. Their consistency makes them instantly recognisable and therefore iconic."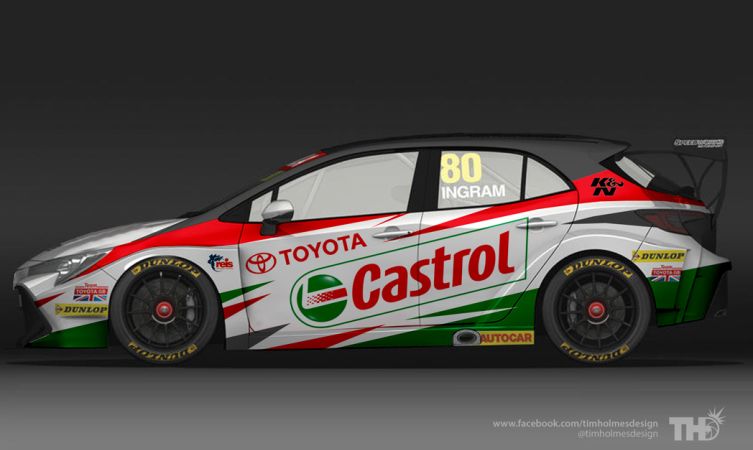 These Castrol colours were made famous in WRC, BTCC and sports car racing
Which is your favourite of the Toyota Corolla BTCC liveries you've created?
TH: "I created them all to commemorate Toyota re-entering the BTCC as a manufacturer team and the new Toyota Corolla BTCC being driven by the amazing Tom Ingram. But you won't be surprised to hear that my favourite is the Castrol one. It's such an iconic design and one that holds sentimental value for me because the look influenced my following of motorsport."
Learn more: A brief history of Toyota in the BTCC