Toyota independent racers Adam Morgan, Frank Wrathall and Tony Hughes overcame a host of difficulties at Silverstone today to score more valuable Dunlop MSA British Touring Car Championship points, with series rookie Morgan shining at the wheel of his Speedworks Motorsport Avensis in the final race of the day to secure another personal best.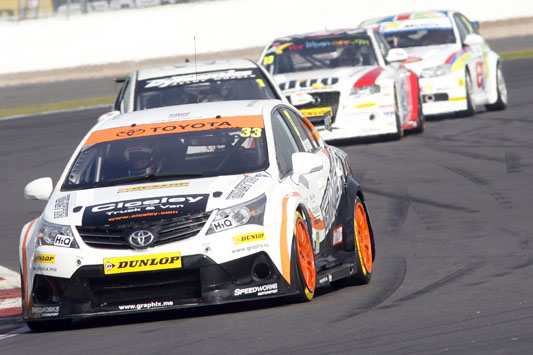 Recent revisions to the championship's turbo boost regulations did little to help any of the Toyota men on the long, power-hungry straights of the 1.6-mile Silverstone National circuit, but they did not prevent 26-year-old Wrathall from securing an excellent third place in Saturday's qualifying session – the fifth time in nine meetings that Frank has qualified inside the BTCC top five.
Alas Wrathall's race pace was lacking punch, and two of his three races would end in retirement after clashes with other cars. In race one, Frank was defending sixth place from Morgan when their cars touched and spun: Wrathall retired to the pits with deranged steering while Morgan continued to 16th place, a lap in arrears, after a stop to replace a shattered wheel on his Avensis.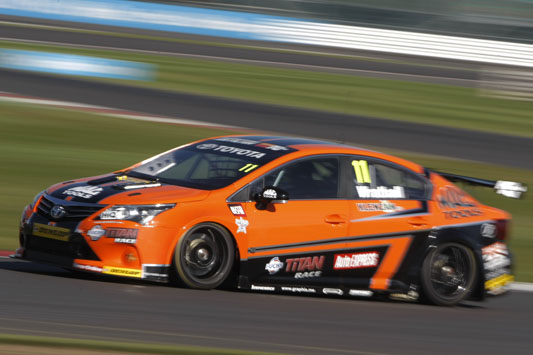 "I was struggling for straightline speed compared with some of the other cars around me," said Frank. "Down the back straight I was a sitting duck. To be fair to Adam he didn't mean to touch me. He was gaining on me that quick that he would have felt he needed to make a move. Maybe it just came a little too late."
Added Morgan: "It's a bit of a disaster to have two Toyotas coming together. Frank seemed to brake a bit earlier than usual for the corner, so I went up the inside, he came across and we hit. It was of course completely unintentional – a misunderstanding between us."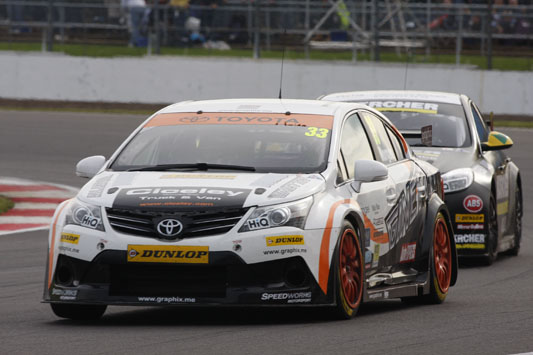 Both Wrathall and Morgan bounced back in race two to score points, Frank taking 12th and Adam 14th.
After their first-race coming together, there was further unintentional contact between the two at Luffield on the opening lap, as Adam slowed suddenly and Frank was powerless to avoid contact. "Something happened in front of Adam and he stopped so suddenly I had no time to react," said Frank. Morgan spun to the tail end of the field after the bump.
"It was quite a firm whack," confirmed Adam. "It all slowed up pretty quick in front of me: it was a bit of a concertina effect."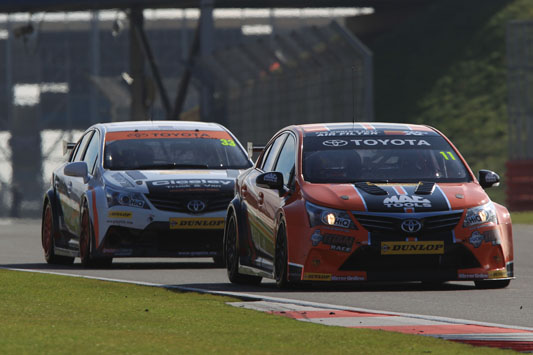 Aided by a safety car period following the fiery demise of Matt Neal's Honda, Morgan got back on terms with the pack and was able to pick his way through to 14th by the end. Wrathall picked up eight places to rise to 10th in the first half of the race, and then profited from leader Jason Plato's retirement to take up ninth. Thereafter, his pace fell away.
"We were struggling for speed from the start," said Wrathall. "I just couldn't live with the speed of the others down the first half of the straights. As a result, I had to try too hard at the start of the race, wasting the best of my grip and the best of my brakes, just to keep up because I was losing so much time down the straights. Then, when the tyres and brakes started to go off, I was powerless to do much.
"It's a shame that I'm unable to do myself justice because of the boost situation. However, it's the rules and that's what we have to live with."
The Silverstone finale saw Morgan romp home eighth, one place higher than the 23-year-old had previously achieved in the BTCC. Adam started 14th, two spots on the grid behind Wrathall, and kept in close contact with Frank in the early stages.
Contact at Luffield brought a mid-race end to Wrathall's charge when he clashed with Dave Newsham's Vauxhall, which was running eighth. "I tried to go up his inside at Luffield," said Frank, "and as he moved across he put me on to the kerb and he clipped my front. Then I hit the grass on the outside and it was really wet, so I went straight into the barriers. It's a disappointing end to what has been a difficult day."
Morgan was lucky not to become embroiled in the incident and emerged from it in ninth place, which became eighth when Aron Smith slithered wide on lap 18 and Adam seized the opportunity to pass. "I'm more than happy with that," said Morgan. "The car felt good all race and I was pleased to pass Smith because he was holding me up a bit. I nearly got tangled up with Frank and Newsham, but just managed to avoid it. After that I pushed hard and used up my front tyres, so improving on eighth wasn't possible. I'm really happy, it's a nice way to end the day."
Speedworks boss Christian Dick was pleased also: "Adam did everything he had to, and it shows that he's right on it and that the Toyota is working well. We're very pleased."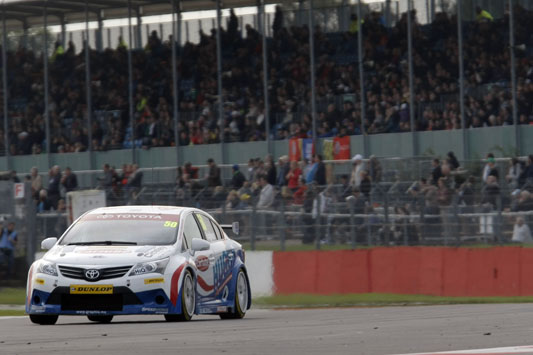 Morgan's Speedworks team-mate Tony Hughes enjoyed a productive day at Silverstone, and like Adam finished all three races. His highlight came in race one, with 15th place and the final championship point on offer.
Said Tony: "I didn't get the best of starts and got stuck behind a couple of cars. Then there was a safety car period which interrupted things, but I had a good race with Ollie Jackson at the end. He got me on the brakes at Brooklands and I had the pace on him coming out of the corners, but he wouldn't let me through on the straight: that's racing for you. A point scored – it all helps."