There's in at the deep end and then there's this. Meet Takamoto Katsuta. He's 26 years old and a product of Toyota Gazoo Racing's Challenge Programme. From the age of 12, Takamoto (Taka-san to his mates) looked to be on a Japanese bullet train bound for Formula 1.
Karting became a Formula Challenge Japan title (a slicks and wings single-seater series for young Japanese racers), which became the runners-up spot in Japanese Formula 3 with the TOM'S team.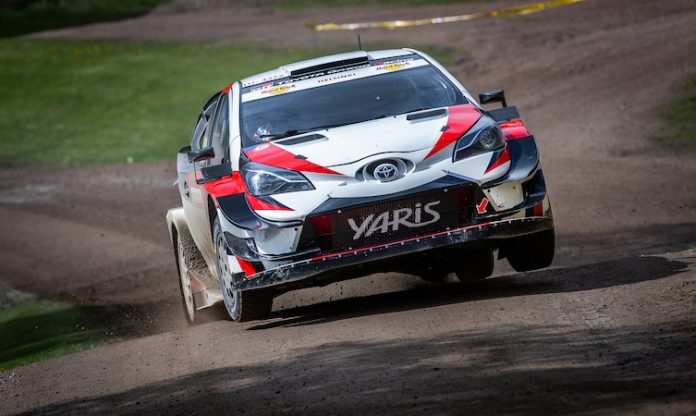 But then this third-generation Katsuta competitor changed lanes and followed his celebrated father into the sport's muddier side. His father? Norihiko Katsuta. A bit of a rallying legend back home – something to do with eight Japanese Rally Championship titles…
Takamoto Katsuta: a new Japanese hero
Toyota Motor Corporation chairman Akio Toyoda has never hidden his desire to see his company lead a more 360-degree involvement in Japanese rallying. Toyoda led Rally Japan's successful return to the World Rally Championship from the front (it'll be back next season) and this week he'll delight in seeing countryman Katsuta make his World Rally Car debut at ADAC Rallye Deutschland aboard a Yaris WRC.
Katsuta has driven a Ford Fiesta R5 (Toyota doesn't have an R5-spec Yaris) for the past couple of years and has already driven the Yaris WRC on a pair of Finnish Rally Championship rounds. He won them both.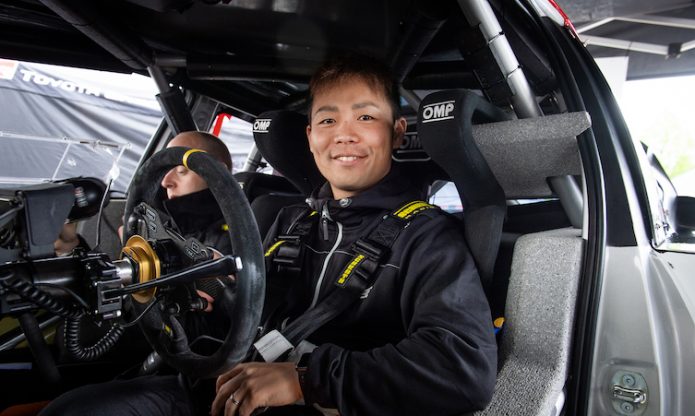 But success at Riihimäki-Ralli is some way from lining up alongside two-time Germany-winning current WRC series leader Ott Tänak and fellow legends of the sport Kris Meeke and Jari-Matti Latvala.
"Incredible opportunity," smiles Taka-san. "Germany will be my first time to drive Yaris WRC on Tarmac. [It's a] big moment with so many drivers."
His voice trails away as though, once again, he's just taken on board the enormity of the task in hand. Or the depth of the pool he's about to leap into.
Takamoto Katsuta: driving the Yaris WRC
"Driving the Yaris WRC is really funny," he said. "The power, brakes, everything is so much more [than the R5 car]. I love it. For Germany this week, I want to make sure to take the experience. I know it can be a difficult rally – especially if the weather is changing. I hope weather is not changing so much!"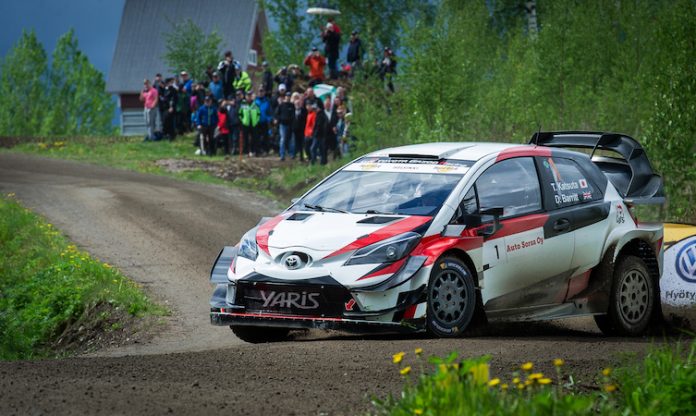 The notoriously fickle climate in and around south-west Germany's Mosel valley means the first Japanese to drive a factory World Rally Car since Toshi Arai (Rallye Deutschland, 2002) could be in for an interesting three days.
Help is at hand from Dan Barritt
British co-driver Dan Barritt is confident in the man on his left.
"Taka's ready for this," said Barritt. "We've seen his speed growing and growing in the R5 car and I'm sure the time's right for the next step. There's no denying it's a big one – this is Formula 1 for rallying and to be there with a team like Toyota is a big, big deal. He's a good lad though, he takes all of these things in his stride.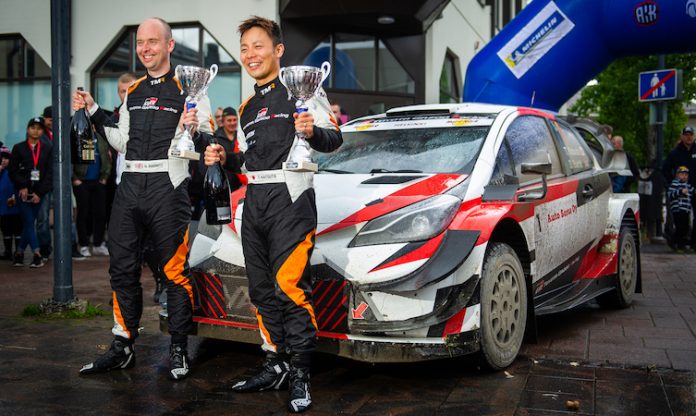 Barritt pauses, before adding in his broad Burnley accent: "It'll be right."
Words by David Evans.
ADAC Rallye Deutschland, round 10 of the 2019 FIA World Rally Championship, runs from 22-25 August. The route comprises 19 special stages, a total competitive distance of 343.95km (213.72 miles).   
Read more of our WRC 2019 stories:
Kris Meeke on the atmosphere in Toyota Gazoo Racing
Jari-Matti Latvala's guide to snow driving on Rally Sweden
Ott Tänak's guide to road sweeping on Rally Mexico
Seb Marshall's guide to pace notes on the Tour de Corse
Ott Tänak: Toyota's star of rally stage and movie screen
Toyota Gazoo Racing's red hot WRC Chile packers
The heady heights of Rally Portugal
Why Toyota's rally aces wear menthol-infused underwear
Why Jari-Matti Latvala is ready to fly in Finland