The 1980s was a decade of great change within Toyota. Traditionally styled saloons with conventional front-engine, rear-wheel drive formats had previously been a mainstay of the range. But the family car market was changing and Toyota was about to launch a new challenger in the shape of the front-wheel drive Camry.
In preparation for that introduction, the mid-size Corona and Cressida models were phased out in 1981 and 1983 respectively. Which left the newly face-lifted sixth-generation Toyota Crown to top the UK range as our last full-size, luxury super-saloon. It arrived in June of 1982 and was discontinued in 1984, accumulating little more than 500 sales in that brief, two-year period.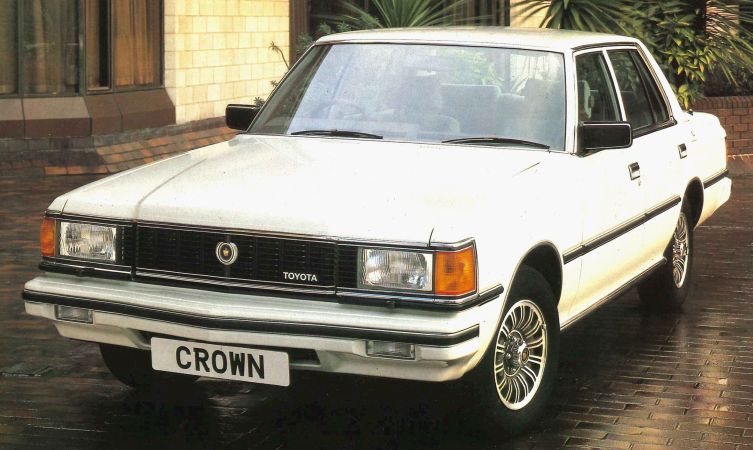 But how were the qualities of this flagship saloon originally expressed to potential owners? The following text is taken directly from the UK launch brochure, which helps us understand the 1982 Toyota Crown Super Saloon (yes, that was its official title) within the context of early Eighties motoring.
1982 Toyota Crown Super Saloon: introduction
The surge of smooth power to melt away motorway miles… the quiet confidence of gleaming instruments shining out on a cold frosty night… and feather-light fingertip controls for everything from electronically controlled door mirrors to the four-speaker auto-reverse stereo radio cassette system with its automatic station search and memory.
The new Toyota Crown Super Saloon is unashamedly luxurious and superbly equipped to satisfy the most discerning motorist. Its standards of comfort and refinement reflect a successful lifestyle. But make no mistake. Behind the relaxed and effortless sophistication lies a stamina of performance few can equal and none can match where sheer value-for-money is concerned.
The key to the Crown is the way in which every aspect of motoring comfort has been extensively assessed and analysed before Toyota expertise was brought to bear on the solutions. Where practical, solid-state technology has been used to lighten the mechanical load – hence the fully electronic fuel injection and ignition systems – and to provide the essential control functions for a whole range of invaluable aids to more relaxed motoring. For driver and passengers alike.
Individual reading lamps, adjustable head restraints, electrically operated windows, front and rear stereo and air conditioning controls are all unmistakable reminders that the Crown is designed for its passengers as well as its driver.
The result is a superb 2.8-litre fuel injected saloon, fitted with three-speed plus overdrive automatic transmission, designed for fast, luxurious and comfortable motoring.
1982 Toyota Crown: comfort fit for royalty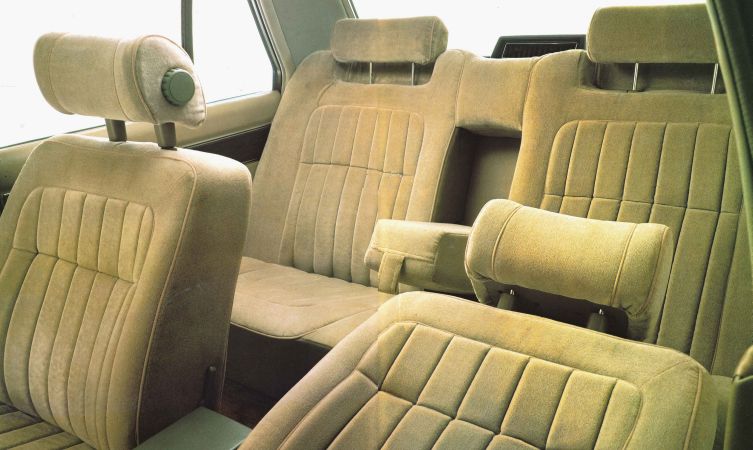 Beautifully attractive upholstery in warm and luxuriously thick fabric… deep cut-pile carpeting… and an outstandingly inviting, soft and quiet interior filled with thoughtful details for comfort of driver and passengers. And you can choose your seating position from an endless variety of settings.
The Crown Super Saloon has no less than five important adjustment features for the driving seat alone – allowing legroom, seat height, lumbar support, seat angle and even head restraint alignment to be chosen for total individual comfort. Steering rake angle can be instantly adjusted by a simple control on the column itself, which contributes to a perfect driving position. Immediately to hand on the driver's door armrest lie electric switch controls covering central door and window locking, together with individual switches for each window.
The many other comforts include door courtesy lamps, rear seatbelts, cigar lighters, illuminated ashtrays and more than ample interior storage space – in addition to seat pockets, lockable glove box and even a waste paper container. Fascia controls include a 'joystick' unit for electrically adjusting both external mirrors, electric radio aerial switch and overdrive selector – as well as switches for everything from fuel flap release to rear fog warning lamps.
1982 Toyota Crown: dashboard decadence
In terms of instrumentation, the new Crown Super Saloon is equipped to the highest standards, lacking nothing. In addition to the speedometer, trip meter, tachometer, fuel gauge, temperature gauge and digital clock (giving day and month as well as hours and minutes), an economy meter gives an instantaneous fuel consumption read-out in all driving situations.
Instantaneous comfort of a different kind lies behind the Crown's superbly sophisticated air conditioning system, with its separate front and rear control modes for driver and passengers. Not only is it one the very few cars in Europe with an integral air purifying unit, but its heating and demisting programme options ensure perfectly balanced all-round temperature and visibility whatever the conditions outside. Strictly for luxury, however, is the cool box – which supplements its role as a vital part of the air conditioning system with a very welcome usage, as a cold storage compartment for refreshments.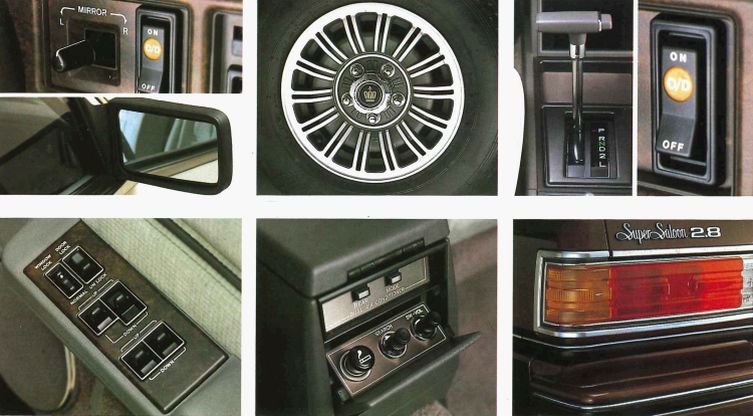 Rear seat passengers are never neglected in the Crown, with access to the controls of the air conditioning and the four-speaker stereo radio cassette system, plus electric window controls, cigar lighter and illuminated ashtrays. True luxury for driver and passengers alike.
1982 Toyota Crown: powering ahead
Out on the open road the Crown Super Saloon has the power to keep ahead of the rush – with low profile tyres complementing the exclusively styled light alloy wheels and front wishbone suspension to deliver solid road-holding.
0-60mph in just 9.6 seconds… a top speed of 114mph… a car to get you there quickly and safely, and in first class comfort.
Luxury car owners are all too often neglected by manufacturers when it comes to fuel economy. Not so for the Crown Super Saloon owner. With the addition of overdrive, the smooth-changing automatic gearbox returns fuel consumption figures that would impress the most ardent supporter of energy-saving.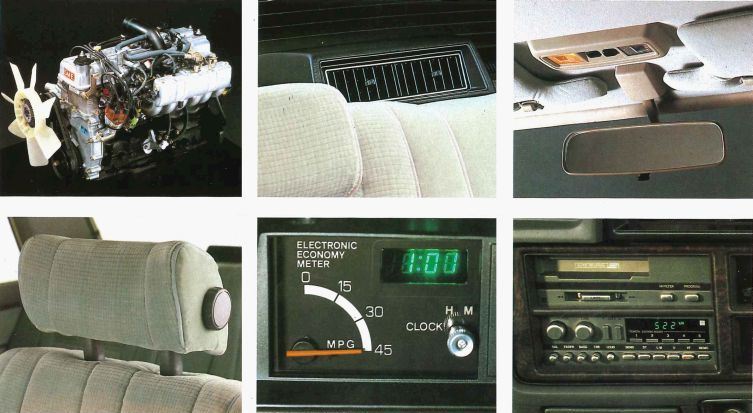 With all-round servo-assisted, dual-circuit disc brakes to bring things safely to a halt whatever the weather conditions and variable power steering to lighten the load of manoeuvring and yet retain sufficient feel at motorway speeds, the Crown is the car that means business.
At night, the quartz halogen headlamps ensure outstanding forward vision with individual high-pressure jet washers to keep them clean and bright. Directional indicators are in view at all times for added safety, and in wet or damp conditions the Crown's special variable intermittent front wiper control allows you to select exactly the right sequence for perfect visibility.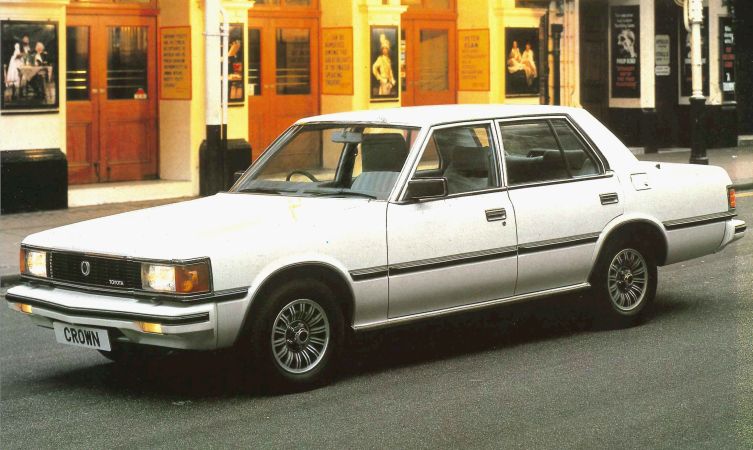 Fitted with impact-absorbing bumpers and full length protective mouldings on the sides, plus central door and window locking together with interior controls for opening the boot, bonnet and fuel flap, the Crown Super Saloon sets new standards of equipment.
There's no mistaking the fact that the Crown Super Saloon is a leader when it comes to luxury transportation.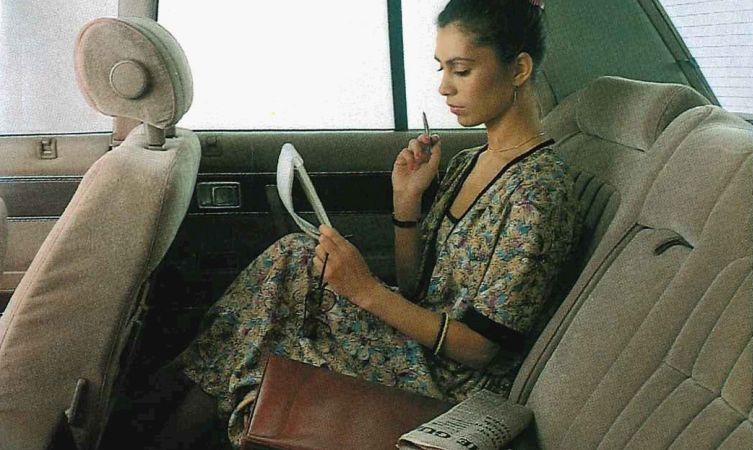 Top international luxury and performance… at a value-for-money price that is simply unbeatable.
With its level of standard equipment and accessories the new, elegantly styled Toyota Crown Super Saloon has an appeal that sets it beyond the reach of virtually any other car on the road today. You've found out the facts… now let a test drive convince you.
Want more retro Toyota goodness? Dive into the history of the Toyota Crown