Sophie Morgan isn't afraid of a challenge. Quite the opposite: she's dedicated her life to tackling adversity, breaking down barriers and campaigning for inclusion for disabled people around the world.
When she was 18, Sophie was paralysed from the chest down in a car accident. Rather than let the injury define her, she became determined to lead an inclusion revolution for disabled people.
Sophie – who will champion our vision to be known as a mobility company, which will come fully to life during the Tokyo 2020 Olympics and Paralympics – works across various industries, including retail, media and technology, to create the change that she wants to see in the world. She designed an inclusive mannequin range for retailers and is consultant for some of the world's largest retailers.
She is also a prominent disability advocate working as an advisor to Human Rights Watch and travels the world investigating abuses to disability rights on their behalf as well as being global ambassador for Leonard Cheshire, with whom she campaigns for more inclusive education. In the UK she is Patron on Scope was recently voted (Judges choice) as one of the 100 most influential people with a disability.
Sophie's adventuring spirit – she's currently planning to be the first disabled woman to motorbike around-the-world, to name but one of her plans – and her indomitable desire to campaign for 'mobility for all' made her the perfect choice as Toyota GB's Olympic and Paralympic mobility ambassador.
Additionally, she has an existing role as an ambassador and judge for the Toyota-supported Mobility Unlimited Challenge, a $4 million (£3.1m) competition which supports radical improvements in the mobility and independence of people with lower-limb paralysis through smarter assistive technology.
Sophie's first assignment as Toyota GB ambassador was in Japan, where she was immersed in Japanese culture, visiting landmarks such as the district of Asakusa and the Meji Jingu shrine. Sophie also attended the Toyko Motor Show to experience some of the innovative mobility solutions Toyota is developing for the future in the 'Mobility Theme Park', including the wheelchair-linked, battery-powered device (picture below).
"It's an overwhelming privilege to be an ambassador for Toyota GB," said Sophie Morgan. "Spending time in Japan learning about the company and its exciting vision for the future of mobility was fascinating and thrilling. The fact that the largest car brand in the world is turning its attention to mobilising those, like me, who are immobile is the ultimate game changer!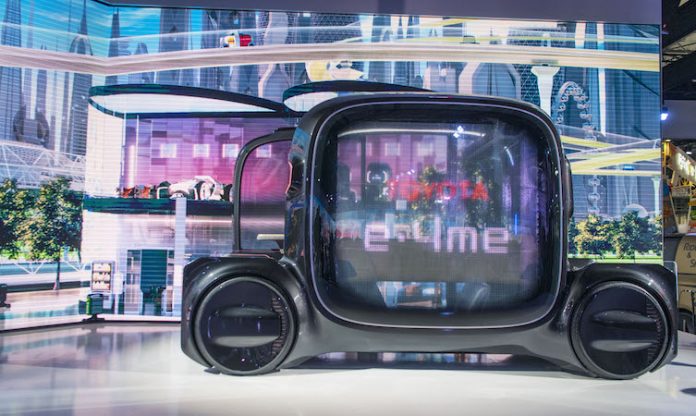 "Tokyo is such an extraordinary city and the people are so welcoming and accommodating. I can't wait to go back for the Paralympic Games in 2020! Tokyo motor show was out of this world, I loved seeing all the innovation and technology that will carry us into the future. And it was fun mixing up the week with cultural experiences and sightseeing. Japan is one of my new favourite places!"
Keep an eye on the Toyota GB blog in the coming months to learn more about our new Olympic and Paralympic mobility ambassador.