Toyota has rekindled childhood memories with a full-size dream toy for grown-ups. The Hilux Tonka Concept is an impressively capable pick-up that combines the reputations for toughness and durability that dominate the DNAs of both Toyota and Tonka.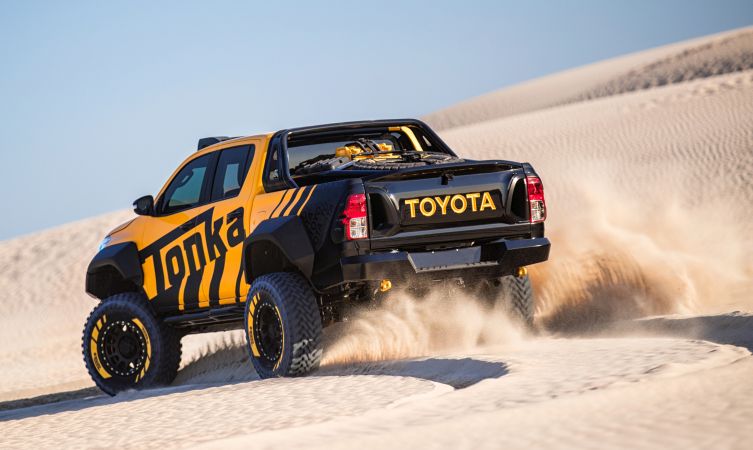 The high-riding off-roader was conceived, designed, assembled and tested by Toyota Australia's 150-strong product planning and development division. Production design chief Nicolas Hogios said the extreme style and capability of the Hilux Tonka Concept would capture the imagination of kids and adults alike.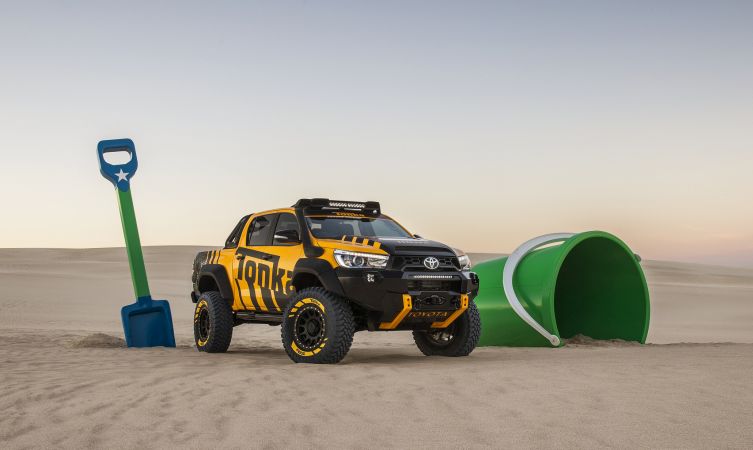 He said: "We have taken Tonka out of the sand pit and reinvented Hilux from top to bottom. The concept is dramatic evidence that our team loves to have fun, we're keen to explore new ideas and always looking to push the boundaries of what's possible."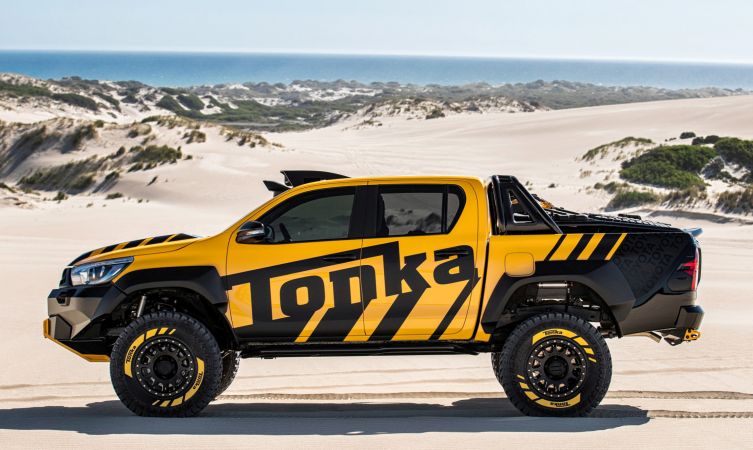 Beneath the dramatic black-and-yellow livery is a top-of-the-range Hilux Double Cab model. The extensive makeover starts with a substantial 150mm increase in ride height, through the fitment of a high-riding axle, heavy-duty suspension and 35-inch diameter tyres.
Combined with rugged under-body protection plates and tubular side rails, the Hilux Tonka Concept can power over rugged terrain that would be off-limits to other off-roaders.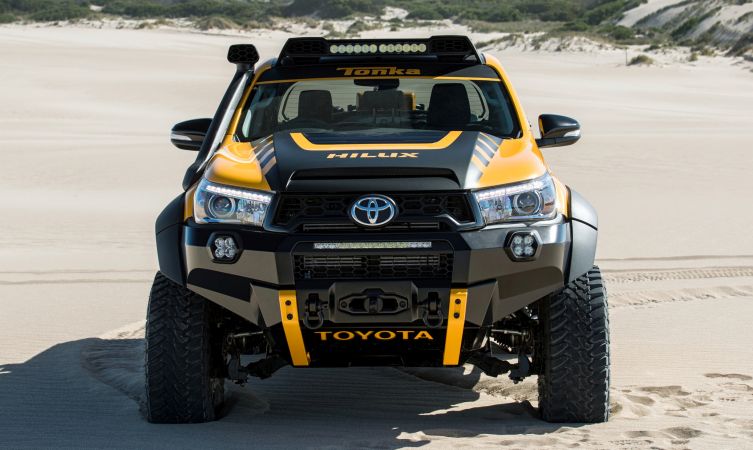 A new front bar is compatible with the Hilux Tonka Concept's safety systems, while the bonnet has a carbon fibre skin and features an aggressive 'power bulge' and air scoops. High-performance LED lighting in the bar and roof pod provide excellent night vision for off-road trials.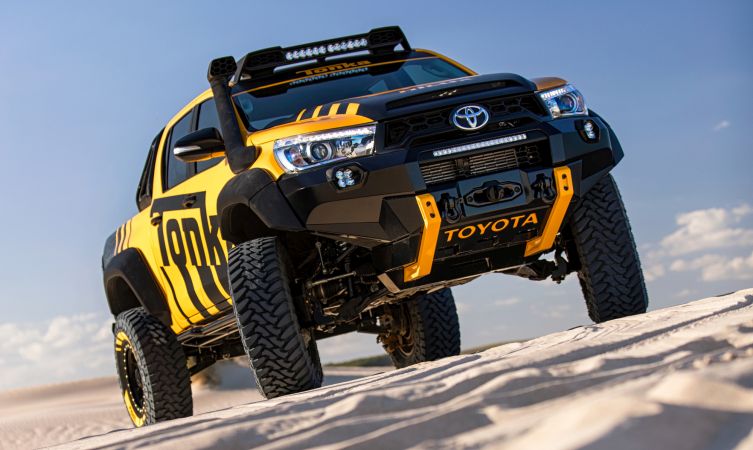 Behind the Hilux Tonka Concept's cabin almost everything has been modified. The transformation includes a new carbon fibre-wrapped tailgate, which also incorporates an integrated spoiler and dual air vents to improve airflow. Within the load bay, a tubular frame is used to secure and protect the recovery gear for extreme off-road driving – a spare wheel, fuel cans and storage boxes.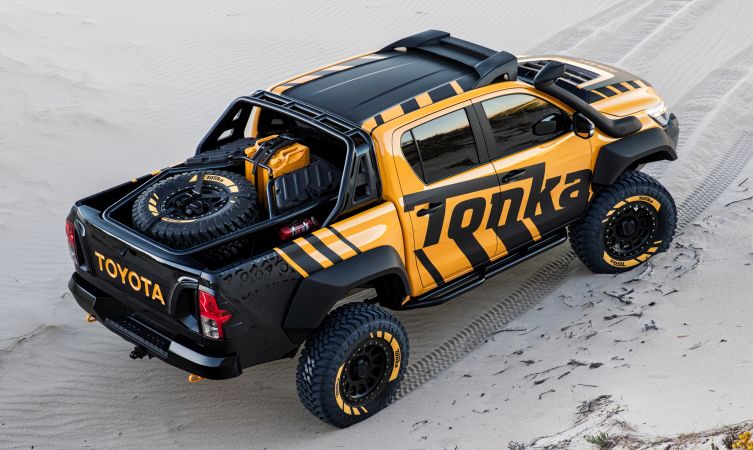 Technical specifications
Chassis: 8.5×17" Method NV alloy wheels with 12.5×35" Toyo Open Country M/T-R tyres, hub-mounted reduction gearbox, heavy duty springs and remote reservoir shock absorbers
Exterior: airbag-compliant steel front bar, faceted surfacing, integrated LED lighting, laser-cut 6mm alloy sump/subframe guard, carbon fibre bonnet with vents and 'power bulge', high-performance off-road LED light bar, roof vents, tubular rock rails, carbon fibre vented tailgate with integrated spoiler, removable tubular load bed frame, fuel cans, storage boxes, custom black-and-yellow paintwork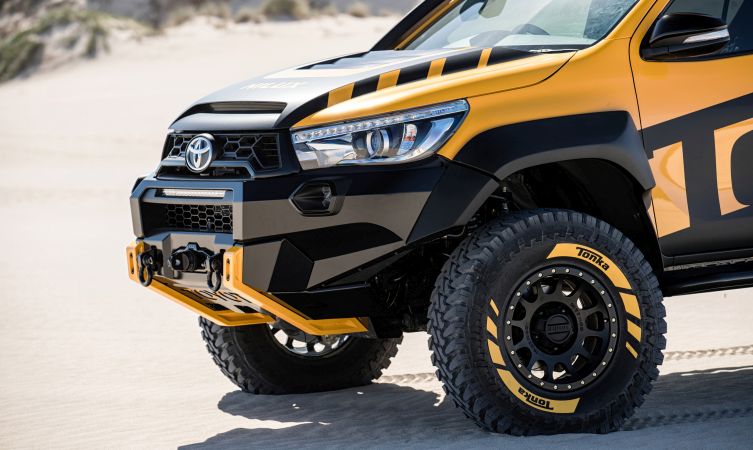 Hilux Tonka Concept versus production Hilux:

See more: Further Hilux antics inspired by the grown-up's toy cupboard