(Picture from allcarindex.com)
With its bouffant hairstyles, tight spandex miniskirts and large, Dallas-inspired shoulderpads, the Eighties was a decade to forget for many reasons. The concept cars were great, though – designed by set square with bold, futuristic aesthetics and loaded with new-fangled electronic technology.
Toyota kicked off the decade in muscular fashion with the 1981 Toyota SV-2, an unusual concept inasmuch as it was based upon a recently released production model as opposed to pre-dating a production version. The Toyota in question was the second-generation Celica XX (better known outside Japan as the Celica Supra) that was released in July 1981, three to four months before the Toyota SV-2 concept was displayed to as many as 1.1 million visitors who attended the 12-day long Tokyo Motor Show.

(Picture from allcarindex.com)
As with the earlier SV-1 and later SV-3, the concept's moniker stood for 'sporty vehicle' and was entirely appropriate for the SV-2 utilised the Celica Supra's front-engined, rear-wheel drive chassis configuration and retained its 2.8-litre 5M-GEU straight-six engine.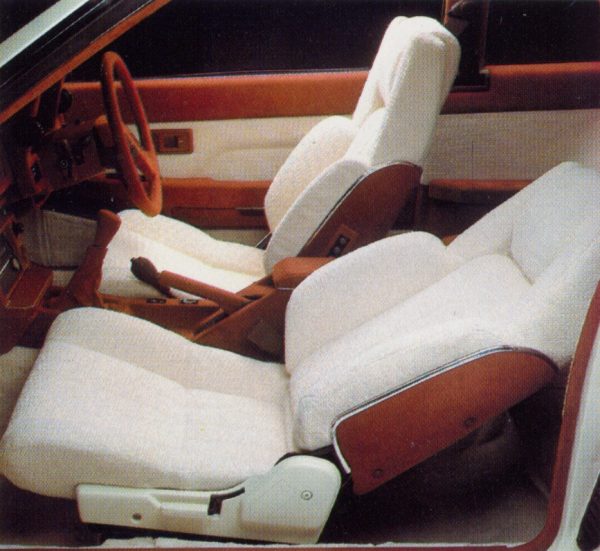 Where the SV-2 departed from reality and crossed over into concept territory was in its styling. The concept featured a one-off removable targa top roof and its two-tone exterior was pure Eighties in its colour palette: spotless white above a distinctive shade of maroon. This same high-contrast theme was continued on the inside, with white velour seats in the front, maroon-coloured rear seats and trim panels combining the two tones throughout the cabin. In addition to this, even the SV-2's hard surfaces like the dashboard, steering wheel and gear knob were covered in a maroon flock, a dramatic look that isn't easily forgotten once seen.
Even so, in the early Eighties the SV-2 concept's bold look represented more than just a fashionable, contemporary colour scheme. Instead it served to focus the public's attention on an ambitious future for Toyota after the hard years of the '70s oil crisis and the resulting economic difficulties, even if that did include wall-to-wall maroon flock.
Explore other Toyota concepts in this series:
2014: Toyota FT-1
2013: Toyota i-Road
2011: Toyota Fun-vii
2011: Toyota FT-86 II Sports Concept
2003: Toyota FINE-S
2001: Toyota RSC
1995: Toyota Prius
1995: Toyota Moguls
1971: Toyota RV-1
1971: Toyota SV-1
1970: Toyota EX-7
1962: Toyota Publica Sports
See also: Looking into the future with Toyota's concept cars