Japanese aftermarket brand Liberty Walk, famed for its outlandish body modifications, has turned its attention to the Toyota GR Supra. 
Having worked on everything from the Lexus LC500 to the Toyota Prius, Liberty Walk has been busy modifying the current 'A90' GR Supra to create something unique. 
With the previous generations of Supras always being popular within the tuner community, it was only a matter of time before the current GR Supra received modified treatment, something that has been actively encouraged by Toyota's top brass. Several reinterpretations of GR Supra appeared at the SEMA tuning show in Las Vegas in 2019.
The extensive changes give the GR Supra a visual appearance more akin to a GT4 racer than a street-legal sports car. From the massively flared wheel arches to the huge rear spoiler to the additional vents and black-hole sized exhaust, every single body panel, bar the double-bubble roof, has been tinkered with by Liberty Walk.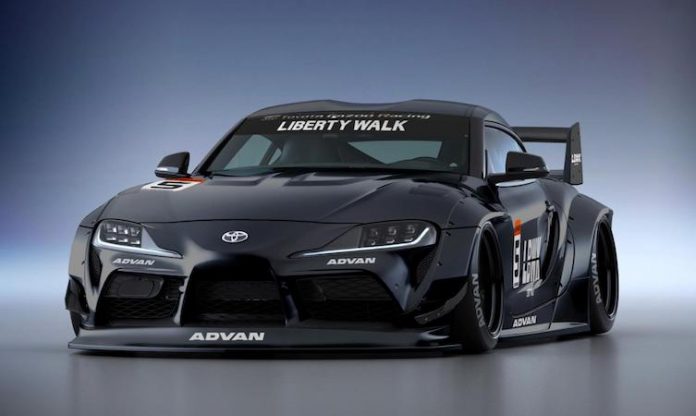 Mechanically, the GR Supra remains unchanged which means you still get the same turbocharged six-cylinder engine coupled to an eight-speed automatic gearbox. Performance remains untouched meaning 355bhp and 500Nm of torque, launching the Supra to 60mph in 4.3 seconds and on to a top speed of 155mph. 
Liberty Walk Europe is now taking pre-orders for the body kit, with deliveries expected around the beginning of August. Prices start at around £14,145 (depending on exchange rates and taxes) for the full body kit in fibreglass. 
However, if you want the body kit done in CFRP (Carbon Fibre Reinforced Plastic) then this will set you back £15,013. There is a third option too, as Liberty Walk sells the A90 GR Supra body kit in pieces, meaning you can pick and choose which body modifications you'd like to make your GR Supra feel even more unique.  
Learn more about the Toyota GR Supra by clicking here.