Back in August, we shared news of the Lego Toyota Land Cruiser that Matthew Inman created on the Lego Ideas website. The project has now received the 10,000 votes of support it needs to be considered for production as a real-life Lego set.
We caught up with Matthew earlier this week to see what's next for the project, and whether it could be on the shelves of your local toy store in the coming months.
Toyota Blog: Congratulations on hitting 10,000 supporters, Matthew. Have you had any contact from Lego yet?
Matthew Inman: Lego added another official comment to the project webpage a few days after we reached 10,000. It was great to see that they loved the character and detail of the project. They also provided details about the review phase, which for my project will start in January 2016.
TB: What does the review stage involve?
MI: For me, I need to finish tidying up the Lego Digital Designer files for the project and I expect to be sending these to Lego in early 2016. These are essentially the blueprints for the project and will enable Lego to build each of the 40 Series vehicles from the project as I designed them.
At some point during the review phase Lego will make contact with Toyota in Japan to discuss licensing. When I first submitted the project, I had to state that the project used third-party intellectual property – Toyota's of course.
When you look at the Lego Ideas projects, many of them are models of TV shows, products, movies and that kind of thing, which all require a licence agreement. I am hopeful that Lego and Toyota can reach agreement, but of course Toyota has the final say.
TB: The project obviously picked up a lot of support around the world. What are your highlights in terms of the reception it's had?
MI: The first real highlight was reaching 1,000 supporters – all my family and friends were very excited. For the most part this support came from local social networks and people I know. At this point I began to wonder how we would get the next 9,000.
As I started to research, I realised there were many Lego and Toyota and Land Cruiser fan groups online. Early on, the Land Cruiser World Facebook page, Toyota New Zealand and some motoring websites picked up on the project, which was great. I also searched for celebrities who owned FJ40 Land Cruisers and found Adam Savage, who co-hosts Mythbusters. He got behind the project and posted the link to his million-plus followers on Twitter. That was a real highlight – my phone didn't stop buzzing with all the messages!
I want one of these. I NEED this kit. It's exactly the model I have! @Jalopnik http://t.co/FFJ333xpoR

— Adam Savage (@donttrythis) August 21, 2015
I also tried to get the attention of Jeremy Clarkson, Richard Hammond and James May on Twitter as they have an incredible number of followers. I was blown away when I got a message from James May, saying: "Supported. Car of the people."
Another angle I took was to look at who was talking about the new Land Cruiser. That's how I found Andrew Collins at Truck Yeah – he was very enthusiastic about the project and wrote a great article for his website which brought a lot of traffic to the Lego Land Cruiser page.
Lego Ideas sends out a weekly email newsletter to registered members. By updating my project regularly, I was able to get in that newsletter quite a few times which raised awareness too.
But really, one of the real keys in getting publicity for the project was the international recognition of the Land Cruiser. The car, and the 40 Series in particular, has a global following which certainly helped bring support.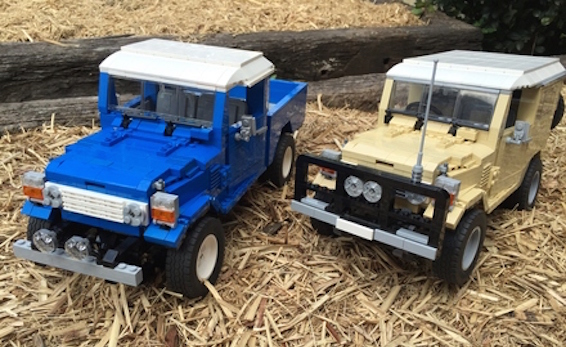 TB: You seem to have got to the 10k target in a relatively short period of time. Is that right?
MI: To be honest I was surprised at how quickly the project moved. In my mind I'd prepared myself for a 12 month timeframe to get to 10,000, so to get there in just over three months is really quite amazing.
The last 500 supporters got behind the project in a matter of a few days – the final votes even came at a very civilized hour here in Sydney, which was nice!
TB: Have you been working on other projects? What else have you built or would you like to build?
MI: I haven't been working on any other projects lately. Running the Lego Land Cruiser campaign has taken up all my spare time.
I do really like the modular buildings series that Lego produces. These are quite large sets of around 2,000 pieces, and a couple of years ago I set about trying to rebuild one (the Green Grocer) from secondhand parts. I was very happy with the result and if I was going to start a new project, I'd design a building that matched up with that series.
Of course, over the last couple of months I've had a lot of requests to build more vehicles but I don't think there's another car that is as iconic or meaningful to me as the 40 Series.
TB: So you won't be jumping into another project straight away then?
MI: At this stage I'm expecting a comparatively calm couple of months before the review starts, so I'm not planning on starting another project for the moment.
Of course I'm very curious as to who in Toyota would ultimately sign off a Lego partnership – maybe there is someone in Japan who has to do that. It would definitely be a fun job to have!
See Matthew's Lego Land Cruiser project on the Lego Ideas website.
Read our other posts on the Land Cruiser here.