Toyota Gazoo Racing is out in force at the 2022 Goodwood Festival of Speed with a line-up that reflects the breadth and depth of the brand. There are the road cars: GR86, GR Yaris and GR Supra manual transmission. There are the competition cars: GR DKR Hilux T1+ and the GR Yaris Iberian Cup rally car. And there are the competitors: Dakar Rally winners Nasser Al-Attiyah and Mathieu Baumel; plus Le Mans 24 Hours winners Brendon Hartley and Kazuki Nakajima, the latter now enjoying a new career as Vice Chairman of Toyota Gazoo Racing Europe (TGR-E) in Cologne, Germany.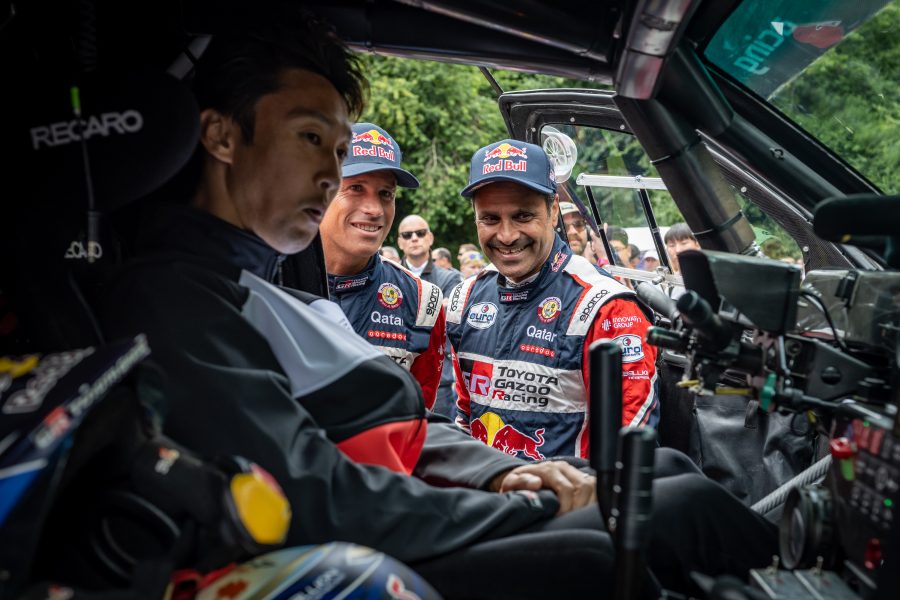 The opportunity to sit down for a chat with Kazuki and Nasser at Goodwood enabled us to find out more about the collective ambition of Gazoo Racing from two of the most successful members of Toyota's global motorsport family.
How significant is Goodwood for Toyota Gazoo Racing?
Kazuki Nakajima: "It is an important event. In some ways it is even bigger than Le Mans. It is the first time I have been here since 2009 [driving a Formula 1 car] and the event has grown even more. I'm really happy to come back and it's really nice to see so many families here. This is something very special.
"I remember when I was here in the Formula 1 car, I drove very carefully on the hill, but watching Nasser in the Dakar Hilux this morning, it looked like he was pushing flat-out and I could see his car sliding. It looked very impressive from the outside – I could see plenty of commitment there."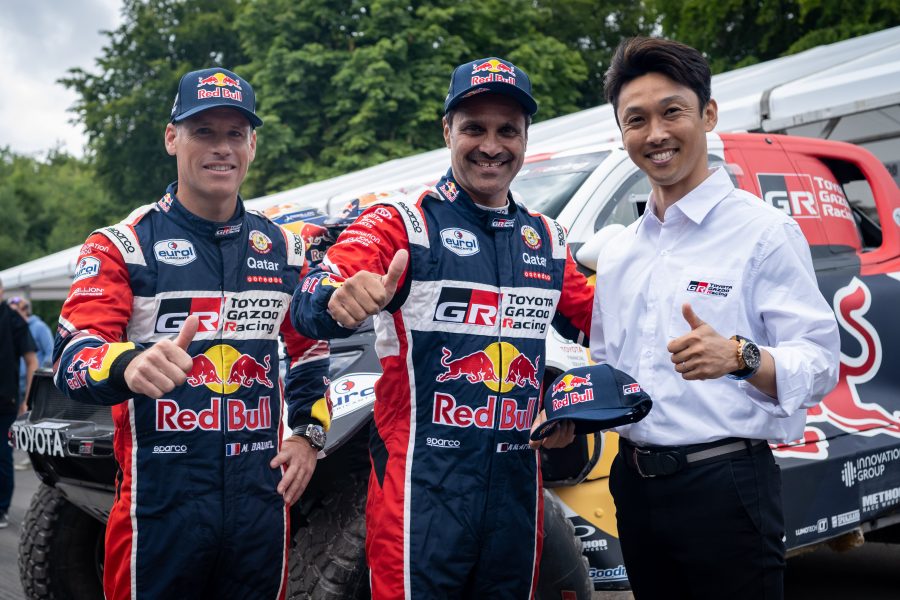 Nasser Al-Attiyah: "It's my first time here but it definitely won't be the last. I am enjoying it a lot. It's really good to be so close to the fans and great that they get the chance to speak with the drivers. This is the right moment for us to visit Goodwood because we won the Dakar Rally in January, and it's really important for people to see our car and the Toyota Gazoo Racing brand. I'm so thankful for all the support."
You're having a very successful year, Nasser…
NAA: "It was nice to win the Dakar Rally and now we are fighting for the FIA World Rally-Raid Championship with two rounds to go, in Morocco and Andalucia. This is a new title for 2022, because previously it was the FIA World Cup for Cross-Country Rallies, and we won that four times. It would be nice to win the world championship as well; this would be like a gift from Mathieu and myself to all the Gazoo Racing teams."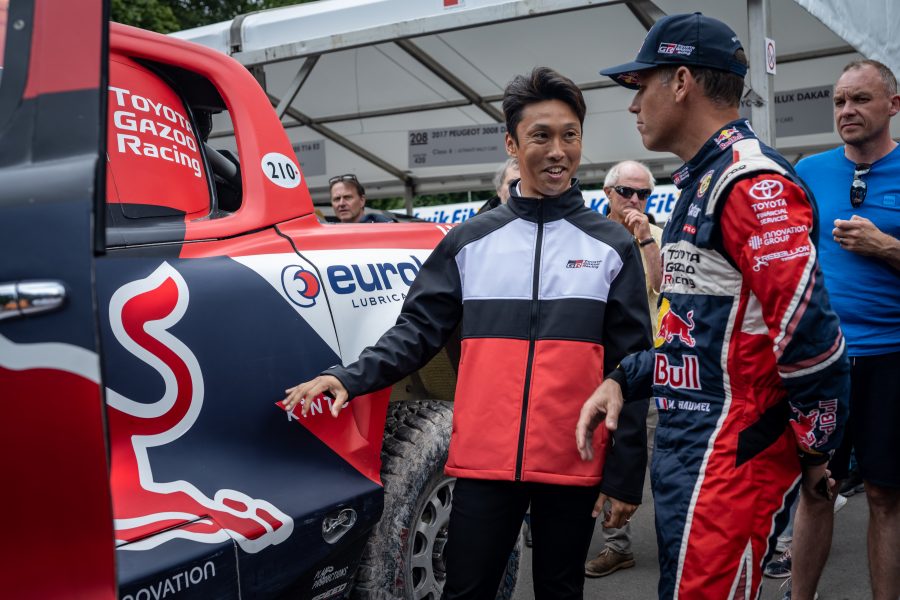 Yesterday while you were still travelling to Goodwood, your navigator Mathieu drove your Hilux T1+. How did you react?
NAA: "When I found out that Mathieu was going to drive the car up the Goodwood hill, to be honest I was jealous! When he asked me how he should drive it, I told him "go maximum!"."
How important is the family aspect of Gazoo Racing?
Kazuki Nakajima: "We always look out for the results and follow what the other guys are doing. We are always supporting each other from our heart and pushing each other as well. It's nice to have so many different race categories in one family – it's good for the fans as well."
NAA: "It's also been fantastic to meet Kazuki here at Goodwood. It was a nice moment. We already knew each other a little bit through [former Toyota Gazoo Racing driver] Fernando Alonso."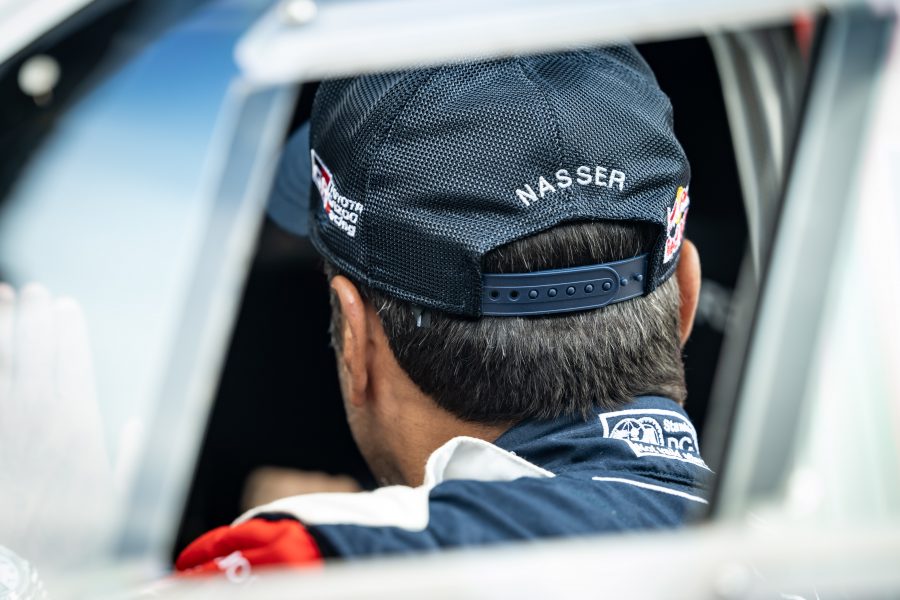 Are there opportunities to exchange technical information through the different Gazoo Racing teams?
Kazuki Nakajima: "Speaking about the World Rally Championship and World Endurance Championship, the rally cars have recently incorporated hybrid powertrains into their technical regulations, and we have a lot of experience of hybrid racing in WEC, so there was some technical feedback to the WRC team. There are activities going on, especially within TGR-E, where most projects are done within the same company."
Kazuki, you are half a year into your new role as Vice Chairman, TGR-E. How is it going?
Kazuki Nakajima: "Time has really flown. I have really enjoyed my new life. The first big change was to move from Japan to Germany, which was fairly significant! My German is not so good, but fortunately for me the main language in our company is English. However, for daily life things are not so straightforward without speaking German, so learning the language is one of my tasks.
"Speaking about the business aspects of my new role, I'm still quite involved in the WEC project and also I am going to WRC events. There is a lot of travelling and visits to race tracks, so the life itself perhaps hasn't changed so much from that of a racing driver! Of course, there are some new aspects I need to look into, and there are so many things I still have to learn.
"I really appreciate my new position because I can directly influence some things that I want to improve, perhaps some related to racing but also some outside of racing as well. I'm quite keen to put my input not only into works motorsport but also into the customer racing activity, such as GT4 sportscars. One of TGR's targets is to expand customer motorsport activity. There are a lot of interesting discussions going on and hopefully we can make better activities in the future."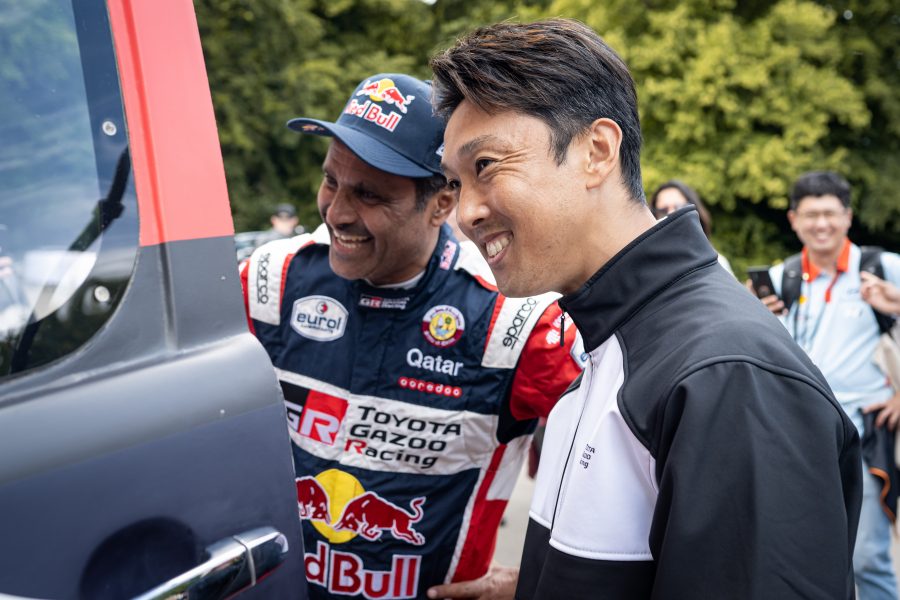 Kazuki, it transpires that you haven't quite retired from race driving just yet, because you will soon be competing in a very special car…
Kazuki Nakajima: "Next week I will drive the Toyota TOM'S 85C Group C sportscar, which my father drove in the Le Mans 24 Hours in 1985. It's a special car. I've never been to the Le Mans Classic, so I'm looking forward to it. The car is privately owned and it has a manual transmission, which I need to take care of."
One of Toyota Gazoo Racing's ambitions is to 'make ever-better cars'. Do you get many opportunities to enjoy GR road cars?
KN: "I used to have GR Yaris back in Japan until I moved over to Germany. I really enjoyed it and I am also really happy to see the perceptions of the customers here in Europe. It's good to see that if we make the right product, there is a strong demand. What we have been doing in our motorsport activity has essentially been converted into GR Yaris. As a racing driver, that's really good to see and gives us confidence that our activities are having the right kind of effect."
NAA: "I am lucky because I have three Gazoo Racing cars which I have imported from the Middle East. We have a joke in Qatar: 'If you do not have a Toyota, you are not Qatarian'! The Middle East is a very big market for the Toyota brand."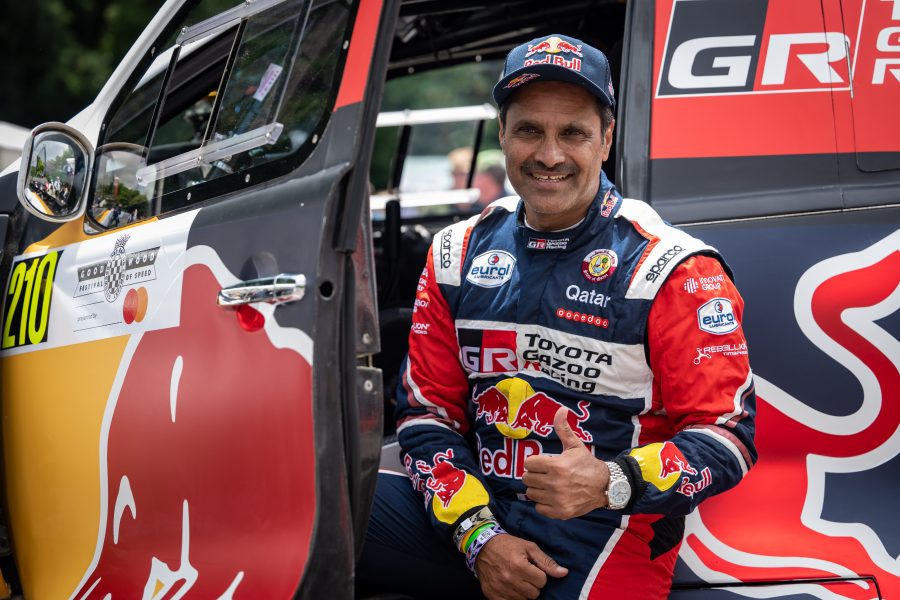 How proud are you to be part of Toyota Gazoo Racing?
NAA: "I'm so happy to be part of the GR family and there is something from 2018 I always remember.
"In 2017 I had driven the Toyota Hilux on the Dakar Rally but while we were leading we made a mistake and had to retire. Then in 2018 we were leading again, but eventually had to settle for second place.
"Later that year, when Akio Toyoda was in Spain testing the Toyota Yaris WRC with Tommi Makinen, our Dakar Hilux was also there. Akio-san had the chance to sit with me for a passenger ride in the Hilux.
"I did one lap and he said to me: "Is this the maximum?". I replied: "This is not the maximum, but I received a message from your assistant that I need to go slower". He said: "No – go maximum!". And we really enjoyed it a lot.
"After the drive, we presented Akio-san with the trophy we had received for second place on the 2018 Dakar Rally. I made a promise to him that myself, Mathieu and the team would do our best to go for the win in 2019 – and we won that race. It was a nice challenge which pushed myself, the team and the GR brand. It's something that I have always remembered. The team spirit is amazing."
KN: "It is such a good aspect of Toyota Gazoo Racing that we are so close to our boss. He is part of the team for all of these different racing categories."
Next, read our exclusive interview with Nasser's co-driver, Mathieu Baumel, by clicking here.