Industrial designer Jean-Marie Massaud (pictured left in the image below) has designed everything from a perfume bottle for Cacharel to the Volcano Stadium in Guadalajara, Mexico. So how did he come to design Toyota's ME.WE concept car? We caught up with the designer at Le Rendez-Vous Toyota in Paris to find out.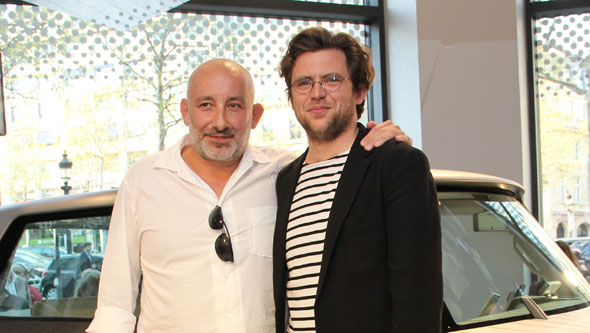 Toyota GB: How did your collaboration with Toyota begin?
Jean-Marie Massaud "Toyota came to me because they'd seen a symbolic synthesis of what they envisioned for the brand in my work and they thought I would create something along those lines for them.
"I arrived and said that I wasn't interested in creating something futuristic. I wanted to create a product for today, something that was interesting and intelligent. Popular cars can be intelligent because they correspond to the needs of people in an era."
So how exactly did you collaborate?
"They gave me free rein because they wanted to be surprised. And we developed a partnership where we exchanged ideas, notably with Laurent [Bouzige] as he was chief designer on the project.
"I developed a car that answered the question 'If I could have only one car what would it be?' It was the response of a designer that doesn't work in automotive design, without the constraints of marketing or segmentation."
Can you describe the ME.WE's core strenghts?
"If a car is reduced to a status object and an accumulation of constraints then it needs to be pleasant to use. This means that I needn't choose between a station wagon, a cabriolet or a small city car. One car has to provide all of these qualities, perhaps not in terms of look, but in terms of feeling.
"It was more to appreciate the cruising aspect of the automobile rather than the idea of keeping the windows up and air conditioner on whilst blasting music and isolating yourself from the rest of the world."
Would you describe yourself as a car fan?
"I think everyone likes cars. It's the most popular product. It's least expensive industrial product per kilo and the most innovative product for a century. Society's development is intrinsically linked to cars.
"But I don't have the same sensibilities as others in the industry. I'm more inclined towards cars like the [Citroen] 2CV, the Mehari and the Volkswagen Kombi microvan; there are aspects of these cars that are intelligent but not decadent."
What influenced the ME.WE's creation?
Jean-Marie Massaud: "To be modern today we have to consider three things: personal fulfillment, accessibility and environmental issues.
"For personal fulfillment I decided upon the comfortable seats. Sure, they're elegant and ecological, but they're also competent. Usage is key. The second issue is accessibility. We can no longer socially segregate. Segmentation, fine, in terms of materials and finish, but quality needs to be made available to everyone. And third, the environmental issues: We can no longer afford to be in this quantitative growth phase that's created the artificial 'consumption will make you happy' idiom. This does not solve problems it creates them.
"I think today is a prime time – because the crisis is beginning to affect everyone – to have another growth that is necessary for the human race, a qualitative growth – something that is right for our life prospects, right for our economic model and right for our environmental issues."
How did you reflect Toyota's brand philosophy in this concept?
"Toyota's philosophy is to build products of quality that are popular and accessible. It's a company that had the courage to launch the hybrid when no one else in the industry was willing to take the gamble. It's pragmatic and dealing with progressive issues. Toyota's values are to be popular, make quality accessible and to be innovative."
What do you do when you're not working?
Jean-Marie Massaud: "The border between work and leisure doesn't really exist for me. I'm always fantasizing about something. I do a lot of sailing and windsurfing, which is why I moved to the south. I do some parasailing, skiing. And these experiences nourish my projects.
"You'd think that the ME.WE was created for leisure, because it's a fresher and more pleasant experience than a conventional car. It fits with boating and my other pastimes. And I wanted to convey this experience of relaxation and cruising."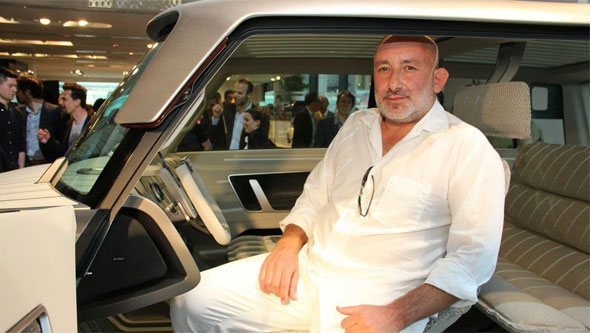 Were you pleased ME.WE was selected as a Design of the Year?
"Of course, this is a good honour for our work and I am pleased that the ME.WE has been recognised for offering something different to normal cars."
What is the key idea behind ME.WE?
"It is a car that I think represents modern life. It represents simplicity with comfort, a reduction in materials but still has space and practicality.
"More people live in cities, so a car needs to be small, but this should not stop people from exploring and going away with friends and luggage.
"It's very simple, there is an aluminium frame covered by a soft polymer for waterproofing, then there is just the body panels, which are basically air and shock protection. It's not a status symbol – it's about lightness, low maintenance and low impact on resources."
It's not a large car – why did you want it to be spacious?
Jean-Marie Massaud: "ME.WE is actually smaller than the Fiat 500 – it doesn't look like it but it is 15cm shorter. You can carry luggage in the boot, on the rear with a shelf and on the roof under the neoprene tonneau cover.
"I like city cars, but if I sit in some of them I'm too big on my own, even without four people. They are great for the city but it might not always be a main car for a whole family.
"The intent with ME.WE is to show a car that can be safe, light and simple to make and offer flexibility and ease of use."
Why is simplicity so important?
Jean-Marie Massaud: "Simplicity means it is easier to build and maintain, but it actually still offers the same service as a traditional car – transportation.
"It's a new low-cost car, not a cheap car. The thought process behind it is about being smarter. You don't need to spend money on maintenance because parts are replaceable, and you don't have to worry about leaving your car somewhere because the EPP (expanded polypropylene) cannot be scratched.
"I would compare cars with flights. Some years ago certain people would never fly on certain airlines, but that has changed. If you're taking a one-hour flight you will probably fly with Easyjet, there's simply no use in paying more if you don't have substantive benefits."
ME.WE uses uncommon materials for a car. Why?
"I wanted to try using materials like the EPP body and the bamboo interior because they are robust but also sustainable – EPP is recyclable and the bamboo is a natural material. So they are easy to replace but also simple to look after and maintenance costs would be low.
"If you were to crash it, the body panels are effective at absorbing the impact, but they can also be replaced very easily if necessary."
Do you think sustainable materials will more widely-used in cars?
"The most important things in today's business are offering good service, pleasure and responsibility. There are some things that all people need to buy but they must be desirable and sustainable as well.
"You can have chairs made from sustainable wood, but it's hard to take products like this out of the prototype stage into wider production, because of the cost. EPP is easy to use and re-use, and bamboo grows quickly so it can be easily produced."
This is the first car you've designed. Did you enjoy the process?
Jean-Marie Massaud: "Absolutely, I like to work in different fields. I have an understanding about what is under the shell of a car and the production process and the marketing issues, but it was really interesting to test myself in a new area.
"You cannot imagine designs by working in one field. The Toyota team at ED2 showed me they study all kinds of design so they see lots of influences that can be applied to vehicles. They are super-interested in working, questioning and thinking about everything and this is part of life."
Read more about Jean-Marie Massaud and the Me.We Concept by clicking here.