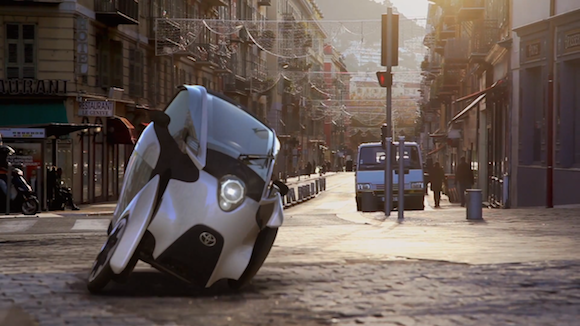 The Toyota i-ROAD, star of the 2013 Geneva Motor Show, is to take part in a zero-emissions car sharing initiative in Grenoble, France.
A new vehicle based on the all-electric three wheeler revealed at Geneva is being lined up for the three-year project that will look at how a co-ordinated car sharing system can help cut greenhouse gases and help keep people on the move. Deliveries will begin next year.
The new model is designed to work alongside public transport networks, offering a "last mile" solution to cover the journey from bus or train service to the user's final destination.
Being as narrow and nippy as a scooter, but with the benefit of an enclosed cabin, i-ROAD can cover around 30 miles on a full charge – more than enough for most city hops.
Toyota will supply around 70 vehicles for the scheme, including its development of the two-seat i-ROAD concept and the one-person COMS, another small EV made by Toyota Auto Body.
Find out more about COMS and the Toyota City Ha:mo initiative in this post.
It will also provide the central IT system which will control the car sharing scheme. Users will be able to check what cars are available and where, and make bookings using their smartphone. The system will also allow the fleet to be distributed for optimum use, in line with the network of charging stations.
Toyota hopes to learn more about people's attitudes to car sharing and their priorities, and to research further into how different modes of public and personal transport can be interconnected in urban centres.
Energy provider EDF will be responsible for the vehicle charging system, and car share operator Cité lib will handle the day to day running of the car share programme. The project forms part of Ecocité Grenoble, an initiative supported by the French government to promote sustainable urban development through new transport systems and alternative energy use.
Read our other i-ROAD posts here.