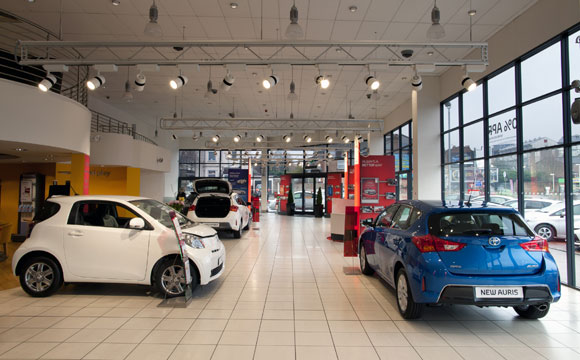 Toyota and Lexus dealers have reduced the carbon footprint of their showrooms by 15 per cent in 2012 – representing an annual saving of more than 3,700 tonnes of CO2.
The number is equivalent to driving an average car 13.8 million miles, and the performance marks a major advance towards our goal of a 20 per cent reduction by the end of 2014.
The co-ordinated scheme reflects Toyota's commitment to leading the motor industry in minimising the environmental impact of its entire manufacturing and business operations.
In the UK this ethos has led to the development and implementation of robust and extensive action plans for carbon reduction.
The programme was launched following a pilot scheme in 2009 that revealed substantial energy savings could be made without the need for heavy capital investment.
By the end of 2011, all Toyota and Lexus Centres had been subject to surveys to identify where savings could be made. Centre principals were given training in energy management and all premises were equipped with energy monitoring devices to monitor progress.
Performance has been supported by a range of practical measures that have been simple and in many cases cost-free to implement. These include adjustment of heating and air conditioning systems to match building occupancy hours; automatic, remote powering down of computer equipment; and a heating inhibitor system that automatically switches heaters off after a pre-set time when workshop doors are open.
Some Centres have also made individual investment in low energy equipment, such as LED lighting. This is one measure adopted by JEMCA Edgware Road in London, where the business has built on years of environmental management best practice (following ISO-14001 certification), installing LEDs throughout its premises, including showroom, workshops and offices.
The new lights are proving 65 per cent more efficient compared to the previous fittings, which means the payback on investment should be realised within four years. Meanwhile at Western Toyota Edinburgh, the business has installed a number of efficiency features, including a monitor that charts the Centre's renewable energy collection in real-time, on public view in the showroom
Toyota's on-going energy saving activities have been recognised in independent awards and certifications, including an "excellent" status for the new JEMCA Centre in Enfield from the international environmental building assessment organisation BREEAM. Toyota has also been honoured in the UK as Manufacturer of the Year in the Low Carbon Vehicle Partnership awards and as one of the Energy Savings Trust's Fleet Heroes.
Thomas Rosselle, Toyota Manager, Corporate Social Responsibility and Environmental Affairs, said: "Our commitment to environmental responsibility is not confined to building clean and fuel efficient vehicles, it extends to all areas of our business operations, not least our network of Toyota and Lexus centres.
"The network's achievement in cutting carbon emissions over the past year demonstrates what can be achieved and strengthens our determination to achieve our goal of a 20 per cent reduction across our business.
Simon Pinkstone, Chairman of Toyota's Standards Committee, added: "It makes perfect sense for Toyota and Lexus to sell greener cars from greener showrooms. The programme we've put in place means that not only have we been able to realise significant reductions in the amount of energy we use, but we have done so in a cost-effective way."
ENDS