Toyota dealers are inviting anyone with questions about hybrid cars to a nationwide 'Meet Hybrid' event later this month.
This free event runs from 22-24 February (or 21-23 February in Northern Ireland). Curious car-buyers can pop in to their local dealer and meet our range of petrol-electric hybrids, including the all-new Toyota Corolla.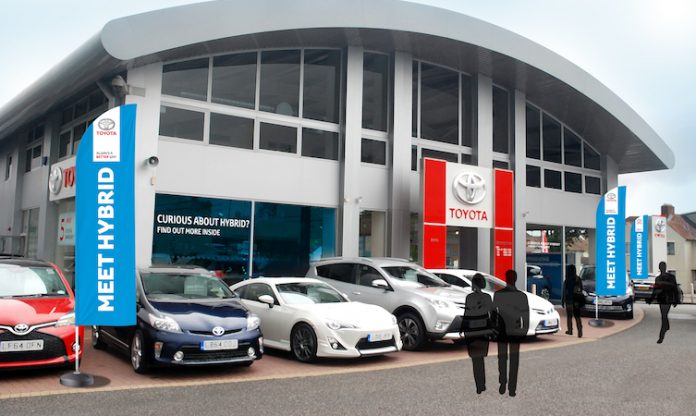 Then they can find answers to questions about anything related to the hybrid cars, including technology, reliability, cost of ownership and practicality.
Click here to discover the location of your nearest Toyota dealer
Answers to questions about hybrid will be supplied by specific windscreen stickers, information plinths or via the dealer staff.
Learn more: the benefits of driving a Toyota petrol-electric hybrid
Representatives will be on hand to continue the hybrid conversation and arrange test drives. They will also demonstrate the new Toyota Hybrid augmented reality application, which uses clever graphics to show customers how the Toyota C-HR's hybrid system operates.
For starters, here's an idea of the sort of questions that could be asked and answered during the Meet Hybrid event:
What is a Toyota Hybrid?
Toyota Hybrids switch seamlessly between two power sources. Sometimes they travel using the petrol engine. Sometimes they travel using their self-charging electric battery. And sometimes they travel using both at the same time.
Are Toyota Hybrids fuel efficient?
Yes, Toyota Hybrids are very economical. With the hybrid powertrain and ability to switch seamlessly between the petrol engine and electric battery, any fuel you put in goes further.
Are Toyota Hybrids reliable?
We've been perfecting our hybrid know-how for more than 20 years. Batteries are covered by a five-year, 100,000-mile warranty from new. In fact, we're so confident in our technology that the warranty on our hybrid batteries can be extended up to 15 years by having an annual Hybrid Electric Service.
Are hybrids okay for motorway driving?
They're better than just okay. Sometimes, when you need an extra boost of power, the electric motor kicks in to provide instant acceleration, which is always useful when overtaking long vehicles at motorway speeds.
We think the best way to get to know a hybrid is to meet one. So if you're curious, come along to the open weekend to find out more about the innovative technology.