Toyota recently announced that it would return to the FIA World Rally Championship in 2017, overseen by rally superstar Tommi Mäkinen as team principal. The manufacturer has a long and illustrious history in the WRC, having won four drivers' and three manufacturers' championships during that time.
But while the focus of the Toyota Gazoo Racing team is now on the 2017 season, the intervening time presents a perfect opportunity to remember the circumstances and efforts surrounding Toyota's three decades in world rallying. As you can see from the title, we begin this new series in the 1970s. Although to be historically correct, a few notable events happened before this decade.
Toyota's rally sport activities actually stretch back into the 1950s when a Toyopet Crown Deluxe was entered in the 1957 Round Australia Trial.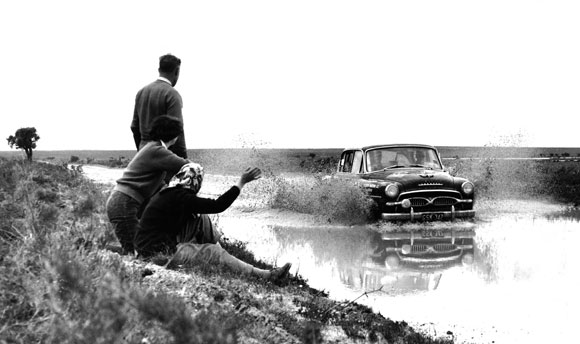 Image: Toyopet Crown Deluxe in 1957 Round Australia Trial
However, the first competitive international event came over a decade later when South African driver Jan Hettema was asked to drive at the 1968 Monte Carlo Rally in a Toyota Corona 1600 GT5 coupe specially prepared in Japan. All went well until the windscreen was shattered when a wayward stud flew up from the car in front and Hettema had to retire because he was unable to continue in the sub-zero conditions.
A year later, Hettema returned to the Monte Carlo Rally with the exact same car; this time as part of a privately run team sponsored by Derek McFarlane, who also took part as Jan's co-driver. Unfortunately, the Corona was sidelined by electrical troubles, but Hettema's faith in the car remained undiminished. He continued to rally the Corona back in South Africa and was rewarded by winning the national championship that year.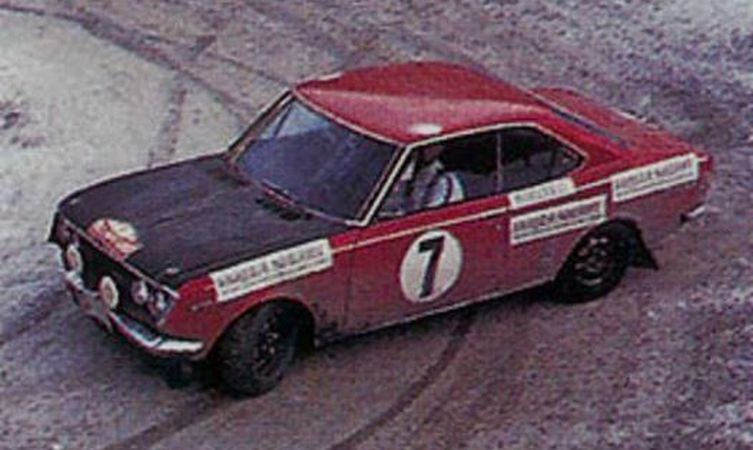 Image: Toyota Corona 1900 GSS in 1970 Monte Carlo Rally
Toyota's interest in international motorsport, and the Monte Carlo Rally in particular, continued. Hettema was asked to compete for a third time in 1970, this time as part of a two-car team alongside British driver Vic Elford.
Elford had previously won the 1968 Monte Carlo Rally and was also one of nine drivers privileged to test and race Toyota's first purpose-built race car, the Toyota 7. Both would be racing Corona models prepared in Japan by Tosco, Toyota's official motorsport branch at that time. Unfortunately, both cars had to retire during the 1970 Monte Carlo Rally after stripping their rear differentials.
Image: Replica of Ove Andersson's  Celica, which debuted in the 1972 RAC Rally
Towards the end of 1970 Toyota introduced the sporty new Celica range and began developing the TA22 Celica 1600 GT for competition use as soon as possible. The decision was taken to invite Swedish driver Ove Andersson to enter the 1972 RAC Rally, so a car was prepared in Japan and sent to Europe, where it finished first in class and ninth overall.
Buoyed by this result, Toyota helped Andersson establish a more formal works team – Toyota Team Andersson. Initially a relatively low-profile outfit with just four mechanics and run from Andersson's home in Uppsala, Sweden, the team took on a programme of four major rallies in 1973 using Celicas built to similar specifications.
Image: Ove Andersson (left) and Björn Waldegård (right) at the 1973 RAC Rally
But with the expectation of an ongoing programme of international rallying events, the operation was moved to a more central position in Belgium. A modest headquarters was set up in Waterloo, south of Brussels, in February 1975, where it adopted the official name Toyota Team Europe (TTE).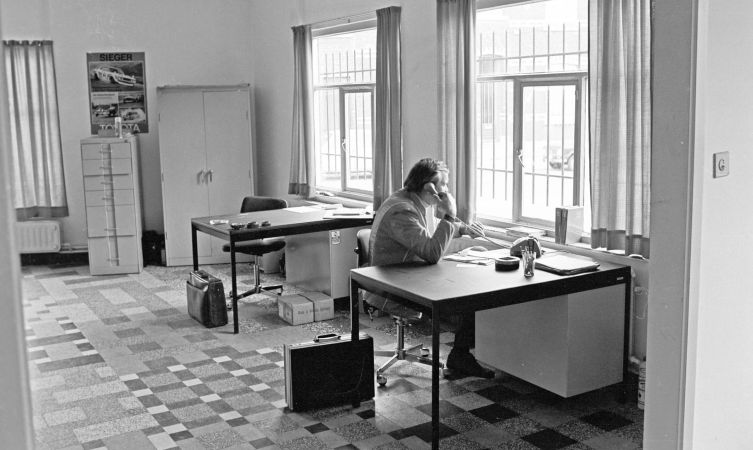 Image: Ove Andersson in the original TTE office in Waterloo, Brussels, in October 1975
Meanwhile, the smaller Toyota Corolla was proving very popular around the world in the hands of privately-funded rally teams. Among these early adopters was Canadian driver Walter Boyce, who crossed the border into the USA for the Press on Regardless Rally in November 1973 – a journey that turned out to be momentous for Toyota but unnoticed on an international scale.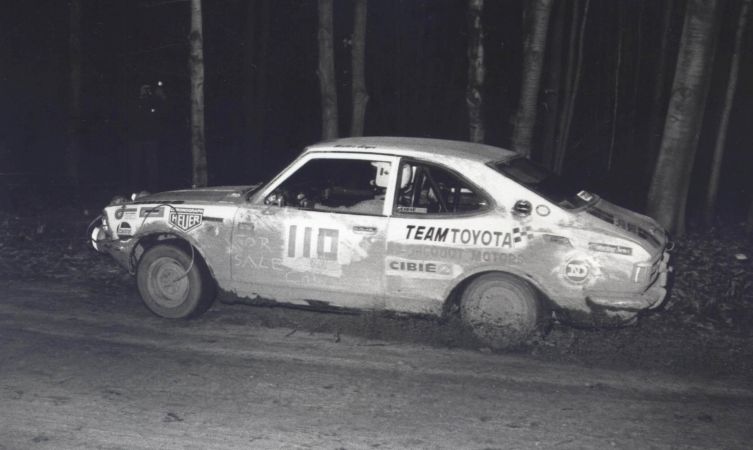 Image: Walter Boyce and co-driver Doug Woods in the 1973 Press on Regardless Rally
Motorsport's governing authorities had already uprated their international rally championship for manufacturers into the World Rally Championship, starting that year. So when Boyce took his Corolla to victory, admittedly against very little transatlantic opposition, the result was officially the very first victory for Toyota in the WRC, the first of 43 such wins.
Back in Belgium, a long debate had started about the most suitable Toyota model to use for serious WRC competition. The Celica presented precisely the right sporting image but it was deemed too large to achieve good results, whereas the Corolla possessed better handling and was faster. However, both cars were limited in terms of performance because their 1.6-litre engines could not effectively compete against the 2.0-litre engines used by most of the opposition.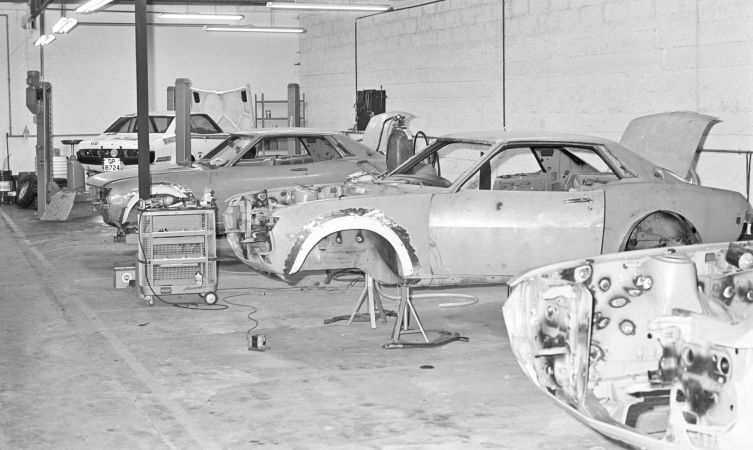 Image: Fleet of Celicas being prepared by TTE for 1975 RAC Rally
Although the 1974 season was badly disrupted because of the ongoing fuel crisis, work did not slow up for TTE. The two-door TE20 Corolla saloon running in the rear-wheel drive Group 2 class was fitted with a two-valve engine, but by the end of that year the sporting TE27 Corolla coupe model had been equipped with a much more powerful, four-valve version of its 1.6-litre engine under Group 4 regulations.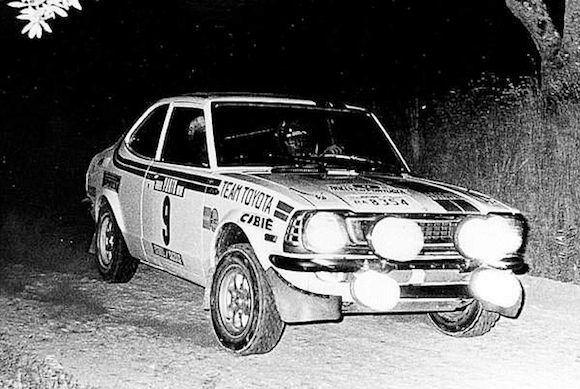 In this machine Björn Waldegård finished fourth in the 1974 Wales Rally GB. It was a victory that began to tip the balance in favour of the Corolla, although the debate was by no means settled.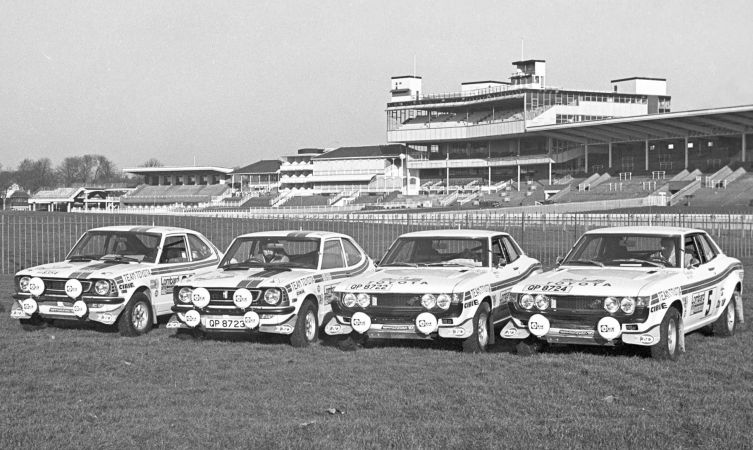 Image: TTE-prepared Corolla and Celica models at York Racecourse in 1975
German driver Achim Warmbold's TE27 Corolla was leading the 1975 Acropolis Rally when he slid off the road on the final day and wasn't able to finish. But that wasn't the only surprise for the team that year.
TTE had no intention to compete in the forthcoming 1000 Lakes Rally in Finland but a sudden turn of events changed the team's mind. Pandemonium erupted among the works Fiat drivers when the manufacturer withdrew their entries at short notice, leaving them without cars to compete in.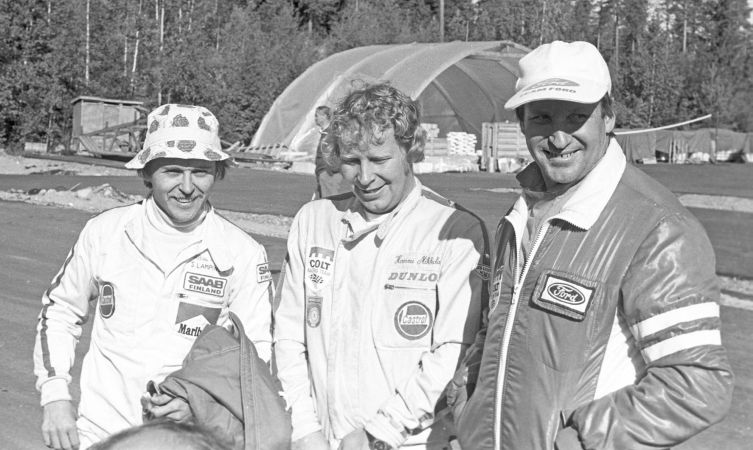 Image: Podium finishers Simo Lampinen (left), Hannu Mikkola (middle) and Timo Mäkinen (right) after 1975 1000 Lakes Rally
So when stranded Finnish driver Hannu Mikkola approached TTE to ask if he could borrow a Corolla for his home event, Andersson agreed. And then watched Mikkola go on and win the rally, thereby securing the first win for a Japanese car in a WRC event in Europe.
The Corolla versus Celica debate continued to rage through 1976. By now, the facelifted RA20 Celica 2000GT coupe was equipped with a four-valve-per-cylinder 2.0-litre engine, with which Andersson finished an impressive second on the model's debut in Portugal.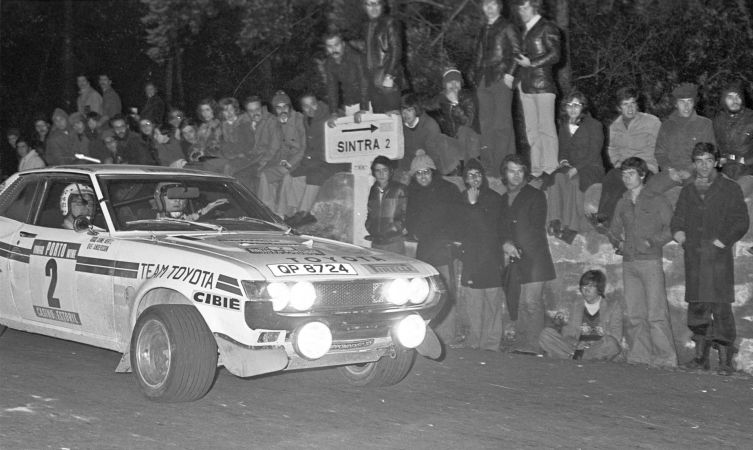 Image: Ove Andersson and co-driver Arne Hertz in 1976 Portugal Rally
Nevertheless, TTE continued to run Celicas and Corollas side-by-side, deciding which vehicle to use based on the event it would compete in. But as a rule, the Celica had now overtaken the Corolla as the more competitive machine.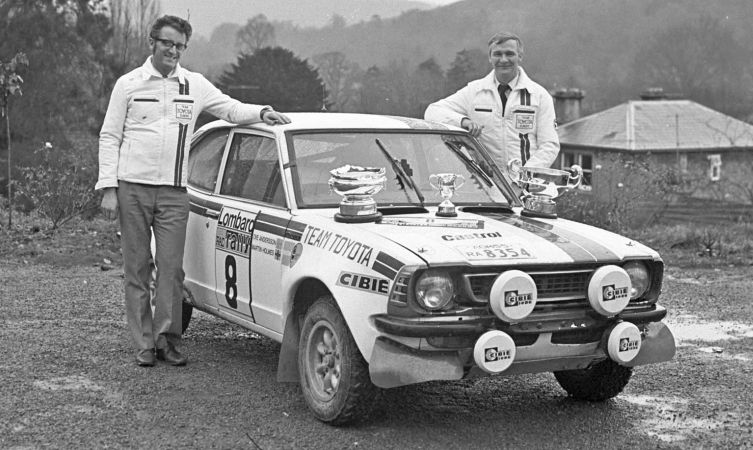 Image: Ove Andersson (right) and co-driver Martin Holmes after 1976 RAC Rally
The Corolla was therefore eased out of rallying activity in 1977, being used only very occasionally. The season ended with Hannu Mikkola, now a Toyota rather than Fiat driver, taking second place on the RAC Rally. It was an event that also marked the end of the first-generation Celica era in world rallying.
New rules introduced for the 1978 season banned the use of four-valve conversions on two-valve production engines, so TTE had been busy preparing second-generation RA40 Celica models for rallying. Initially these were introduced in the middle of the year with production-based two-valve heads for Group 2, but as soon as homologation was granted for a four-valve and fuel-injected RA40 this higher performance version took over from the 1978 RAC Rally onwards.
Unfortunately, the larger second-generation Celica did not hit the ground running, so to speak, and was not proving to be competitive in European rallying. What's more, following the relaxation of regulations that had banned total traction vehicles in rallying, many WRC teams had begun talking about introducing all-wheel drive cars into the European championship. Toyota was not yet ready to reveal such a model, so the team's thoughts began turning to an environment where the rear-wheel drive Celica might be much more suitable – Africa.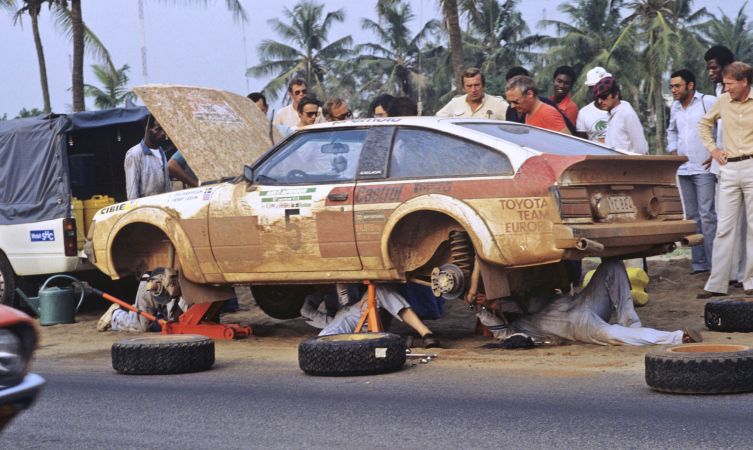 Image: Service pit stop for RA45 Celica Liftback in 1979 Ivory Coast Rally
Africa presented a major new motorsport opportunity for Toyota. The Safari Rally in Kenya was already a long-established event, while the WRC had dabbled in Morocco for a few years and added the Ivory Coast Rally to the calendar in 1978. But for the 1979 Ivory Coast Rally, Toyota took the plunge and prepared its new RA45 Celica Liftback for competition. No reason was given for featuring this new shape model but it was assumed these possessed better aerodynamics for the fast sections.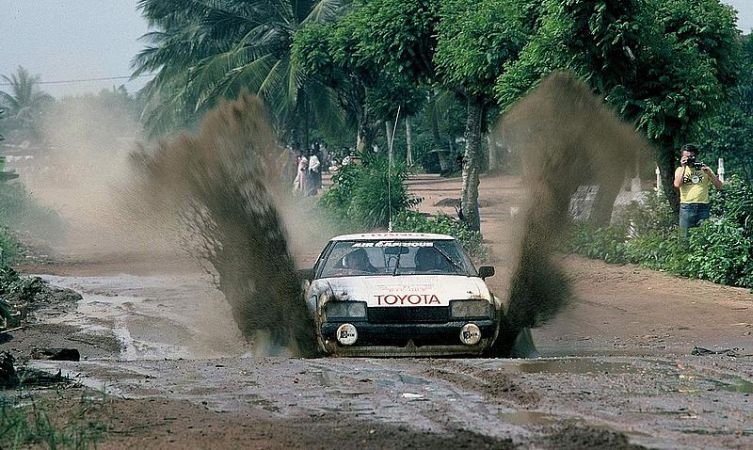 Two cars were entered, fitted with the hardy two-valve engine instead of the newer four-valve units that had appeared the month before on the Rally GB. Andersson went on to finish the Ivory Coast Rally in fifth place, while the Celica of team-mate Jean-Luc Thérier succumbed to overheating trouble and had to be retired.
Despite these early difficulties, by the end of the 1970s Toyota was on the cusp of achieving real success in world rallying. Look out for the next instalment when we examine what the Eighties had in store.
Read more: Toyota's top 14 rally cars
Text and captioned images supplied by Martin Holmes