Fast, furious, and, erm, cute. Three words that spring to mind when viewing Tow, the fourth and final instalment in our thrilling series of Hilux Little and Large films, which see the all-conquering Hilux undertake a series of challenges alongside its 1:10 scale Tamiya radio-controlled counterpart.
See also
Hilux Little and Large: Wade
Hilux Little and Large: Pull
Hilux Little and Large: Mud
In Tow, Hilux completes a challenging, full throttle slalom course with a flatbed trailer attached to demonstrate the effectiveness of its standard-fit Trailer Sway Control (TSC) safety system.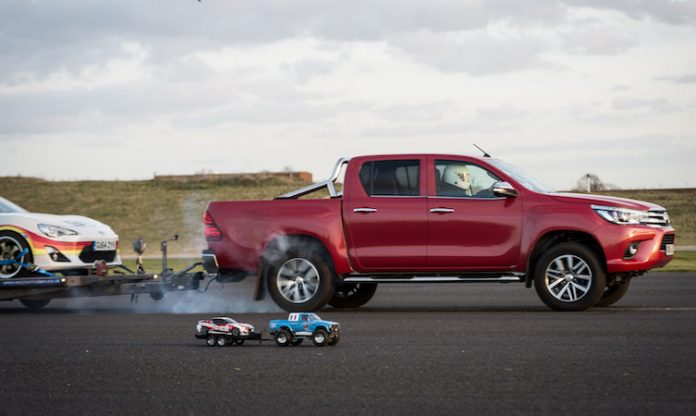 Weaving in and out of a line of closely-positioned traffic cones at high speed, Hilux and trailer have the life of a prized possession in their hands. The one-off IMSA-liveried GT86, which was specially-prepared for the Goodwood Moving Motor Show in 2015 is secured to the trailer.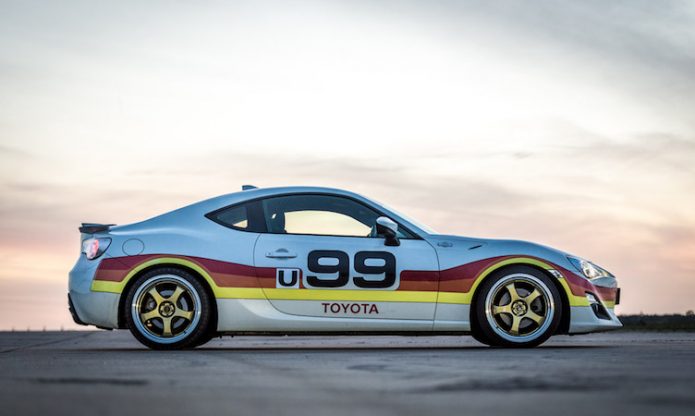 Dampened from a fresh cloud burst and sprinkled with a layer of loose surface grit, our runway at Bentwaters Park, Suffolk, did not provide an abundance of grip. TSC is activated when the road surface, driver steering inputs or even crosswinds cause a trailer to sway. The system reacts by applying braking and engine output control to mitigate movement. Handy during the 40mph+ gusts which were blowing during Tow's production.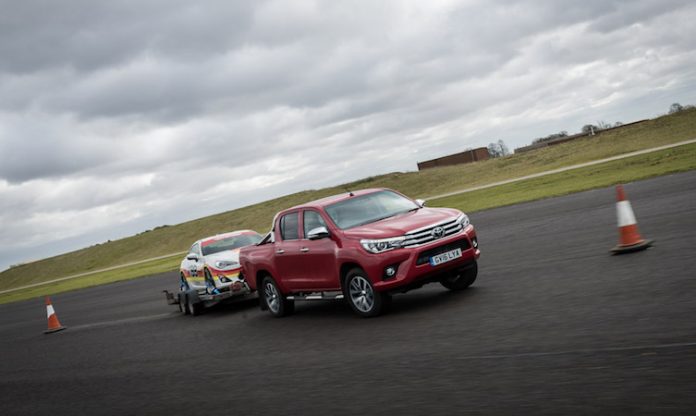 Tow is the only film in the Little and Large series to feature additional Tamiya scale models. A lightweight 1:10 scale Toyota Gazoo Racing GT86 – specially-prepared with slick tyres – joins the shoot on a twin-axle flatbed trailer. The Tamiya Hilux you see in Tow is one of the 15 that pulled the real car in Pull. As before, it features an adjustable differential, locked in Low to provide optimal grip.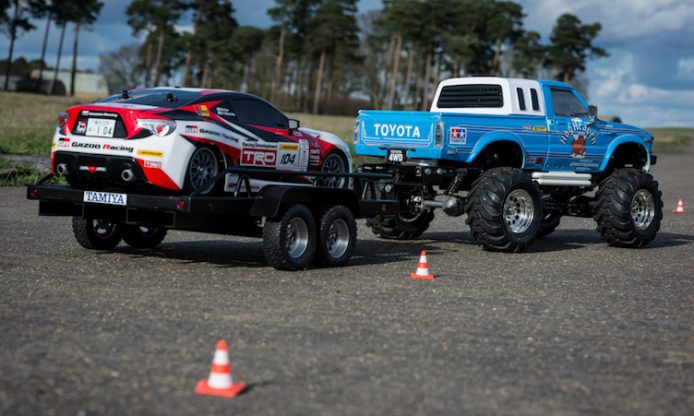 In order to film the action sequences with the Tamiya Hilux, a radio-controlled camera car was purpose built. It is equipped with a remotely adjustable camera body and head, mounted to the drivetrain of an existing RC buggy. The clever piece of kit is capable of speeds in excess of 30mph.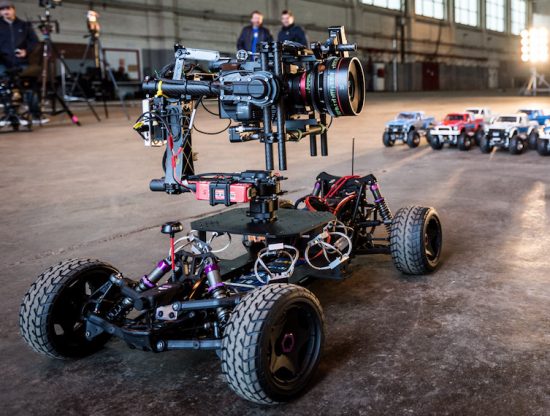 Unfortunately for the Hilux's pint-sized opponent – the Tamiya Bruiser – Trailer Sway Control isn't fitted, and so its own scaled-down version of our slalom course resulted in some two-wheeled lunacy.