Water and electrical components – two elements that don't that traditionally see eye-to-eye. But then the Toyota Hilux has long been a vehicle capable of emerging victorious when the odds are stacked against it.
Wade is the third in our Hilux Little and Large series of films in which the invincible model goes head-to-head with its Tamiya radio-controlled counterpart. This time, our plucky duo wade through a body of water far deeper than their theoretical limits.
The action takes place at the sprawling West Wycombe Estate in Buckinghamshire, residence of the Dashwood family. And as in the previous Pull film, the Hilux at the centre of the action is an Invincible Double Cab model in Crimson Spark paint.
See also
Hilux Little and Large: Tow
Hilux Little and Large: Pull
Hilux Little and Large: Mud
A new 2.4-litre, 148bhp D-4D engine is fitted, which provides 400Nm of torque. Crucially for Wade, the model has an impressive wading depth of 700mm. No modifications were made to the vehicle, other than the fitment off-road tyres to increase grip on the slippery material of the riverbed.
At the other end of the spectrum, the Tamiya car has a wading depth of just 30mm, but a series of modifications were undertaken to boost its capabilities.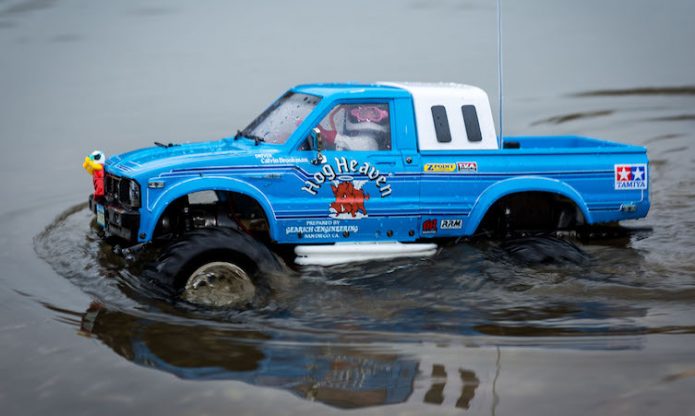 The model's running gear was thoroughly waterproofed, while a high output 40 megahertz radio controller was employed to ensure that a signal could be transmitted from the driver on land to the submerged vehicle.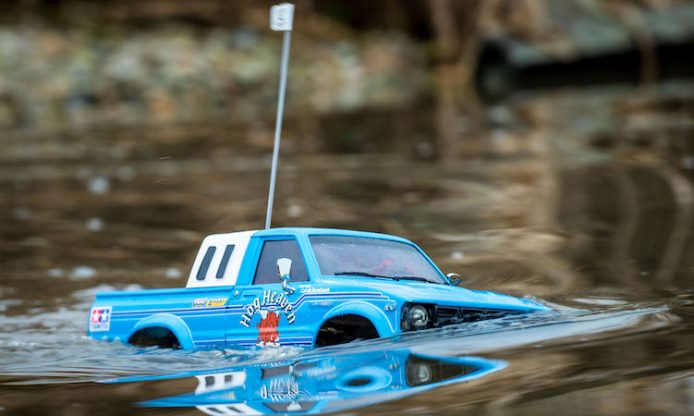 To film the underwater sequences, a specialist rig was constructed. It consisted of a thin strip of steel bolted to the bed of the RC vehicle, on which we attached a small waterproof camera.
The last film in the series, Tow, can be watched here.