A young heifer looks up inquisitively at a limestone crag and begins to climb it. Precariously perched on top of the rock is a rather battered Hilux. Its faded, dusty silver paintwork, mud-covered underside and tyres the size of boulders all blend into the Lake District landscape. It's hard to see which is the oldest, the Toyota or the rocks. "We'll be done-for if the whole herd spots it", laughs Paul Henderson after carefully positioning his pickup for his photoshoot. "Can you guard the truck in case they all come over and start trying to eat it?" he shouts to me as he runs off to collect his other, much smarter, Hilux.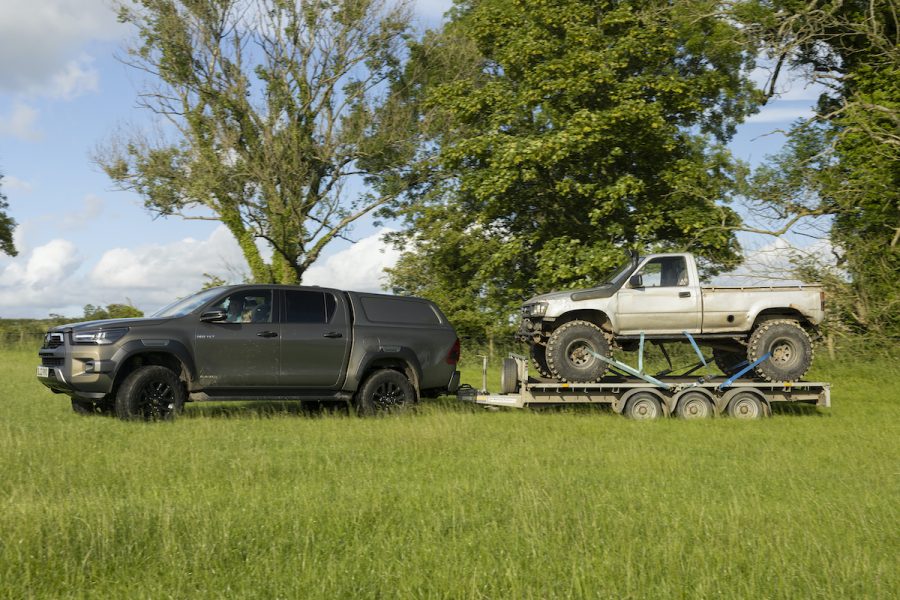 It's hard to walk on the rocks and I stagger-about, shooing-off cows who are quickly gathering in number. I'm not sure if any part of the Hilux looks good enough to eat. Perhaps the brightest among the herd have spotted the letters on the truck's number plate which spell K…OWS and are trying to befriend the bovine-friendly beast.
In the passenger seat, strapped into his car-seat, three-year-old Theo, helps me to spot cows, tells me where the CB radio-aerial goes and shows me how to unwind the window in his dad's 'White Monster Truck'.
Paul returns and parks his almost brand-new Hilux Invincible X beneath the rocks at the end of a muddy track – in just the right spot for the photos. The 39-year-old agricultural consultant and part-time farmer says: "Theo worships all my trucks – I've got an old Land Cruiser at home too. I can't leave the house in one without him crying. Every time I go out he has to go with me. We go green-laning together – and he talks about the trucks all the time. He'll happily sit in one all day and help me work on it too.
"He calls them all 'Monster Truck' and also by their colour or age – so this Mk3 is 'White Monster Truck' – he doesn't know the colour silver yet – the Mk9 is 'New Monster Truck', and the Land Cruiser 'Blue Monster Truck'. Even his nursery-school report said, 'Theo likes to talk about monster trucks' So there was no way he was going to miss-out on this evening's photo-shoot.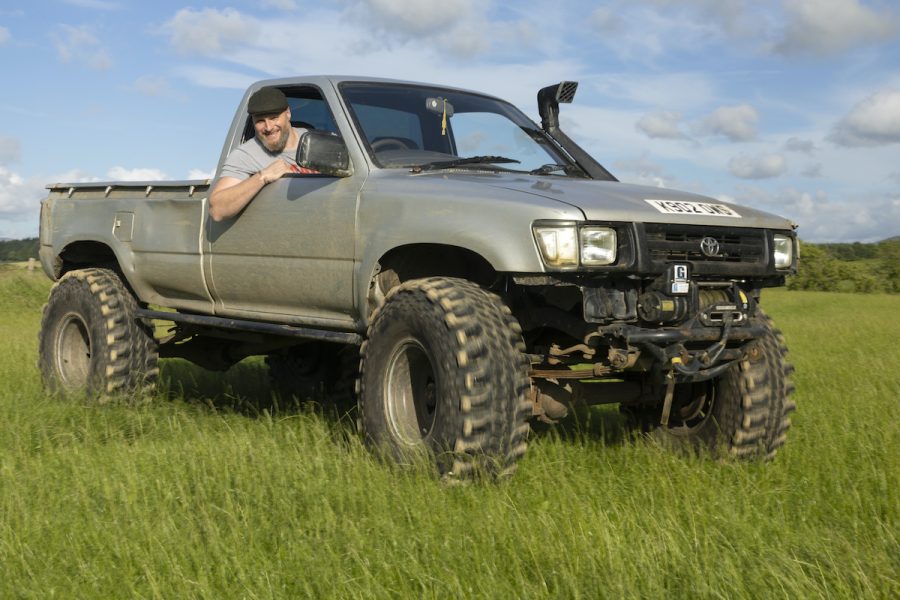 "I've owned more than forty cars – including many Toyotas. There's still a lot of cars I want to own and I've always been passionate about 4x4s. I really love the Toyota brand and if I can give something back by telling people about and showing them my Toyotas then that would be great," he said.
The father-of-three from Cockermouth, Cumbria, bought his latest Hilux for his family's business, Bos Associates Ltd. "We're an agricultural consultancy firm and buying group, working with rural businesses and dairy farmers across north west England and south west Scotland.
"The truck is my office. It's not only for getting me there and back, I deliver grass seed and animal feed to my customers too. And we also use it as a family vehicle. We'll be taking it on holiday to Devon next month – it's good to keep the paddle-boards and stuff in the back so the cab doesn't stink.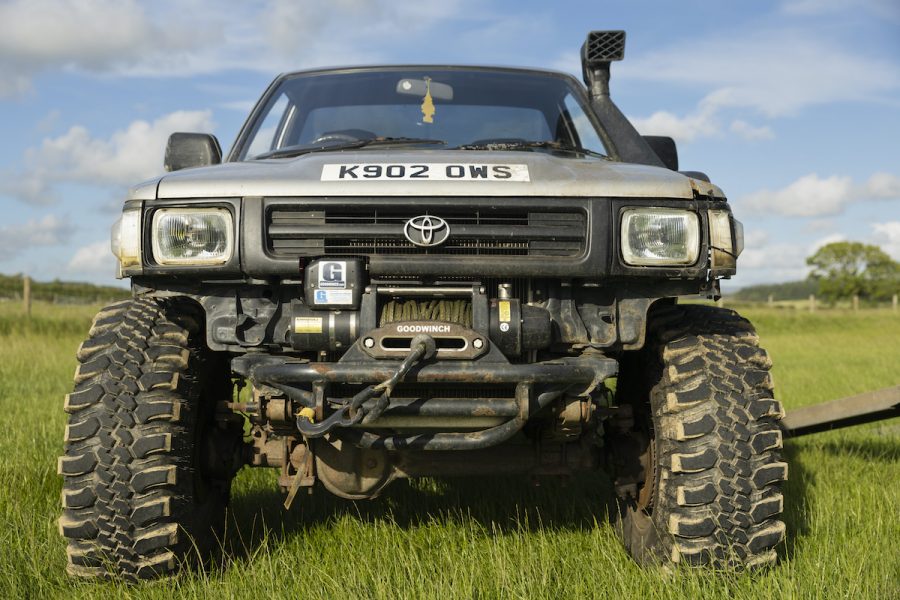 "I like my trucks to look slightly different and I always customise them one way or another. I bought this one a month ago from a non-Toyota dealer. It's the 2.8 auto and came with a load-liner and tow-bar – I need this for trailering my other trucks to green lanes and off-road driving competitions.
"As soon as I got it I set about changing it. First was the addition of an Aeroklas canopy which came from 4X4At and then I fitted some Radar Renegade RT+ tyres – either me or my wife have to get into a field where we look after 55 heifers everyday, so off-road grip is really important.
"I got almost everything else, including hours of help over the phone, from West Coast Off Road. They fitted Rival under-body guards, Terrain Tamer rear parabolic leaf-springs, gave it a two inch lift and added Iron Man foam cell suspension – which helps to give it an even better ride.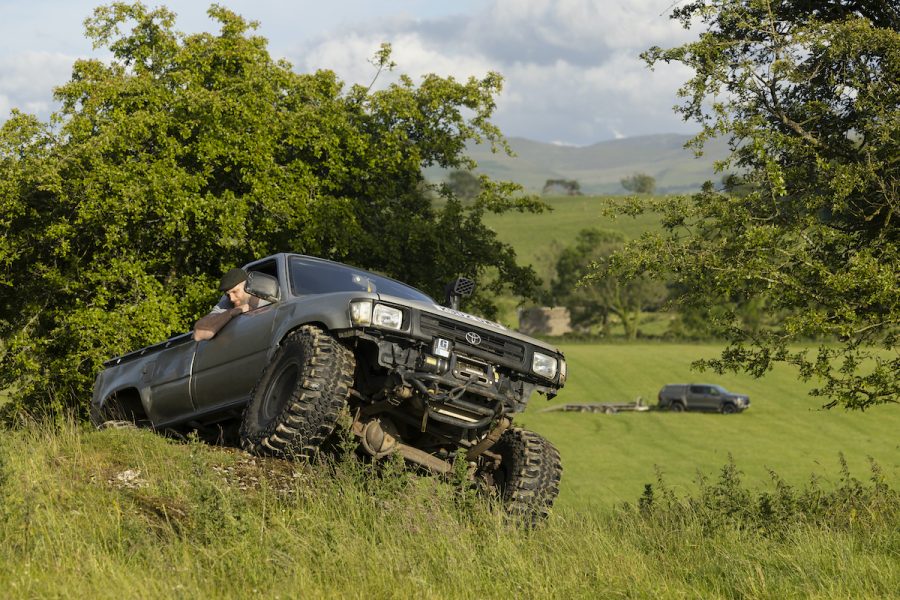 "Some recent Toyotas haven't quite had the amount of grunt I like. I do about thirty-thousand miles a year, mainly on A and B roads and like to be able to overtake and pass things easily – I want the vehicle I drive to have guts about it. So when Toyota put in a 2.8 litre engine with a ball bearing turbo charger I was genuinely surprised – plenty of power – enough grunt to back-up the build quality. It's really moved on since the last model, both in power and refinement. It's such a good truck and has a robustness you don't feel from other pickups. I also think it looks fantastic in Titan Bronze," explained Paul.
With the cows now beginning to show interest in both of Paul's pickups, we decide to change location and head back to the field below where the trailer is. I jump in the old Hilux and Theo keeps an eye on my cameras lying on a coat under his feet. I can't reach the pedals. Paul is well-north of six foot. So I wrestle the seat forward on its grit-filled runners so my short legs can reach the controls. I don't let-on to Paul that I've not actually driven a Hilux before. I select the longest of two levers and shove it into first gear. But I can't find the handbrake. Damn. I ask Theo if he knows where it is. He points, laughs and nods in the direction of an umbrella-handle-shaped lever to the left of the steering wheel. It's just like the one in my old Citroen 2cv. The engine roars – it sounds like a speed-boat crossed with an articulated-lorry.
I follow Theo's dad for a short guided-tour of some of the steeper bits of his land, stopping only for guidance on how to descend a rocky bank. "Just head straight down in first gear," says Paul. The enormous tyres cushion and flatten-out the uneven ground on the approach. As we teeter on the edge of the drop – there is no going back now – my heart races. 'Cars shouldn't be able to do this', I think to myself. I take my foot off the brake and off we go. Theo smiles as 'White Monster Truck' takes control of gravity and begins to bend the laws of physics.
"I use the Mk3 for green laning and for competing with the North Lakes 4×4 Club in off-road 'punch hunts' – where you drive around and collect 'punches' on a piece of card without getting out of the truck.
"It's a 1993 LN105 – like the one Clarkson tried to destroy on Top Gear. I bought it for £2000 in 2018 from Gloucester and, despite it being a bit rough around the edges, it was no bother at all on the 280-mile drive home.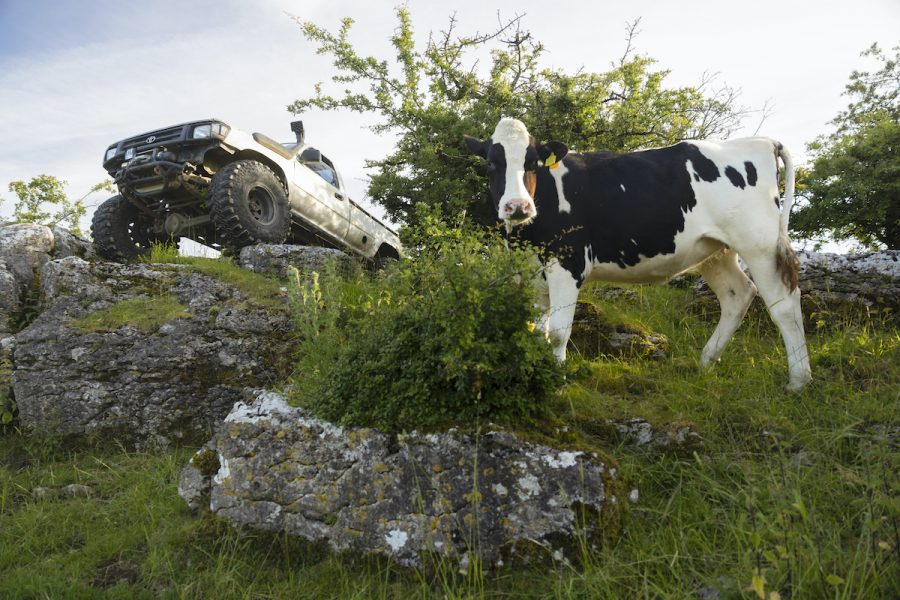 "I spent a lot of money and time on it, helped by my friends Graeme Davidson and Chris Cox. We removed some rust and then began to upgrade it. It had already had its original 2.4 litre normally-aspirated engine replaced with a 3.0 litre KZT turbo from a Land Cruiser or perhaps a Surf. It had also been retro-fitted with a Surf's lower-geared and stronger R150 gearbox.
"We also installed a Surf power-steering pump to make a 'high steer conversion' – to give it modern steering and make it drive true. It had a Spartan locker put in the rear diff so it locks automatically. And we swapped the original limited-slip rear diff to the front axle.
"It was resprayed white, and then finished off with a set of 35in Maxxis Creepy Crawlers.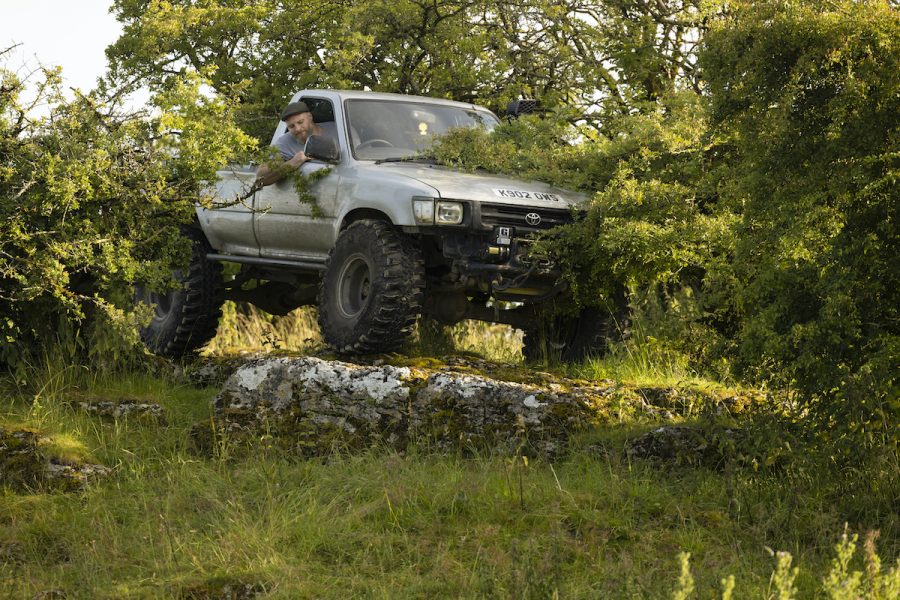 "Shortly after it was finished I lent the truck to Graeme for a 'non speed' event. He phoned me and told me he'd rolled it – I thought he was joking and said 'shut up you've not rolled the truck' – I couldn't believe he'd wrecked it after spending so long making it so amazing.
"It was very badly damaged and needed a new cab, new wings, doors and bonnet. We welded it, resprayed it silver, put in nicer seats, installed a new CB radio for green laning, added a rear locking diff from a Mk5 into the front diff, so it now has front and rear locking diffs, and rebuilt the front axle.
"We then bob-tailed it by cutting out and shortening it by 14 inches at the back. This reduces the overhang giving it a fantastic departure angle.
"Heavy-duty RCV front axles were added and we moved the rear springs to the front and fitted Mk6 leaf springs on the back for more axle articulation.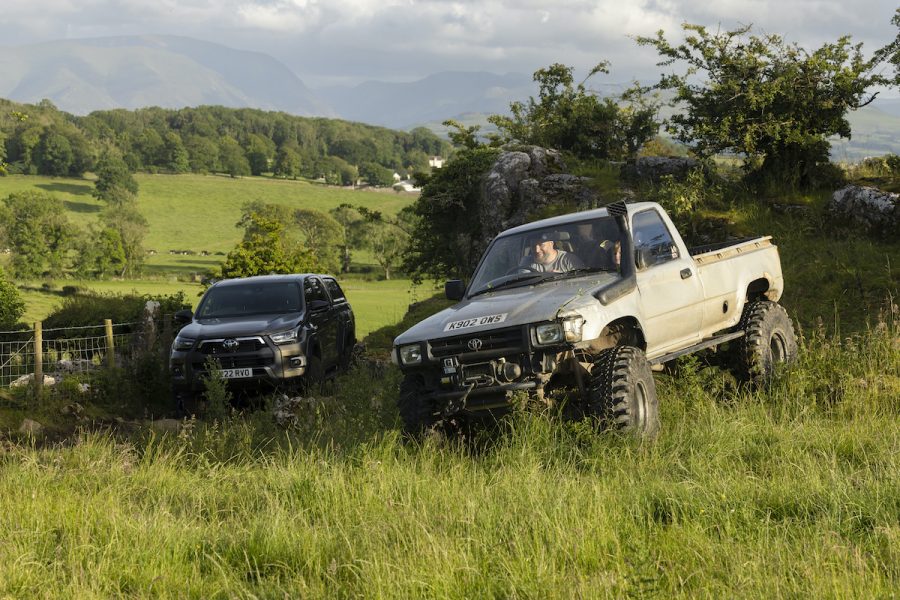 "This time it was finished off with a set of giant 38 inch CST Land Dragon tyres.
Graeme, helped by Chris, made all the repairs and improvements himself – it's part of our 'you bend it, you mend it' code of conduct. They did a great job and it's actually an even better truck now.
"It has an honesty to it – a loveable honesty. You can leave it for months and it just starts first-time – and you could then drive it all day. You just can't break it – and I've tried," he smirked.
Paul also has a 1996 80 Series Land Cruiser. Bought for £3000, it was a Covid project which he's spent at least as much again on improving the mechanicals and oily bits.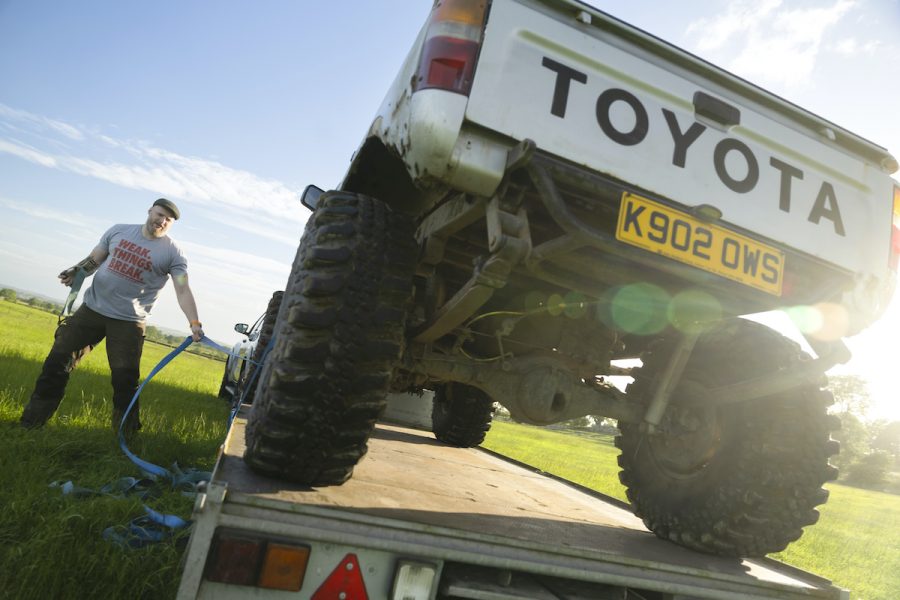 "It's a 4.2 litre 24-valve manual with 224 thousand miles on it. It drives as tight and true as when it left the factory. Graeme and Chris helped me restore this one too. This model of Land Cruiser is the pinnacle of Toyota's engineering."
After the photoshoot, Paul reverses his trailer onto his drive and begins unstrapping 'White Monster Truck'. Young Theo jumps out of 'New Monster Truck' and looks up inquisitively at 'Blue Monster Truck'. I open the door for him and he climbs up. It's bedtime but he'd much rather be hiding in the back of one of Daddy's trucks.
Read more: Hilux Heroes: Becky Dykes, sheepdog trainer
Read more: Hilux Heroes: Duncan Thomas, towing saviour