The new Toyota Hilux* is equipped with Downhill Assist Control (DAC) to make easy work of tricky, loose-surface descents. Whether you're travelling forwards or backwards, Downhill Assist Control maintains speed and control.
Watch our short film to discover how it works, or read on below for more details.
Downhill Assist Control operates when Hilux is in 4WD mode – to learn how to engage 4WD, see this post.
Activate Downhill Assist Control by pressing the switch on the centre console. The DAC light comes on to let you know the system is operational.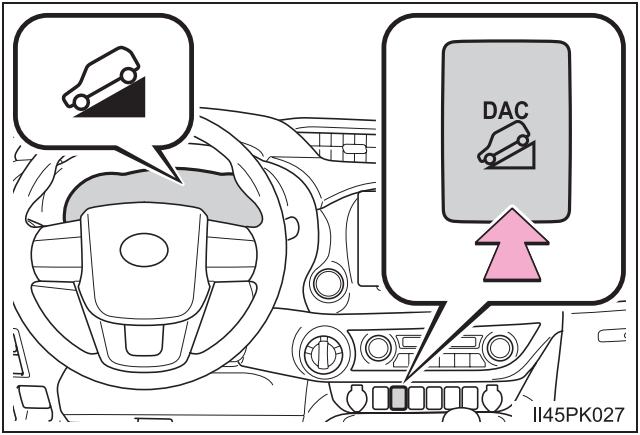 As you head down the hill, Downhill Assist Control brakes individual wheels to maintain control and a safe rate of descent without any driver intervention. That means you don't need to press the brake or throttle pedals at all – Hilux does the hard work for you.
To find out about more features of the new Hilux, see the following posts:
Hilux How To: Trailer Sway Control
Hilux How To: Correctly Loading the Cargo Deck
Hilux How To: Using the Four-Wheel Drive System
Hilux How To: Using Hill-start Assist Control
Hilux How To: Wading in the Water
Hilux How To: Using Rear Differential Lock
To download an owner's manual for your Toyota vehicle and to access other owner benefits, please visit My Toyota.
*Icon models upwards