Toyota's young independent BTCC racer Frank Wrathall swapped the touring car track for a hillclimb course and his race suit for a dinner jacket at the weekend. It was all in aid of the Goodwood Festival of Speed, of course, to which the 24-year-old was a fascinated first-time visitor. Frank and his Dynojet Racing Toyota Avensis joined famous cars and drivers from the past and present of the Dunlop MSA British Touring Car Championship in a special display at the world-famous festival, and also demonstrated the fire-breathing Toyota twice a day up the Goodwood hill climb course.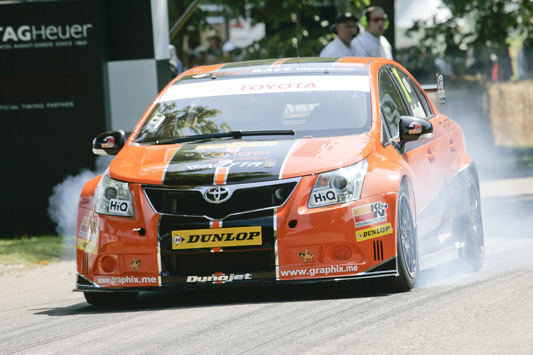 This is Frank's Goodwood 'blog'
"We went down to Goodwood on Wednesday to get everything set up, and then I had Thursday off duty while the Moving Motor Show was on, which was great because it gave me a chance to have a good look around the estate and to appreciate the place, which is amazing.
"On Friday, Saturday and Sunday I was based with the Dynojet Avensis in the BTCC area, alongside the Chevrolet of Jason Plato and the Hondas of Gordon Shedden and Matt Neal, and some famous Super Touring cars from the past, like Anthony Reid's Nissan and the Paul Radisich Ford… Some real touring car legends. I must have signed hundreds of autographs, but I was next to Neal and Plato so a bit overshadowed in that department!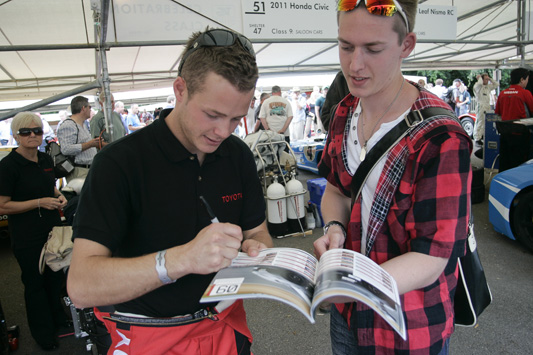 "I managed to get a recce on the Wednesday up the hill in a road car: I couldn't believe how tight it was. It was really daunting and I was more than a little nervous on my first run up in the Avensis. A lot of people have been caught out on that hill, and there are a lot of people around watching, and I didn't want the embarrassment… So I took it steady, learned the course quickly and then had some fun from then on. The runs weren't timed, they were "demo" runs only – lots of wheelspin and noise, a few flames – and I did it twice each day.
"Goodwood is such a nice place, and the event itself is surreal and completely unique; you are so close to so many incredible cars and famous drivers. When you finish a run and get to the top of the hill, all the drivers are held in the one area. You're standing there and Lewis Hamilton arrives, then Ken Block… It was amazing to be so close to legends like them.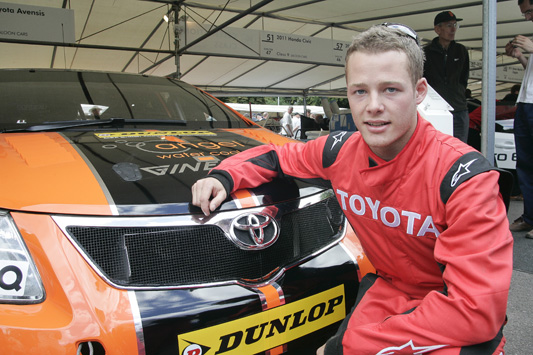 "The cars were fantastic, as well. My absolute favourite was the 2007 Red Bull NASCAR Toyota. I follow NASCAR and would love to have a go one day. It had such massive power… just a raw, tyre-smoking beast of a machine, really good to watch. It's a car that you just would not normally get the chance to see, and it was incredible.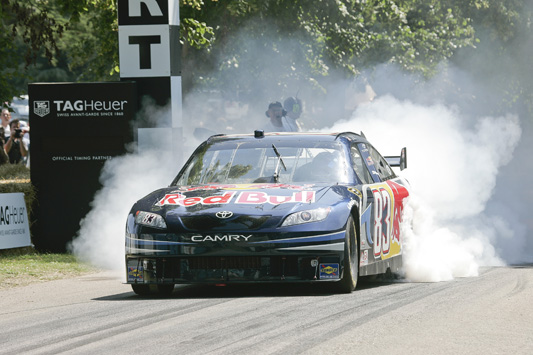 "Jonny Milner's runs to get fastest time of the event in his 800bhp Toyota Celica were just awesome, as well. I loved watching him in action, and thinking that I was glad it was him with his neck on the line and not me! Fantastic to see an orange Toyota doing so well…
"Another highlight was the grand ball on Saturday night, which I attended with my girlfriend, Laura. It was mind-blowing, such a privilege to be at an event like that. I was sitting next to the first World Rally Champion, Bjorn Waldegard [find out more about Bjorn's links with Toyota here]; it was amazing to have a meal with such a legend, and such a nice person. Afterwards there was the most amazing firework display, and The Feeling performed. It was pretty much the ultimate event. I was quite sad when it all came to an end…"
To catch up with the rest of the action from the 2011 Goodwood Festival of Speed, including photo highlights of many more of the Toyota cars on display, click here.