Geoff Andrews has been a loyal Toyota family member and hugely important in delivering our parts sales over the years.
Diagnosed with Myeloma, a rare blood cancer currently with no cure, he decided to give something back and raise money for essential research by cycling from Saltford in Bristol to Truro in Cornwall from 16-19 March with his colleague Nick Selwood. 
Geoff's first Toyota job was at Pendennis Bristol in 1984, followed by Brislington Park Bristol in 1991. He then worked at Platinum Toyota Bath and Trowbridge from 1998 to 2019.
We caught up with Geoff to find out more about his charity mission. 
TGB Blog: Could you please tell us a little about yourself? 
Geoff Andrews: "I'm 62. We live in Saltford which is between Bristol and Bath. I've worked in the motor trade for 45 years and with Toyota for 35. I retired last year when I was diagnosed with Myeloma in November. It's in very early stages and is a blood cancer. There's no cure for it yet, but the money we raise will go forward to help find the cure for it." 
You've been a Toyota family member for a long time. Could you tell us more about your work with Toyota?
"I just love Toyota! That's where I met quite a lot of people. I was parts manager with three dealerships in Bristol and Bath. I went on loads of trips – that's why I know a lot of people with Toyota." 
What do you love most about Toyota?
If you work for Toyota, they look after you.
"It's a very friendly team. I've always got along very well with everybody. If you work for them, they look after you. I've always been driven. If you do work well and achieve your goals, then you get rewarded by Toyota as well. I've been to Japan a couple of times and nearly all over the world with Toyota. It has been brilliant. I drive a Toyota, my wife drives a Toyota and long may that continue!"
Where and how did you discover your love for cycling?
"I don't love cycling at all! It happened because I was diagnosed with Myeloma, I wanted to give something back. I've lived in Bristol all my life and I've still got family in Truro. So I thought about doing a bike ride from Bristol to Truro and that was it! We've done no training, we struggled like hell and it was really tough. We're even joking about putting our bikes up for sale on Ebay! 
You should see some of the hills. They're terrible. They're so steep!
"You should see some of the hills. They're terrible. They're so steep! But we've had a real good laugh along the way and that's what it is all about. We've had three stops along the way. We rode to Taunton the first day, then we rode to Hatherleigh, Okehampton, which is another 55 miles past Taunton. On the second night we stayed at Wadebridge, and then on to Truro."
Were there any challenges you faced during this bike ride? 
"Yes, hills. Every hill is a challenge. I never realised how many hills there are in Cornwall. It has been quite a tough ride. On the first day we were about three or four miles from Cheddar and we were riding along an off-road track. Every 20 yards, we came across two feet of water. We got absolutely soaked. My backpack and the clothes for the evening were all soaked. 
The first day, however, was beautiful. We had lovely sunny weather. Day two was bad when we had about 50 miles to go. Day three was good, apart from the hills."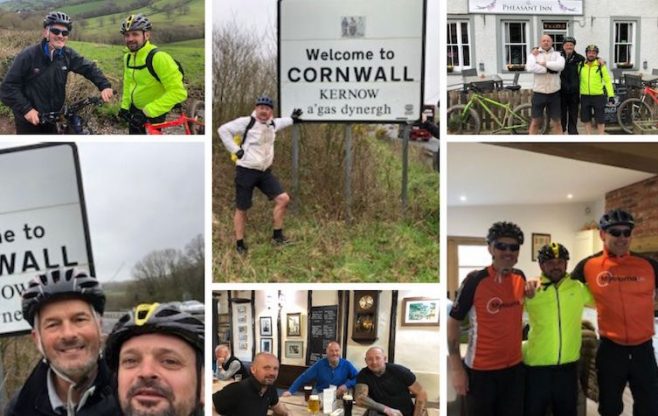 Toyota conveys 'Start Your Impossible', a message that encapsulates our strong desire to recognise and help with challenges faced by all. What would you say is your impossible and how do you strive to overcome it?
"I think you've got to be really positive in anything you do and I've always been really positive. You've got to look forward, think forward and then you will achieve your goals. I'm positive with the condition I've got as well. I'm going to be positive about it and I'm going to try my best to beat it. I've learnt to be like that over the years and more so in later life I think." 
How do you wish to inspire others and what tips would you give to budding cyclists?
"I've always been very competitive in every sport I've played. But as far as cycling goes, I've never been into it. You've just got to be positive and believe in yourself and just do what you can."     
One last question – who's your favourite cyclist? 
"No. Nothing has inspired me except for madness!" 
Thank you for your time Geoff. We couldn't have been more inspired. 
If you'd like to make a contribution and help Geoff along his journey, click the link: https://www.justgiving.com/Claire-Selwood1
Toyota People… is a series that celebrates individuals with a special enthusiasm for Toyota, whether that is related to its vehicles, philosophies, or manufacturing processes. Read more here. 
Geoff Andrews was speaking to Neha Aggarwal