Since its launch in 2011, the Toyota Fund for a Better Tomorrow has helped many deserving causes, from zoos and fire stations, to safe driving courses and cancer care. Donations to two charities during the past month have taken its total funding support to more than £1 million.
The fund aims to help improve the quality of life and the environment in communities across the UK. Toyota centres are able to support charities, schools and community projects in their area with grants of up to £2,000. Projects are selected and assessed on criteria including their benefit to the community and visibility. As shown in the infographic below, 31% of the funds allocated so far have been to charities that deal with health or medical issues, 36% to civic and community initiatives, and 20% to environmental projects.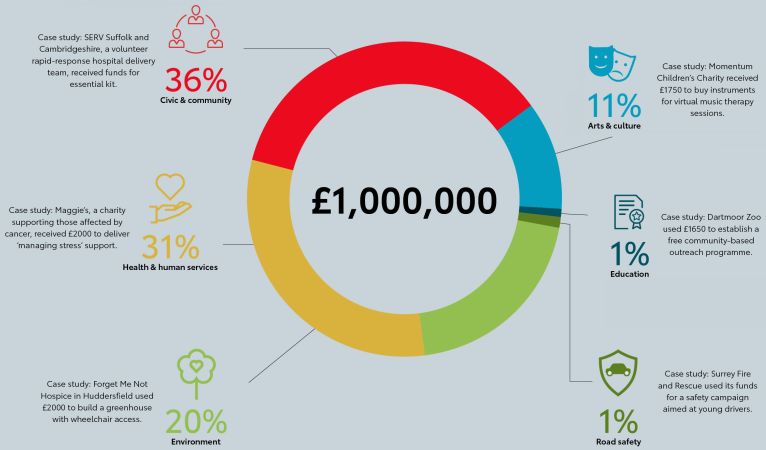 Chris Hayes, director of people and planning for Toyota GB, commented: "It is a great achievement for the fund to reach £1 million in donations and that it has done so with such well-deserving projects. We take great pride in our responsibility and commitment to support these community activities and it is hugely rewarding to see the difference we can help make."
Recent donations to the two charities below took the fund's total through the £1 million mark.
Momentum Children's Charity
Operating in South West London, Surrey and West Sussex, Momentum Children's Charity will use the Toyota funds to purchase musical instruments for children at home and in hospital. It supports families whose children are facing cancer or other life-challenging conditions by offering practical and emotional help, and therapy services including music, play and art.
Age UK Redbridge, Barking and Havering
Age UK aims to improve and maintain the quality of life for older people. The Toyota donation will help fund online workshops to help people who are unable to get out and about to enjoy activities such as drawing and painting at home. The aim is to encourage interaction and combat loneliness – a major concern during the COVID-19 pandemic.
How Toyota GB has supported good causes
The following are previous projects supported by the Toyota Fund for a Better Tomorrow.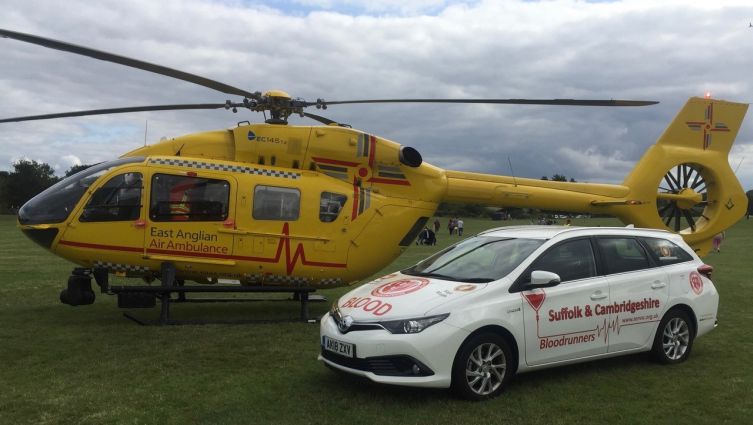 A Toyota donation to the SERV charity helped buy essential services equipment, including air ambulances, in Suffolk and Cambridgeshire
Safe Drive, Stay Alive for Surrey Fire and Rescue (2012, 2013, 2014) – a road safety initiative to reduce death and serious injuries, aimed at Surrey's young drivers.
Dartmoor Zoo (2013) – funding was used to provide a free community-based outreach programme with an education hub to engage and educate people about the local environment.
Forget Me Not Hospice (2017), Huddersfield – funding was used to build a greenhouse in the grounds of the hospice, complete with a path providing wheelchair access.
SERV (Service by Emergency Rider Volunteers) Suffolk and Cambridgeshire (2019) – a donation helped buy equipment for the charity which provides essential services to five NHS hospitals including air ambulances in Suffolk and Cambridgeshire.
Maggies (2020) – the Toyota fund enabled this nationwide charity to deliver its 'managing stress' online course for people living with cancer and for their loved ones.