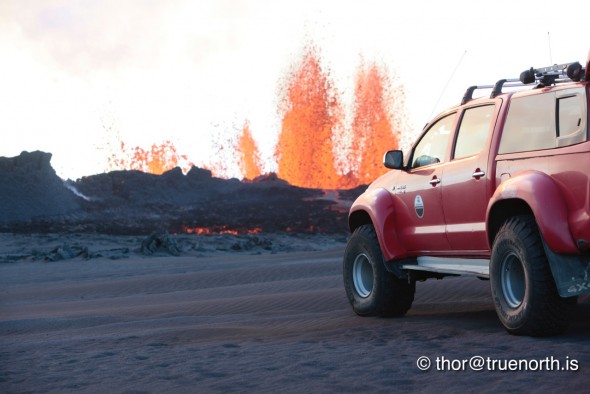 What would it be like to take a vehicle to the outer edges of an erupting volcano? Top Gear's James May successfully tried it in 2010 with the all-conquering Toyota Hilux, and soon, Scandinavian travel agency Arctic Trucks Experience – owned by 4×4 modifying specialist Arctic Trucks – will be offering you the chance to experience it for yourself.
Last month, a small fissure eruption started in the Holuhraun lava North of the Dyngjujökull glacier in Vatnajökull, Iceland. The eruption created a plume of steam and gas that reached an elevation 4.5km above sea level. Lava flow continues to this day, with recent news reporting that it has reached the river Jökulsá á Fjöllum – the second longest river in Iceland.
All of this seismic activity is good news for adventure fans, as Arctic Trucks Experience – who utilise Arctic Trucks' fleet of specially adapted Hilux – are set to offer trips to the epicentre of the eruption, Vatnajökul.
Presently, roads leading into the North of Vatnajökul are closed, but it is hoped they will soon be re-opened, and as soon as it confirmed as safe to do so,  eager tourists will be able to experience a blowing volcano.
If you can't wait another moment to climb aboard a Hilux and hit the (snowy) road, Arctic Trucks runs a series of additional trips, including to the Eyjafjallajökull area, which played host to the infamous 'ash cloud' eruption, that caused flight chaos across Europe in 2010. In the meantime, enjoy these incredible photos of the legendary Hilux in action.
[slider_pro id="220″]
See also: 
10 reasons the Toyota Hilux rules the earth
Where next?
Further information about Arctic Trucks Experience is available here. Find out more about the Hilux range on the designated section of the Toyota UK website.