Lockdown restrictions are easing and life is taking incremental steps back towards normality, and with that has come the reopening of Toyota's showrooms across England.
Most dealers are also starting to offer test drives once again, albeit in a slightly revised format that ensures adherence to current government regulations and social distancing guidelines. There is more information about that in this film:
To enhance the experience and demonstrate the easily achieved fuel efficiency of Toyota's petrol-electric models, customers are invited to take part in the Toyota Hybrid Experience and see how far they can drive in electric mode during their test drive.
At the end of the test drive, the statistics are downloaded and overlaid on a map, plotting the route taken and the amount of time spent in electric mode.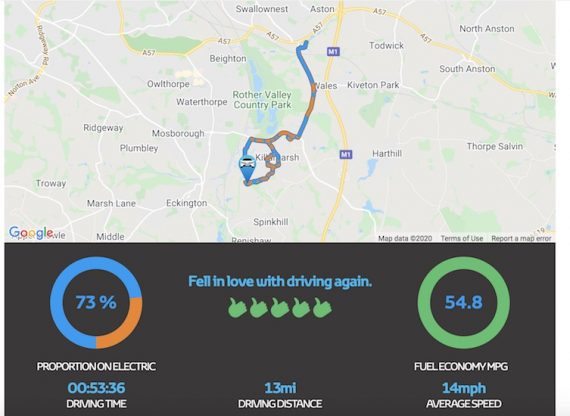 The test drive initiative actually started back in 2017 as part of the Discover Toyota Hybrid campaign, and the test drive data has been rolling in ever since. The impressive stats are once again in the spotlight as part of the Hybrid Excellence marketing campaign that's currently wowing viewers with a mesmerising ad on television and online.
The Toyota Hybrid Experience results continue to be updated on a daily basis and are available online for all to see by clicking here. The figures are impressive to say the least. At the time of writing, around 108,000 test drives have been recorded and 1.5 million miles covered (the continual addition of new data means the precise figures are always changing).
So far, around 54% of test drive time has been spent in smooth, quiet and stress-free electric drive mode, during which time no fuel is being used and no CO2 is being emitted.
The impressive test drive results are backed up by an equally impressive five-star customer satisfaction score.
To try the Toyota Hybrid Experience for yourself, and to experience first-hand the efficiency and ease of use of a Toyota hybrid, contact your local dealer to arrange a test drive. Click here to locate the dealer most convenient for you.
By Tim Dickson